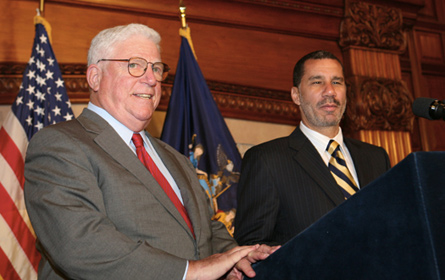 The din of lobbyists and legislators pressing flesh, asking for favors, making promises and issuing assurances floats into Lt. Gov. Richard Ravitch's office. The Monday after the week-long Presidents' Day break, things are bit busier, a bit louder than usual in the capitol as Senate session gets underway.
Ravitch's office has two doors. One dark, wood-paneled entrance stands at the end of a short hallway that functions as a senators' lounge. Right now -- and whenever the Senate is in session -- this space is home to gabbing lobbyists and legislators and to silent sergeants-at-arms who check for proper identification. The other of the two portals opens directly into the Senate chamber at the side where the Democratic caucus sits. Ravitch is tucked away amid the bustle but occasionally pops out one door or the other to quickly shake hands or confer with someone.
With New York facing a fiscal crisis of staggering proportions -- and with critics believing the state government is not up to dealing -- many hope that Ravitch comes to the rescue and takes a central role in budget negotiations. Almost universally respected, Ravitch, that line of thinking goes, could force the governor and legislative Republicans and Democrats to make the hard choices they need to confront right now. The question is whether his boss, Gov. David Paterson, will give him the opportunity -- and if he does, whether Ravitch can pull the rabbit out of the hat one more time.
Ravitch to the Rescue
There is no question that Ravitch is popular -- he is known as the man who saved New York, after all, not just once, but on multiple occasions.
In 1975 Ravitch resurrected the nearly insolvent New York State Urban Development Corp., as its chair.
In 1979 Gov. Hugh Carey gave Ravitch the chance to work his magic again as the chair of the Metropolitan Transportation Authority. Again Ravitch was credited with not only saving the authority's finances but expanding the system to include Metro North.
More recently, Ravitch was named to head a commission to find revenue streams for the Metropolitan Transportation Authority. His recommendations were hailed by advocates but largely dismissed by senators.
Finally, Ravitch was tapped again to save the day last summer when Paterson named him lieutenant governor in a controversial gambit to resolve the struggle for control of the Senate.
But now the state is facing even bigger problems -- the kind that could leave the entire state insolvent. The state Assembly thinks that the governor's revenue projections are short by $1.2 billion. The Senate estimates revenues to be about $743 million behind expectations.
So, Ravitch is again working to save the day. He has been holding meetings about his long-term fiscal plan for New York, a plan he is set to unveil in the coming weeks. Ravitch, though, isn't saying much publicly about that long-term plan. Right now, New York's finances need immediate saving, and not a whole lot seems to be getting done about it.
The Current Crisis
Today in his office Ravitch seems a bit worn down. The lieutenant governor has had a busy day. He addressed the conference of mayors in the morning, visited a new nanotechnology site and then had a meeting on the fiscal plan followed by a steady stream of less formal meetings in his Albany office.
Meanwhile, he's suffering from a head cold. He takes long, pregnant pauses between sentences, as if there are certain thoughts he needs to swallow back down before speaking.
"When my friends, who are mostly not in politics but in professional life, ask me if I'm having a good time, I tell them it's a fascinating time, intellectually. Is it a nice time? My interest in public service going back to UDC was saving things from catastrophe, making sure the government could continue to provide services essential for people who had no other alternative, who were dependent on government," Ravitch said.
But now he thinks government may no longer be able to provide those services, because of the economy.
"We are going to have to make very tough decisions, not just this year but the following year. Can you imagine being the governor, being David Paterson, my friend, or anyone else sitting there in January with a $15 billion deficit with 90 days to address it?"
Even when asked about the financial situation of the MTA, the organization he once saved, Ravitch treats it as just another casualty of the economy -- an unavoidable consequence of these harsh times. "I don't mean to belittle the situation and I do care a great deal about the MTA. I do believe (increased fares) would have a negative impact on a population already suffering a very high unemployment, but all of the possible actions have impacts that are negative. When people say lets find another solution, I say let's find out what it is."
Ravitch said he personally would not go ahead with Paterson's plan to raise the payroll tax in New York City from 0.34 percent to 0.54 percent, while dropping it from 0.34 percent to 0.17 percent in the suburbs. "At this point leave well enough alone," he said.
He recalled, "When I first got involved this summer, I shared David Paterson's view that we were in a serious economic bind, but there were a lot of people of good faith, friends of mine in the legislature, who said, 'Aww, Dick, we're in a recession and we'll be out of it in a year or so. So we just have to get through the next year or so.' To which I responded, 'Bullshit.' We've experienced a longer-term decline, and of course we're going to come out of it, but we're coming out of it much more slowly."
Ravitch said that federal stimulus funds will have only "built the cliff higher for us," when they finally run out.
The problems with the state's finances don't stem just from the recession but from long-standing, systemic problems. Ravitch points out that Medicaid costs are going up at four times the rate of inflation and health care costs at six times the inflation rate. "Medicaid costs are squeezing out education and infrastructure. We're getting squeezed out, because the federal government decided, quite properly, that people should have access to good health care."
To make matters worse, according to Ravitch, the state has relied on one-shot injections of borrowing or cash transfers to balance the budget. "Eight out of ten years we were not structurally balanced. Our expenditures did not match our recurring revenues. We used over $20 billion in one-shots. It isn't sustainable," he said.
Bearer of Bad Tidings
Ravitch is very good at playing the role of a messenger of sobering, even damning economic news. His tone, conviction and no-nonsense sincerity, combined with the wealth of his experience as a businessman, make him a very effective doomsayer. And legislators say they would like to see him increase his role. They like dealing with Ravitch and see his knowledge of the economy as invaluable.
With the current huge rift between Paterson and the legislature, some legislators would simply rather deal with Ravitch than Paterson. Paterson has slammed legislators as incompetent and unwilling to make hard choices, while legislative leaders have questioned Paterson's ability to lead and snubbed him behind the scenes.
"I'm not sure that is a fair way of characterizing it," Ravitch says, referring to the reported lack of communication between his "friend David Paterson" and the legislature. "I will tell you this: The problem is so profound, so without precedent, there is not a single valid choice about the budget that could possibly get a single person elected to public office. Having said that, how does a group of people, many of whom went into public life because they thought and believed government could do good things for people, deal with this kind of reverse economics?"
A number of legislators say Ravitch could work to repair the bridge between the legislature and the governor. "If the governor let the lieutenant governor negotiate on his behalf, he would be very well served," said Sen. Neil Breslin.
"He has that kind of personality, that kind of charm, that's difficult for anyone to turn him down,' Assembly Speaker Sheldon Silver told the New York Times last year. "They may never agree with him but it's very difficult not to sit with him and not hear his case."
Some legislators say privately that Ravitch is disillusioned and even angry at Paterson for the way the governor has handled the state's financial situation. Last fall the Post reported that Ravitch was dismayed that Paterson was not publicly proposing significant budget cuts for fear of public backlash.
Ravitch seems to bounce back and forth between his friendship with Paterson, his friendship with legislators and his desire to make significant headway to save the state from financial peril. Solving the problem, he said, "will take a degree of collegiality between the legislature and governor and Democrats and Republicans that hasn't existed before, and I hope it happens because the people will suffer if it doesn't. I mean, prolonging this agony and avoiding making unhappy decisions doesn't solve anybody's problem. Let me put it to you this way: I talk to the legislative leadership; obviously, I talk to the governor."
When asked if he sees himself functioning as a gateway between Paterson and the legislature, Ravitch bristles, but smiles a bit. "I'm fully prepared if it's useful to do that. I don't think that David Paterson has a problem communicating. I think the problem is, as I suggested, it's very, very difficult."
Reminded that some legislators have gone out of their way to snub Paterson, Ravitch responded, "And there have been times he's gone out of his way to characterize the legislature in ways they don't like. Right? That's why I refer to the fact that collegiality, not conflict, has got to be part of the solution here. But one of the things that is nice about politics is most ill feelings don't last long."
"Morgan is scowling," he said, referring to Morgan Hook, a Paterson spokesperson who is sitting in on the interview, "so he may not agree with me," laughs Ravitch.
Ravitch says legislative leaders are currently trying to solidify their estimate of the budget deficit. Public revenue discussions are set to begin later this week.
Legislators, though, will have to be rational about the state's financial situation, he said. "I had one distinguished legislator say to me, 'Dick, I'm not gonna vote for cuts or taxes.' To which I said, 'Where are you gonna find the fairy godmother?'"
On balance, Ravitch believes most legislators want to do a good job. "I think the general press' characterization of them as corrupt people is grossly inaccurate. It is not my sense at all. Yeah, there are some bad apples from time to time and altogether it's a hell of a life. A legislator makes $75 grand. I know a lot of them very well and they could make more money elsewhere. They are in this game because they want to make the world a better place. Sure, they have personal ambition, but they aren't in it to make money."
He is loath to make a prediction as to when a budget deal might actually be reached. "We could be making progress. We could get delayed. It's even conceivable we might not have one at all."
Ravitch also does not want to predict what he might do when his term is up at the end of year. "I haven't really decided what I'm gonna do, except probably do some teaching and some writing, for sure." Hook interjects, "And more golf!"
Ravitch agrees. "Once we get a budget done I hope to play some this summer. I have possible golf days with many members of the legislature. It's my way of saying, 'OK, let's pass this goddamn budget!'"