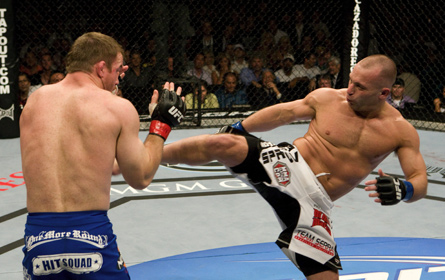 East Meadow native Matt Serra, a stocky welterweight, with an outgoing personality owns two jiu-jitsu gyms, was ranked number one in mixed martial arts in his division and once held the welterweight crown in the Ultimate Fighting Championships
Now he dreams of winning that crown back in Madison Square Garden before thousands of hometown fans -- and so has become an ambassador of sorts for legalizing mixed martial arts in New York.
This year, he has acquired new allies, many of whom probably have no interest in his sport. In his scramble to find new revenue, Gov. David Paterson's proposed budget would legalize the sport. The State Senate's budget plan also calls for legalization, although the Assembly's does not.
Many members of the legislature and Paterson say the sport will boost tourism and give the state much needed revenue -- $2 million according to Paterson's estimate.
Supporters of the idea say the sport has come a long way since the days when Arizona Sen. John McCain called it human cock fighting. Any fights that now take place in New York -- and it's said there are many -- are not regulated, making them more dangerous for fighters.
Those advocating legalization liken mixed martial arts to boxing, which is legal. Over the last 15 years or so, rules have been applied to mixed martial arts, athletes have become better trained, fighter safety is paramount, and the sport is hauling in boatloads of cash -- cash states across the country want a part of.
Opponents say that, whatever the financial rewards, New York should not condone such a violent sport. Further, they charge, many of those involved in running the fights are fairly dubious characters.
Violent or Ultra-Violent?
In its early years mixed martial arts was a brutal no-holds barred competition that reveled in violence and gore. Created in the early 1990s to promote a brand of Brazilian jiu-jitsu the Ultimate Fighting Championships pitted martial artists of one discipline against each other in an eight-sided steel cage. The early events had no rules, no time limits and no weight classes.
Things have changed since then. Now most athletes are well rounded. They combine jiu-jitsu, wrestling, boxing, karate, sambo and other martial arts to win fights. There are now time limits, weight classes, strict rules, medical staff on hand and regulated matches in 44 states. To win a fight, a fighter can knock his opponent out, subdue him with strikes or holds, or win on the judge's score card.
There is no question the sport is still violent -- take the UFC match that made Serra UFC welterweight champion. Serra faced tall, muscle-bound French-Canadian George St. Pierre as an 11-1 underdog. Serra was supposed to be St. Pierre's first and easiest title defense. But when the referee called a start to the match Serra came out swinging and staggered St. Pierre.
St. Pierre looked to recover but remained unsteady. Serra continued his barrage of punches knocking St. Pierre's noggin around like a rock' em' sock' em robot. Finally St. Pierre collapsed to the mat and Serra followed raining down punches at St. Pierre's head until the referee mercifully intervened, declaring Serra the winner.
Serra eventually lost the belt to St. Pierre before a hissing, booing crowd in St. Pierre's hometown of Montreal but he still hopes to again fight St. Pierre for the belt in Madison Square Garden.
Becoming a Business
New York banned mixed martial arts in 1997 during the sport's nascent years when there were no rules. Starting in the late 1990s promoters of the sport found themselves banned from most states and struggling to get pay per view buys they started implementing rules.
In 2001 the Fertitta brothers who own Station Casinosin Las Vegas and their friend Dana White bought the struggling UFC and used their connections in Las Vegas to get the sport legalized, regulated and back on TV.
Advocates of the sport say that because of safety measures the sport is much safer than boxing. It now attracts professional athletes, from well decorated college wrestlers, former NFL stars and the best in other martial arts. Big names such as professional wrestling's Brock Lesnar and former NFL star Hershel Walker compete in the cage. The sport has become ubiquitous on TV. From UFC events on cable channels to Strikeforce on CBS it is hard to miss the sport's popularity. And at the same time mixed martial arts gyms that combine jiu-jitsu training with wrestling and muay thai can be found on street corners around New York state.
The sport's popularity was clear on March 27 when 17,000 fans from all over the world poured into the Prudential Arena in Newark New Jersey to watch the Ultimate Fighting Championship. Brits, Croats, Japanese, Canadians and loads of New Yorkers filled the stadium chanting for their favorite fighters.
The 10 bouts featuring athletes from around the world utilizing an assortment of martial arts brought in an estimated gate of $4 million. UFC officials estimate that a great deal of attendees were from New York.
There is no question that Newark and the state of New Jersey reaped financial benefits. And that was the message UFC president Dana White wanted to send to New York: "The tax revenue from these ticket sales, these tourist dollars, all could have been yours."
Having the sport legalized in New York would be evidence for White and his backers that the sport is now officially mainstream; it would also allow them into a lucrative market. Officials at Madison Square Garden are not shy about their interest in hosting the sport.
"We are aware that mixed martial arts enjoys a strong following," said a garden spokesperson, "and it would be an outstanding addition to our calendar of events once the sport becomes sanctioned in the state of New York."
A Cut of the Purse
In addition to any direct state revenue, an economic impact study sponsored by the UFC found that an event held in New York City would generate over $11 million in economic activity, an event in Buffalo could generate $5 million. According to the UFC sponsored study, New York City would receive $400,000 from sales tax, business income tax, hotel tax, and personal income tax, from a single event held in the city. The study predicts the state would benefit by around $517,000 from the same revenue sources. The study also says that "one-time event activity" that includes staff working on the event would produce the equivalent of 81 local jobs.
The UFC also has pledged to hold matches in upstate cities like Buffalo and Albany --something upstate legislators like.
All these arguments have not been lost on New York State legislators who are desperately trying to avoid making damaging cuts to education and health care during an election year while also trying to close a $9 billion budget gap.For two years legislators like Sen. Kevin Parker and Sen. Joe Griffohave advocated legalizing it.
"The injury rate in MMA is far lower than boxing which we have sanctioned for years," said. Parker. "MMA has a safer environment." According to Parker, there is no standing count after an athlete is knocked down like in boxing. In MMA a referee can stop the action if he feels a fighter is in danger or if the fighter is not "intelligently defending himself," A fighter can also signal that he is done with the fight by tapping out, which means fighters do not incur the repeated head trauma they receive in boxing.
Legalizing mixed martial arts would make it even safer, Parker said. It would help eliminate underground fights and insure that all events become sanctioned and follow safety guidelines. "It's important to the economy and its important to provide safety," Parker said. And finally he thinks it should be legalized because "New York should be entertainment and tourist capitol of the world" and, in Parker's eyes, mixed martial arts is part of that.
Griffo said he got involved in supporting MMA when he became aware of one of his constituents who fights for the UFC. Matt Hamill became a decorated wrestler during his time at the Rochester Institute of Technology and turned those skills into a career as a mixed martial artist after a stint on the UFC's reality series -- he is also deaf. Griffo said his story is inspirational to other handicapped athletes. Griffo said he would like to see Hamill be able to compete in his home state and on top of that he thinks a UFC event upstate could be a boon to the flagging economy.
Randy Gordon, the former chair of the state athletic commission, who led the charge to ban mixed martial arts 16 years ago is now on the other side of things -- he even hosts a show on satellite radio about the sport. "I still believe I was correct back then," Gordon wrote in an op-ed for the Daily News. "But the sport we banned in the mid-'90s has virtually nothing in common with the MMA of 2009. Given its remarkable evolution, it's time we welcomed MMA to New York -- so we can enjoy and profit from this fast-growing entertainment."
The Opposition
For three years the UFC has lobbied legislators to legalize the sport. During those years the UFC has traveled to England, Germany, Australia, and has been sanctioned in Massachusetts, Pennsylvania and dozens of other states. Despite its efforts, 77 percent of New York City residents and 66 percent in the rest of the state oppose legalizing mixed martial arts, according to a January Marist poll.
The State Assembly has not included it in its budget plan. The Assembly is home to perhaps the country's most outspoken critic of MMA, Assemblymember Bob Reilly.
Reilly does not buy the fiscal arguments for allowing mixed martial arts. "I don't think the money would be as significant as Paterson has it pegged for. I think the violence will be much more visible than the money it brings in," he said.
"I call myself the accidental opposition," said Reilly. But that is not to say that he is not a well researched opponent of MMA. He has a bevy of concerns and a wealth of knowledge about those involved in the UFC.
Reilly said he thinks a number of legislators will be sacrificing their standards by supporting MMA for its financial benefits.
"There has been a lot about school bullying leading to suicides lately," said Reilly, "I'm not saying this is going to lead to suicide but I don't think we should say this kind of violence is OK because it is controlled in a cage by someone like Dana White."
Reilly points to a video blogDana White posted to promote a UFC event where he runs down a female journalist, using various slurs and obscenities. Beyond that, Reilly continued, "I've seen the relationship Dana White has with promoters in other states and I'm worried it would be Dana White running this thing, not the athletic commission. I think we are seeing the same sort of things that we saw with [boxing promoter] Don King."
Reilly also questions the financial acumen of the Fertitta brothers who own the UFC. "They are in bankruptcy court in Las Vegas for their casinos and an energy drink company. Are these people we want coming in to New York to run this thing?"
Supporters say that while the UFC is the major force behind sanctioning MMA, legalization would allow a bevy of promoters, both national and local, to hold events. It also would permit local athletes to compete in their hometowns and have their friends and families watch them.
Vested Interests?
Athletic Commission chairwoman Melvina Lathan and Commissioner Edwin Torres have been vocal in their support for legalizing the sport. In an op-ed, New York Secretary of State Lorraine Cortez-Vasquez wrote that, while she respects New Yorkers who oppose the idea, "I believe that legalizing these competitions presents an opportunity for regulating the sport while allowing the state to realize the economic benefits of hosting MMA competitions."
Cortez-Vasquez once worked for Cablevision, which owns Madison Square Garden.
Members of the state athletic commission might be supportive because mixed martial arts clearly has financially benefited other states. Pennsylvania was reportedly able to pay for its entire athletic commission's budget for a year from proceeds from a UFC event held last summer. It could do the same for New York's.
Reilly's critics say that he has his own ulterior motives for being against legalization . They charge he has ties to a group of unions called Unite Here that are upset that the UFC's owners use nonunion labor in their casinos. Unite Here has lobbied against legalizing mixed martial arts in New York.
Reilly received a donation of $2,000 from the group in 2006. But he denies it has influenced his stance. "I am supportive of labor," said Reilly, "but the idea that because some unions in Vegas are not allowed into Fertitta controlled Station Casinos would weigh on me here is a stretch beyond."
Buy Your Tickets Now?
So will mixed martial arts be legalized in New York this year? It's hard to say. It may be used as a bargaining chip, or it may quietly remain part of the budget and pass or fail with the rest when it comes to a vote.
Griffo said he would like to see a vote on the measure separate of the budget but said he thinks it would pass either way.
For his part, Reilly said he would not vote against a budget deal just because it includes mixed martial arts legalization.
"I don't know how hard the senate or governor will push for it and how hard the assembly will resist putting it in," said Reilly. "It could be used as a bargaining chip but I won't vote against the budget just because it is part of it."