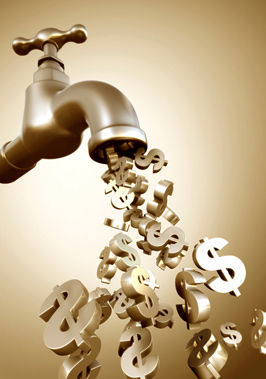 Photo (cc) 2010
The sounds of classic rock wafted from a Manhattan Laminates warehouse where stacks of plywood towered from the floor to the ceiling.
Upstairs three employees sat in a quiet showroom where brightly colored samples hung from the walls. A floor above several more employees worked in the accounting department -- a space that doubles as a crash pad for Manhattan Laminates employees, said the company's president, Kevin Brady.
In total, 10 people work full time at the 52nd Street location, selling woodworking supplies to architects, contractors and the average renovating homeowner.
And they get taxpayer subsidies to do it.
Six years ago, Manhattan Laminates received tax breaks from the city's Industrial Development Agency, the financing arm of the city's Economic Development Corp. In a deal that will span 25 years ending in 2029, Laminates has already received $197,000 in public assistance -- a subsidy cocktail of a mortgage recording tax exemption, a sales tax exemption and other tax relief. The financing came in exchange for expanding the business, which Brady says he has done -- though not entirely in New York City.
Since the deal, Brady has bought three other companies -- one of which is in Long Island.
"The entire catalyst was off of Manhattan Laminates," said Brady of his business growth. "If the IDA didn't do what they did, this whole thing might not have happened."
The breaks for Manhattan Laminates represent just one miniscule piece of the millions of dollars in city subsidies approved by the Industrial Development Agency during the Bloomberg administration. Over the last seven years, hundreds of projects have collected more than $363 million in benefits -- from sales tax relief to a mortgage recording tax exemption.
While the IDA contends those benefits play an integral role in expanding the city's economy, some say the public is not getting its fair share in return. Advocates and labor leaders are pressuring the administration to adopt more stringent policies to force these companies to create jobs -- good paying ones. The new comptroller, John Liu, has established a task force to look into the agency's accountability. Meanwhile, as cash becomes tighter at City Hall, critics question whether these breaks constitute the best use of taxpayer resources.
Nowadays, these IDA deals come with a lot more than low-cost financing. They come with controversy.
Boosting the Economy
Six years ago, Manhattan Laminates was on the agenda.
Two months ago, it was Western Beef's turn. Western Beef, a supermarket chain that sports a cactus in a cowboy hat as a logo, was eyeing up to $5.5 million in tax breaks to expand and relocate a store to Webster Avenue in the Bronx -- a move it promised would bring more jobs and fresh fruits and vegetables to the area. According to its application, Western Beef, which owns 15 stores in New York City, projected it would ring up more than $400 million in retail sales from all of its locations in 2009.
As they do every month, the Industrial Development Agency's 15-member voluntary board met in a fourth floor hearing room downtown to determine the applicant's fate. As usual, there was a small crowd that included mostly the applicant's lawyers, clad in sharp, dark suits, and a handful of advocates.
A dozen members, including the owner of Willougby's, a photography store staple; a union head; an Anglican priest and the Bronx borough president's counsel, deliberated. The board -- to which the mayor appoints a majority of members -- had never rejected a project during the Bloomberg administration, according to the IDA. And it wasn't about to start with Western Beef.
Over the course of the Bloomberg administration the IDA has inked more than 320 deals. The majority of these projects provide low cost, tax-exempt financing to not-for-profits. Many deals include financing for small-scale industrial outfits and tax incentives for the city's dwindling manufacturing sector. The smallest number of agreements, which account for the largest amount of public assistance, go to large corporations, like the New York Yankees, the Mets or Metropolitan Life Insurance.
Those large agreements make up half of the assistance received from the IDA through fiscal year 2009. And only these agreements, which comprise about 5 percent of all IDA projects, come with job creation requirements.
In total, the projects in IDA's portfolio during the Bloomberg administration have amounted to more than $10 billion -- money that goes to construction jobs, along with steel and wood, to build new headquarters and the staff to fill them. In total, these projects added almost 30,000 new full-time jobs to the city.
Without the IDA's benefits, say supporters, many of those projects, and the jobs that go with them, wouldn't have happened.
Photo (cc) 2010 Courtney Gross. Image of Manhattan Laminates warehouse.
"The IDA creates secondary jobs for the economy," said Louis J. Coletti, the president and chief executive officer of the Building Trades Employer's Association. "Without the IDA funding, a good portion of those projects probably wouldn't be able to move forward."
That is exactly the overarching rule governing the distribution of this unlimited public financing: The project would not be able to happen without it. That concept, critics counter, is interpreted quite liberally.
A Question of Benefits
With a few exceptions, most deals are approved with little dissent at the board, critics say.
That is, until recently.
Rewind to the IDA's board meeting in February. It was Comptroller John Liu's maiden meeting. He cast one of two votes rejecting the Western Beef proposal.
It would not be, however, the last time Liu or his proxy would vote against an IDA deal. Since taking office in January, Liu has committed to vote against every project at the IDA until, he says, he understands how projects are selected and if they are done so equitably.
"So little is understood about the process that it's even difficult to know what's troubling about the process," the comptroller said during a phone interview last week. "The EDC and the IDA vote will spell out what the benefits are. Is there any mechanism to ensure that those benefits are actually delivered?"
IDA officials say the process is clear: Every year, the board receives between 200 and 300 inquires about financing for private companies, from a behemoth Bank of America to a small Long Island City-based manufacturer. They all are looking for public assistance to expand their footprint (and, in most cases, their profits). In the last fiscal year, just 12 were approved. In fiscal year 2008, the board approved 42 applications, according to the agency.
IDA officials said the agency's board never rejects applications, because the staff has already weeded out faulty or unsustainable projects.
"Staff seriously considers not only whether a company wishes to pursue IDA benefits, but, also, whether IDA benefits can help them achieve their near-term and long-term objectives," EDC Spokesman David Lombino said in an e-mail. "Since applications cost $5,000, we discourage fledging industrial and manufacturing business from applying unless we believe they can present a strong application. Once applications are received, staff undertakes a rigorous review process."
But critics, including Liu, question the agency's accountability.
"The concept of the IDA providing subsides and tax breaks and low cost financing to companies in it of itself isn't the problem," said Bettina Damiani, the director of advocacy group Good Jobs New York. "The question is: Is it being done fairly and efficiently and do New Yorkers get access to good jobs?"
Advocates like Damiani point to the large tax exemptions given to mega-corporations. Think the New York Yankees, who received more than $48.8 million in public assistance through fiscal year 2009 for its new stadium (The team received $942.5 million in tax exempt financing in 2006). Their deal with the IDA lasts until 2046. According to the IDA's latest job assessment report, that controversial stadium currently has 3,621 full time jobs -- about 1,300 more than the old stadium, according to one estimate.
Those that make it through the application process but fail to comply with their contracts are subject to penalties or have their benefits terminated. Larger projects, like the deal for Pfizer, have certain job creation targets. If they don't meet them, they have to pay for it.
Since 2002, according to the IDA, approximately 60 projects have had to give back or repay benefits, totaling $34 million.
Though none of this satisfies critics. For instance, Metropolitan Life Insurance received tax breaks in 2002 for a $273 million project. But the company shuffled employees from its Long Island City location to Midtown -- violating the terms of its IDA contract. At the start of its contract, the company had 1,750 employees, and last fiscal year it had 1,778. The IDA canceled all of MetLife's future benefits, almost $18 million in assistance, as a penalty, an IDA official said.
Damiani called it "a slap on the wrist." The same approach applies to other large contracts, like Pfizer's, Damiani said. Pfizer received benefits starting in 2003 as part of a deal to expand its Midtown headquarters and its payroll. Eventually the deal was terminated (canceling all future benefits) because the pharmaceutical giant reduced its workforce, officials said. Pfizer, according to the IDA, is still required to report to the agency, and the city is working to get some of its benefits back.
"The IDA has made steps forward in transparency and accountability," Damiani added. "The bulk of taxpayer resources have gone to large commercial programs. And many people wonder whether that was a wise investment."
To continue reading about the IDA and its job creation policies, see Part II here.