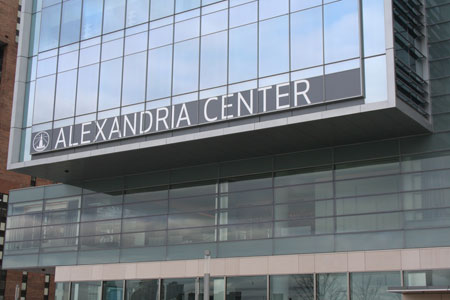 Photo (cc) Courtney Gross. The new life science center in Manhattan.
Milton Werner loves New York. He worked here for more than a decade, heading up a research laboratory that examined human cancers at Rockefeller University on the East Side.
So when Werner decided it was time to start his own biotechnology company, you'd think he would set up shop in the Big Apple.
But the nationally acclaimed scientist traded apples for peaches.
He opened in Georgia.
"I'm a New Yorker at heart," said Werner, now a resident of Atlanta. "And I love New York. It would be a great place to do this, but the cost of living is astronomical."
To top it off, when Werner launched Inhibikase Therapeutics in 2008, Atlanta sent him a check for $455,000, he said.
Werner is like many other former Big Apple bioentrepreneurs -- they study therapies and technologies at New York City's robust research and medical institutions, but move on to cheaper, more science-friendly hubs to develop their products.
The Bloomberg administration wants to reverse that trend.
Over the last five years, the city has invested at least $25 million to grow the bioscience industry in the five boroughs. It provided seed capital for a newly opened bioscience center on the East River and for the soon to be constructed start-up space at the Brooklyn Army Terminal. The State Legislature passed a biotech tax break last year, proposed by City Council Speaker Christine Quinn, that smaller biotech companies will start to tap into this April.
In the last two weeks, speeches by both Mayor Michael Bloomberg and Deputy Mayor for Economic Development Robert Steel have addressed how to spur the bioscience industry.
While the effort has not gone unnoticed -- in fact most commend it -- some industry experts think New York will struggle to become the next Boston, San Diego or North Carolina research triangle. Bloomberg's investment, they argue, might never quite pay off.
The Science Race
Security and large silver gates guard the entrance to the city's new bioscience center. Outside, the cobblestone driveway is lined with pictorials of scientific leaders, Barbara McClintock and James Watson among them.
Inside, the nearly floor-to-ceiling windows offer an expansive view of the East River. New York University's Medical Center looms in the periphery.
The approximately $250 million, 15-story tower opened last month with much fanfare. Celebrity chef Tom Colicchio's newest restaurant occupies space on the ground floor. Sleek lab space sits empty waiting for occupants on the fourth floor. The top floors house the new research space for an Eli Lilly and Company subsidiary, the New Jersey-headquartered ImClone .
But the facility, developed by Alexandria Real Estate Equities, didn't come without sacrifice.
The state contributed $27 million to the project's construction and another $1 million to entice ImClone as the anchor tenant. The Bloomberg administration gave $13.4 million, and Manhattan Borough President Scott Stringer gave $500,000. All of it was to lure an industry starving for lab space and start-up capital, officials said.
"You look at all the big pharmaceutical companies," said Mayor Michael Bloomberg at the center's opening. "They are over in New Jersey. We want to make sure those jobs stay here."
The city has a lot of catching up to do. Officials admit they have lagged behind other metropolitan areas -- losing bioscience jobs to Boston's reputation and to San Diego's easy-on-the-pocket lab space.
"[The city] has a lot of the ingredients to be the premiere bioscience center," said Seth Pinsky, the chairman of the city's Economic Development Corp. "We just haven't captured as much of the potential as we should."
According to data from the U.S. Bureau of Labor Statistics, between 2007 and 2009 the five boroughs added approximately 266 commercial bioscience jobs -- going from 7,247 jobs to 7,513. Manhattan actually lost jobs in research and development in the biotech sector -- the primary target of the city's efforts. Figures by county for 2010 are not yet available.
The Economic Develop Corp. says the city had 132 bioscience companies as of 2010.
According to the bureau, New York City has approximately the same amount of jobs in bioscience as Boulder, Colo. or Dallas, Texas.
San Diego, though, has four times as many bioscience jobs as the five boroughs.
While New York gained a couple hundred positions, other emerging and established bioscience hubs gained more -- and at a faster rate. Dallas added twice as many jobs as the Big Apple between 2007 and 2009.
Durham County, N.C. -- one piece of the state's research triangle -- gained more than 1,100 jobs in the private sector. Cambridge, Mass. took on more than 2,300 additional jobs and Suffolk County, home to Boston, more than 960.

View Bioscience Boosts in a larger map
For a full look at where jobs in bioscience are going, see our interactive map. The map includes private employment in research and development in physical, engineering and biological sciences as well as employment in the pharmaceutical industry and medical device manufacturing.
Forgetting established bioscience clusters, like California and eastern Massachusetts, experts say Palm Beach, Seattle and much of the Southeast are all competition for a slice of the emerging bioscience market.
"One of the main drivers was our proximity to the new Scripps Research Institute," said Robert Middlebrook, the chief financial officer of Envoy Therapeutics, explaining the company's decision to locate in Palm Beach County in 2009. Several of Envoy's scientists have ties to the city's Rockefeller University.
Bigger and Better Incentives
For the city to get businesses like Envoy to come to New York, it will offer $3 million in tax credits for the first time this year. But many other states and counties have already implemented tax credits and incentives -- and some are hooking biosciencebusiness with a larger worm.
Florida used about $450 million in economic development projects to lure large research organizations, like Scripps.
Maryland has promised to invest $1.1 billion in bioscience over 10 years, including $8 million in a refundable biotechnology tax credit this year. Massachusetts has set aside $500 million over a decade for capital investments in life sciences. The Bay State gave out $25 million in tax credits in 2009.
New York state has some tax incentives geared to companies in emerging technologies, but the state Department of Taxation and Finance does not break out data by region or industry. The department forecasts it will hand out $14 million in 2010 for capital expansion and training for emerging technologies.
To catch up with other areas, the city Economic Development Corp. plans to secure a consultant by the end of the year to study what incentives and initiatives New York City can adopt to bring biotech here. The study, said officials, should be completed by next summer.
Bioscience Throughout the Boroughs
Bloomberg administration officials say we already have the research centers. We just need to turn their expertise into a commercial economic boom for bioscience.
At the offices of Google in Chelsea yesterday, newly minted Deputy Mayor Steel said biotechnology and life sciences are crucial to creating a new "innovation economy" for the city. The city has a "marketing problem and a real estate challenge," Steel said.
Despite the national and international competition to entice bioscience, Steel said -- in typical New York fashion -- the city is ready to best them all.
A decade ago, New York City had one large commercial lab space for startups. It now has three others on the map or in the works -- all have been spearheaded with private and public dollars.
Earlier this year, the administration and SUNY Downstate Medical Center announced the first phase of construction on a 486,000 square foot facility at the Brooklyn Army Terminal in Sunset Park. SUNY Downstate also expanded another incubator space in central Brooklyn, said professor Eva Cramer, vice president for biotechnology and scientific affairs at SUNY Downstate.
The Alexandria Center for Life Science on the East Side of Manhattan plans to add two more towers -- though the commitment comes with a caveat. Joel Marcus, Alexandria's president and chief executive officer, said it would not break ground on the next tower until it had an anchor tenant. There is no telling when that might occur given the tremulous economy, real estate market and the relative trouble the city has had keeping and recruiting companies.
Experts provided some optimism, arguing a major tenant for a second building would be easier to corral since a biotech presence has been established in the complex.
The new Alexandria tower and the Brooklyn Army Terminal space alone will create about 2,000 new bioscience jobs, officials said.
This multi-borough development strategy epitomizes the city's new bioscience mantra -- "if you build it, they will come."
"New York City has always had many of the ingredients that would make it a center for the bioscience industry -- a talented workforce, accessible venture capital and a concentration of leading academic and medical institutions -– but we've had a shortage of commercial lab space," said Economic Development Corp. spokesperson David Lombino. "Now, with new lab space open and even more in the pipeline, the city is better poised to capture companies that spin out of our existing institutions, creating good jobs and strengthening our local economy."
Some scientists just starting companies don't see it so simply. Dr. Allan Rubenstein, a pediatrics and neurology professor at New York University, received nearly $1.5 million for his biotech startup, NexGenix Pharmaceuticals, after attending a city-sponsored seminar on grant applications.
He now has eight employees in Manhattan.
But, Rubenstein said, his lab space is in San Francisco.
"Despite the very positive efforts of the Economic Development Corp., I don't personally think that biotech is going to thrive in Manhattan," said Rubenstein. "It's basically the cost of doing business."
Manhattan's cost of lab space is one thing. Alexandria's Marcus would not disclose specific rental rates at the new life science center, but said they are less than $80 a square foot.
Boston area lab space goes for approximately $50 per square foot, according to the Massachusetts Biotechnology Council.
Lab space coming online in the outer boroughs is more affordable. Rental rates at the Brooklyn Army Terminal project will be about $40 per square foot, according to the Economic Development Corp. An official running the space said scientists aren't lining up to sign leases, but they have had plenty of inquires.
Lab space in and around San Diego goes for about $36 a square foot, according to California based BIOCOM.
Companies in California tend to get larger spaces -- approximately 10,000 to 15,000 square feet, said a San Diego expert. In wall-to-wall Manhattan, lab spaces can only have so much legroom.
Werner in Atlanta said no startup biotech could really afford more than $20 a square foot.
"I looked at Atlanta as not being so different from New York, but at a much smaller cost," said Werner.
Scientists at New York City startups must also contend with a higher cost of living -- from rent to a gallon of milk.
Back at Google, Steel recognizes this.
"The price is always going to be a challenge," the deputy mayor said. "We are in New York. It's not the same price as other places, but there are other advantages too."
Why Bring Bioscience, Anyway?
In making their argument for investing in bioscience, city officials say bioscience clusters coagulate around medical centers and universities.
The city, they point out, has nine.
The five boroughs receive approximately $1.3 billion in National Institutes of Health funding every year, said officials. Its institutions create at least 20 spinoff bioscience companies a year, they contend.
"Our belief was you had to have meaningful presence in New York City because this is where the science is interesting," said Maria Gotsch, the president and chief executive officer of the New York City Investment Fund, which is sending at least $20 million to start-up biotech companies in the city. "The efforts are less about attracting California companies. It's about keeping what is ours."
But critics mention the bioscience industry made a profit for the first time only last year. It's uncertain whether surpluses will become the norm and how many jobs within the five boroughs can actually be created.
Despite the obvious challenges, New York City is a contender.
"It took 30 years in Massachusetts to grow this industry, and in the early years it was pretty humble," said Peter Abair, director of economic development at the Massachusetts Biotechnology Council. "Other regions of the world that are seeking to focus on this industry, they have to be ready for a long term growth."