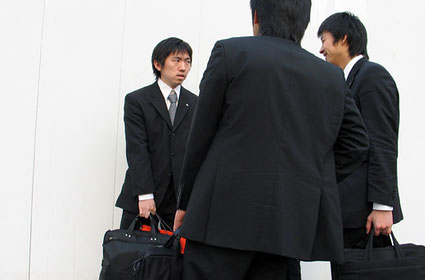 Young Seo Kwon came to New York in the winter of 2008 to enroll in the master's program in accounting at Pace University, hoping to get a job in the city after graduation. A native of Seoul, South Korea, he did not really want to be an accountant but thought it would be relatively easy to get a work visa in the accounting field.
"Companies are always looking for accountants," said Kwon. "And many of them offer visa sponsorship to foreigners. It is sort of a niche market because Asian students are stronger at math. American students are more reluctant to study the boring stuff."
Kwon's aptitude at math, though, might not get him a job in a troubled economy where unemployment continues to rise. According to the Department of Labor's Bureau of Labor Statistics, the U.S. unemployment rate went from 7.2 percent to 7.6 percent in January 2009, the highest level in the 16 years. The country lost about 598,000 jobs during the same month.
"I applied for many internships for this coming summer but couldn't find any," said Kwon. "I was told later that many companies only hired a few interns this year. Last year some big companies hired more than 100 interns."
Kwon is not alone. New York City continues to attract international students because of its vibrant city life and educational and cultural resources. Many international students study in business schools in New York City in the hopes of getting a job on Wall Street. However, as the financial markets fade, so does the chance for employment for those who planned to rely on an employer's sponsorship to get a work visa.
"Right now it is not a good time to be looking for a job, it is a good time to stay in school," said Huy Nguyen of Vietnam, a first-year MBA student at Baruch College. "Hopefully by the time I get out of school, it will be the beginning of the recovery."
Not everyone is so optimistic. Nguyen's schoolmate, Thida Soe, a finance student from Myanmar who is graduating next year, said, "I think my chances are very slim. I understand they are cutting the quota some more. I am keeping my options open."
Getting the Proper Papers
The faltering economy is not the only obstacle facing international students. In the past several years the U.S. government has made it more difficult for foreign students in business and other fields to stay here after graduating.
To remain in the United States, many foreigners with college educations try to get a work visa, also known as an H-1B. This permit allows U.S. employers to hire foreign nationals in occupations requiring specialized knowledge, such as engineering, law and medicine. In general, the employer has to prove the person has the proper educational background with a minimum of a bachelor's degree. The employer must also pay the prevailing wage.
Getting an H-1B has become increasingly difficult. Since 9/11 American companies have become more reluctant to hire foreigners, both because of nationalistic sentiment and security concerns. In addition, the government has reduced the number of the visas issued annually to 65,000 from 195,000 earlier in the decade. Getting an H-1B now is a matter of fate, since the visas are allocated by lottery. In 2008, the H-1B quota for fiscal year 2009 was reached before the end of the first week in which applications were accepted. The additional 20,000 spots for people with advanced degrees also were taken within a week.
The Troubled Assets Relief Program -- popularly known as the Wall Street and bank bailout -- puts further restrictions on hiring foreign workers.
On Feb. 5, Sens. Charles Grassley, an Iowa Republican, and Bernie Sanders, an independent from Vermont, introduced an amendment barring all TARP recipients from hiring any H-1B workers. "Hiring American workers for limited available jobs should be a top priority for businesses taking taxpayer money through the TARP bailout program," said Grassley in a statement. "With the unemployment rate at 7.6 percent, there is no need for companies to hire foreign guest workers through the H1-B program when there are plenty of qualified Americans looking for jobs."
The version of the bill that President Barack Obama signed is not that strict but it does require that any TARP recipients with more than 15 percent of their workers on H-1B visas comply with a series of strict standards. The employers must have made a good-faith effort to hire U.S. workers first and are not supposed to displace American workers with H-1B visa holders or replace laid-off American workers with foreign workers. The companies that receive money from TARP include many major financial institutions such as AIG, Goldman Sachs, Citigroup, JP Morgan Chase and Bank of America.
Stricter Regulations on Practical Training
Some foreign residents get work in the United States under optional practical training or OPT. This permit allows international students who have completed their studies to work for up to 12 months in a job directly related to their schoolwork. The rules for this have gotten stricter as well. A provision announced in April mandates that all students with optional practical training permits find a full-time job within three months. In addition, students have to apply for the program within 60 days of graduation. Those new rules are designed to prevent international students from staying in the U.S. longer by stalling their applications.
Soe, for one, considers the new rules "outrageous." "It is hard enough to find a job," she said. "They are making it even harder for international students. ... We are highly equipped and they are missing out on us."
Internships Wanted
While the government may have made it harder for international students to remain here, the bad state of the job market remains the students' overriding concern. Rain Han, a native of Tianjin, China, will graduate with a master's degree in accounting from Pace University at the end of the year. He has been looking for a job but to no avail.
"There are not that many full-time openings compared to last year," said Han. "Major CPA firms used to come to campus to recruit quite a few positions, but now they just need one or two people."
At least he has an internship paying $17 an hour.
"I have been interning with the auditing department in a telecommunication firm since last July," said Han. "I hope I can use it to my advantage in the job search."
"I have asked my supervisor at the internship if it is possible for me to get an H-1B," added Han. "But they did not give me any clear answer. It is impossible to change the big environment. The only thing I can do is to stay competitive."
Vijay Jadhav, a graduate student at Pace from Maharashtra, India, scheduled to graduate in May, has applied for about 500 positions and internships in the last six months but only received some offers of unpaid internship. "There used to be many internships that would pay $20 an hour," said Jadhav. "Now only a few of them pay $8 to $10 and most of them are unpaid."
Business Schools Still Popular
Despite the current job situation, U.S. business schools remain alluring. The number of foreigners registering to take the GMAT -- the Graduate Management Admission Test required by most U.S. business schools -- jumped almost 19 percent, from 101,756 in 2006-2007 to 120,825 in 2007-2008, a new record, according to the Graduate Management Admission Council, which administers the test.
A degree from a top American business school is still highly regarded in the face of competition from top international business schools. The most recent ranking of business schools in the London-based Financial Times listed nine U.S. business schools in the top 20.
Coping With the Crunch
To extend their stay here, some students plan to stay in school longer.
"I am playing around with my graduation date," said Kwon. "If the economy is better next year, I will graduate on time. If not, I will delay for one semester."
"I am probably going to delay my graduation to December," said Jadhav. "A lot of people are doing that. We are buying more time. There might be more opportunities in six months."
And if there aren't, most students interviewed have back-up plans if their plan A -- getting a job in the United States --doesn't pan out.
"China's economy is doing OK right now," said Han of Pace. "If I don't get an H-1B here, I will probably move to Shanghai. It is a major financial center just like New York."
"I've grown to like the city so much," said Jabhav. "If I could get a job here, it would also help me pay off my loans faster. But if I don't get anything, I have no option but to go home."
"I would like to work in the U.S. but I would consider Canada, England, or Australia," said Soe. "They have more lax regulations on hiring foreigners." She added she thought that, with an advanced degree, language skills and work experience, she could find a job in those countries.
"The good thing about being an international student is that I don't have to limit myself to the U.S. only," said Nguyen. "I can go back to my home country or other Asian countries. An MBA for me is a degree and education. I want to get it done and move on to the next phase whether it is here or anywhere else."
Larry Tung, a native of Taiwan, teaches media and film courses at Kean University in Union, New Jersey. He is also a documentary filmmaker whose work focuses on immigrant and Asian American issues.