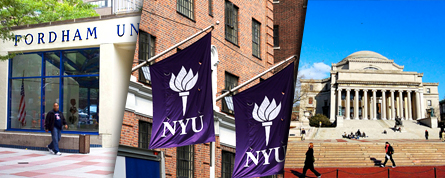 NYU's Web site proudly proclaims its location in the center of Greenwich Village, "long famous for its contributions to the fine arts, literature, and drama and its personalized, smaller scale, European style of living." But starting this semester, some graduate students who enroll at NYU find themselves living not in the Village but across the river in Brooklyn. Once the residence for Jehovah's Witnesses, a narrow building at 67 Livingston Street now houses NYU graduate students.
Many predict that in the not too distant future more NYU students may live in dormitories "off borough." NYU is booming, and it wants more space.
NYU's situation reflects the reality facing many colleges and universities in the city. To the delight of economic development officials and the Bloomberg administration, higher education is thriving in New York City. But while the schools would like to grow, they cannot find the room to do it. That real estate crunch has led to a variety of expansion plans -- and to conflicts between the universities and the communities that surround them.
Head of the Class
While New York City does not have an image as a college town, it does have 113 colleges and universities. More than 200,000 students attend independent, or private, colleges in New York City, according to a report by the Commission on Independent Colleges and Universities. Another 226,000 are enrolled in degree programs at the City University of New York, with thousands more taking adult or continuing education classes at one of CUNY's campuses.
Students who leave their home states to attend college are more likely to come to New York than any other state. Of the 10 colleges ranked highest by the Princeton Review for being in a "great college town, four are in New York City and one -- Eugene Lang -- placed number one on the list.
All of this has a major impact on the city and state economy. The payrolls of private schools alone in New York City amounted to almost $8 million for the 2004-2005 academic year. Employment in higher education has been rising throughout the nation and the state, but according to Crain's New York, the city "is seeing the sharpest growth," led by the City University. CUNY, Crain's reports, has hired about 800 faculty members this year as part of its effort to replace adjunct professors with full-time staff and to improve its academic standards.
E Is for Education
City officials would welcome that many jobs in any field that's legal, but economic development experts see university employment and spending as particularly desirable. For one, colleges and universities draw talented people to the city and lend the city an intellectual energy it might not have otherwise have. More concretely, the research done at universities can help industry and lead to the creation of jobs in such cutting edge areas as biotechnology and high technology.
Despite the large number of college and universities in the five boroughs, New York has been seen as lagging in such industrial spinoffs behind the Route 128 corridor around Boston and California's Silicon Valley. Though New York City's major universities capture and receive an enormous amount of federal research and development funding, the city has gotten "a relatively small return, in business development terms, from that federal investment," economic development consultant David Hochman wrote for the Center for an Urban Future.
Many experts see the increased prominence of universities as part of an overall shift in the city's economy from an emphasis on FIRE (Finance, Insurance, Real Estate) to one centered on ICE (Intellectual, Culture and Educational area).
State employment trends give this some credence. Employment in manufacturing in New York State dropped by 40 percent between 1995 and 2005, according to the Commission on Independent Colleges and Universities. It fell by 9 percent in the FIRE sector. But employment in the so-called ICE area rose by 17 percent.
This idea of an ICE economy has been championed by NYU President John Sexton. A decline in the finance, insurance and real estate jobs that have long driven the New York economy seems inevitable, he has written. "Cyberspace increasingly will deny oxygen to New York's FIRE sector; today's chief executives can conduct business from Aspen or make deals from the Caribbean." But the ICE sector needs the talent and intellectual ferment best found in an urban setting, particularly in New York.
While universities reap the benefits of New York, they cannot escape its problems. And so, colleges grapple with the high cost of living, particularly for real estate, and a shortage of space at any price. That dilemma has led to ambitious plans and persistent conflict, particularly at the city's two most prominent private universities.
NYU: Back to Engineering...
In the mid 1970s, with New York City declining and private education ailing, New York University seemed in danger of extinction. To raise money and trim costs, it disbanded its engineering school and sold its Bronx campus -- an imposing tract of land featuring the Hall of Fame of Great Americans -- to the City University of New York. Today it serves as the campus of Bronx Community College.
In the ensuing decades, though, NYU would see a great change in its fortunes. In 2004, it announced plans to add 125 faculty to its 625 member arts and science faculty. "The ambition here is to live out what it means to be a first-class university," Sexton said at the time.
As part of that, the university has decided it needs an engineering school after all. "The absence of a school of engineering and applied science has been felt keenly in a world increasingly reliant on technology," Sexton and David McLaughlin said in a memo to the NYU community in August.
"They realized that, as far as being a major research presence, they need an engineering school," said Jonathan Bowles of the Center for an Urban Future.
With that its mind, it has announced plans to merge with Brooklyn Polytechnic University, which describes itself as America's second oldest private engineering school. Approval of the plan seems virtually assured.
Polytechnic's 3,000 graduate and undergraduate students attend classes in buildings on the Metro Tech development in downtown Brooklyn. For Polytechnic, the move will enable it to offer more opportunities to its students, an effort that has been hampered by its relatively small size. The school also has reportedly long struggled with financial problems.
Many observers see the merger as addressing a key shortcoming in New York's university offerings: the absence of a large, top engineering school. While City College and Columbia, along with Poly, offer engineering programs, none of them receives substantial federal research funds, according to Hochman. Columbia conducts about $30 million a year in engineering research and development, while Georgia Tech, the nation's leader, does some $286 million.
Over the years, some experts have cited the absence of a major engineering school as one reason New York does not fare better in creating jobs from developments at universities. "The mixture of engineering and science can provide an important spark for the invention, commercial applications and the economic growth opportunities that result," said Hochman.
...And Across the River
In their memo Sexton and McLaughlin cited Polytechnic's location as one of its assets. "Wouldn't this location in Brooklyn - so vibrant and so near our own location in Manhattan - be a wonderful neighborhood of which to be a part in the future?" they asked rhetorically.
Given NYU's history, that could give some residents of downtown Brooklyn pause. As the university has sought to create faciltities for tens of thousands of students, it has transformed its neighborhood, alienating many of its neighbors. "NYU has deep pockets, a wandering eye and a shocking lack of aesthetic ingenuity when it comes to building new structures," Lenora Todaro wrote in the Village Voice in 1999.
NYU has said it needs as much as 6 million square feet of additional space over the next 25 years, and some question whether all, or even some of it can be around the Washingtn Square campus. "We've more than reached the tipping point, and they really need to start planning toward future growth being absorbed by places outside the nighborhood," said Andrew Berman of the Greenwich Village Historic Preservation Society, which has often opposed NYU's actions in the neighborhood.
Now, though NYU, with a toehold at Polytechnic, could expand in Brooklyn.
The borough "is a wonderful location to build other programs," Sexton told the Brooklyn Paper.
Reaction in Brooklyn seems mixed. An influx of students would have a positive effect on downtown Brooklyn, according to Ian O'Connell of the Downtown Brooklyn Partnership, an economc development group. The NYU-Polytechnic merger, he said, is "very positive for downtown Brooklyn. There's nothing negative."
As for NYU's new dormitory in Brooklyn Heights, that too seems to have attracted little concern. "We tend to focus on planning and zoning issues in terms of height density," said Judy Stanton of the Brooklyn Heights Association. "More NYU students would be welcome in the community, but not at the expense of tall buildings."
And some express delight at NYU's venture across the river. "I'm hoping the neighborhood will turn into something like 3rd [Avenue] below 14th [Street], so I can stop going out there for my reckless partying entertainment," a reader commented on the Brownstoner blog. "If these college students bring more bars and, dare I say it, some genuine clubs out by here, I for one would be a very happy camper."
Columbia: Expanding North
In the annals of town-gown disputes, Columbia University's battles have been the stuff of legend, spawning one of the major campus revolts of 1968.
In 1968, essentially all Columbia sought to build in the surrounding community was a gymnasium. Now it wants to construct a whole new campus covering 17 acres and extending as far north as 134th Street. The 6.8 million square feet of new space would include a science center, facilities for the school of the arts and an academic conference center among other things.
The main impetus for the proposal, according to Columbia, is that the university is running out of room. As evidence, it notes it has far less space than any of its fellow Ivy League institutions, with half the space per student as the next most cramped Ivy, Harvard.
The university's vision to deal with this has won plenty of praise. "The plan is gorgeous and enumerates many of today's fashionable planning principles," Julio Vitullo-Martin of the Manhattan Institute wrote in 2004. "The buildings will have transparent ground floor sections, to create a light and airy, seamless transition from building interiors to outdoor spaces. The now narrow sidewalks will be widened. Streets will be lined with trees to encourage pedestrians."
On the other hand, the neighborhood now, with its low-rise apartment buildings, small businesses such as auto repair shops and storefront churches, has been derided as all but a wasteland. Not surprisingly, those who live and work in the area disagree. The plan will directly eliminate 132 apartments – not a huge amount for New York City but still significant in a real estate market where any affordable home has become precious. Many also fear that the Columbia expansion will accelerate the gentrification of West Harlem.
Despite their huge differences, though, in the past several months, the two sides have moved closer together. Over the summer Columbia promised it would not use eminent domain to force out residents in the area of the new campus, although it did not rule eminent domain out for commercial tenants. In September, the university announced it had obtained a site where it could construct a building with apartments for some of those facing displacement.
Also in September, Manhattan Borough President Scott Stringer and Columbia reached agreement on a wide-ranging plan. Stringer came out in favor of Columbia's move north. For its part, the school said it would create a $20 million affordable housing plan, try to create and improve open space in the area, use environmentally sustainable construction practices and provide information of job opportunities to community residents. At the same time, Stringer and the city planning department said an area adjacent to the new Manhattanville campus would be rezoned "to put in place protections of mitigate secondary displacement impacts the Columbia expansion could potentially cause."
Opposition persists, however. The local community board, whose role is purely advisory, had already come out against the expansion. It drafted its own community plan, in conjunction with the Pratt Center for Community Development. That plan puts greater emphasis on preserving and creating affordable housing than Columbia's.
Officially the Manhattanville campus is not a done deal – the expansion still needs an official OK from the city planning department and City Council. But with the backing of Mayor Michael Bloomberg and many council members, that seems almost certain.
Up, Not Out
To meet its need for additional space, Fordham University has decided not to spread out but to build up. While the plan has not yet begun the official land use approval process, it has already attracted some opposition.
Fordham's main campus is in the Bronx, but the school opened a law school near Lincoln Center in 1961. Over the years, it has added more offerings – and students – to the Manhattan campus. Today, more than 8,000 students attend a Lincoln Center campus that the university says was intended for 3,500. "We don't have enough dormitory space, we don't have enough classroom space, and we woefully lack office space," Fordham president Joseph McShane has said.
Fordham's plan essentially calls for putting more buildings and taller buildings on its current campus – a so-called super block bounded by Columbus and Amsterdam Avenues and West 60th and West 62nd Streets. This will include a new 16-story law school and a campus center with five floors, along with hundreds of additional parking spaces.
To finance all this Fordham, which says "has relatively modest endowment resources compared to other major research universities," envisions tall, luxury apartment buildings on the super block. Residents charge that all the high-rise development will be out of touch with the area's character and will cut Fordham off from the rest of the community. "We'll be living in a fortress if Fordham gets what they want," Doreen Moresco, who lives at the Alfred, an existing luxury building in the area, reportedly said at a recent public hearing. Representative Jerold Nadler and several members of the state legislature have opposed the plan in its current version.
Community Board 7 has not yet taken a final position on the plan – it expects to hold hearing on it as the proposal goes through the approval process. The board has, however, submitted a response to Fordham's scope of Fordham's draft environmental impact statement. In that, the board expressed an array of concern, such as buildings that are "too tall and bulky," too many parking spaces and "large fortress-like walls along the streets."
To help win over its community, Fordham recently launched a "Neighbors" site on its Web site. On it, the university points to its "broader effort to engage the community in conversation about the redevelopment of our Lincoln Center Campus." With the long approval process for the plan just starting, it remains to be seen whether the conversation will be a dialogue or a shouting match.
A Citywide Solution
The space problem at New York's colleges is not limited to a few private universities. More than 100 of the city's institutions of higher learning project they will need a total of 20 million square feet of additional space over the next few years, the New York Sun reported recently. With real estate in the five boroughs expensive and hard to come by, city officials fear the colleges will move some of their operations beyond the city limits.
With that in mind, the city would like to create facilities for groups of colleges in relatively low-rent areas, such as Long Island City, the South Bronx or even Governor's Island.
Colleges, that sell their brand to students and parents (for as much as $45,000 a year) might resist the idea. But Teresa Vasquez of the Economic Development Commission told the Sun, university administrators should give it careful consideration. "Twenty million square feet is not something easy to come by," she said.
Sarah Johnson contributed reporting to this article.Â