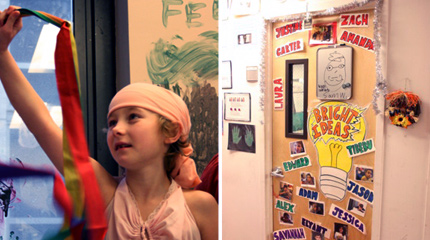 Photos courtesy of Rebecca Schools
Strapped into his helmet, the boy kicks off, propelling his scooter about 30 feet before he trips off and come to abrupt halt. A young woman rushes to help, but the boy remains undaunted, "I want to keep riding," he insists, pushing off again.
Not an uncommon scene. But its very ordinariness makes it noteworthy. The boy is riding not along a city sidewalk but in the corridors of a public school on 100th Street. He attends the New York Association for Autism Charter School, and one thing the school aims to do is help its students play. "If a kid is isolated all the time, you're not preparing them for life," said director Jamie Pagliaro.
The charter school, which opened in fall 2005, represents a wave of new classes, schools and other programs designed to help the increasing number of New York City children diagnosed with autism spectrum disorders. The founders, both mothers of children with autism, started the school because of their own epxeriences looking for a school for their children. Neither could find programs they considered appropriate in New York City.
"You should be able to educate your child in the community where you live," one, Laura Slatkin, has said. "There should be a great school in New York City."
Those involved with the school and the Department of Education also hope the charter school can provide a model for meeting the needs of autistic children, who require a lot of attention. In that event, it will lead to more public programs -- and more programs in the five boroughs.
For government, the rising number of autism cases strains budgets and taxes services. For parents, the disorder poses an even more daunting challenge -- finding an education and therapies that will help their children lead the fullest possible lives. With a shortage of programs and funds, conflicts inevitably arise between school and family over screening and diagnosis, over the type of services a child needs, and over who should pay for it.
Navigating the system -- and finding scarce therapists and classroom slots -- can intimidate even the most sophisticated and aggressive parent. For the less educated parent, or one who doesn't speak English, the difficulties loom even larger.
"The lack of sufficiently intensive programs in the public schools, the lack of sufficient seats in private alternative programs and the failure of the state education department to approve sufficient private school providers render the search for an appropriate placement for many children a morbid game of musical chairs in which only the best resources and most legally adept may win," said a grant proposal from CUNY Law School and Hunter School of Social Work.
A Mounting Problem
Autism spectrum disorders are complex and not always easy to diagnose. Ranging widely in severity, they affect the development of normal social and communication skills.
In the past decade or so, autism has increased dramatically. Some experts believe television may be a cause; some blame vaccines or environmental factors. Others attribute part of the rise to improved diagnoses, particularly of people with milder autism disorders, such as Asperger's syndrome.
For decades, according to the Centers for Disease Control, autism was believed to occur in about four or five children out off every 10,000. But in 2000, a sample taken from 10 states (of which New York was not one) found that about one 8-year-old child out of every 150 had some variant of the disorder.
In New York City, the number of children with autism has increased by more than 70 percent since 2001. According to the Department of Education, as of June 2007, 5,863 students in the New York City school system had been diagnosed with an autism spectrum disorder. Some educators have estimated the number could be far higher. Spending for children with autism is folded into the city's $4 billion special education budget.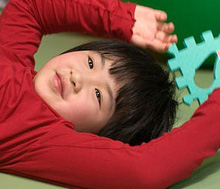 This is a particularly expensive group of children to educate. All recommended methods for helping autistic children call for individual attention and various therapies. Many of the youngsters have behavioral problems that require close supervision.
Tuition for private schools for autistic students, such as the Rebecca School on East 30th Street in Manhattan, can easily run to about $80,000 a year. In 2006, the city reportedly spent about $825 million for tuition at private schools for special education students. The Department of Education does not break out numbers for autistic children.
Under federal law, if an individual school district cannot provide an "appropriate" education for a child with disabilities, including autism, it must pay tuition at a private school. While the federal government requires the school system to pay that cost, it does not give the school district or the state the money to do that. This leads to rancorous and costly battles between school districts, which must keep at least one eye on budgets, and parents, eager to do what they believe to be best for their child.
Two years ago, Scott Greenspan, a New York lawyer, testifiedbefore City Council about his frustration in getting an education for his son, then 9. The boy, he said, is autistic, non-verbal and has a condition called pica in which he puts objects in his mouth. This meant he required a paraprofessional to follow him around all day. But, Greenspan said, "the Department of Education has thrown roadblock after roadblock in our son's education."
While most parents worry abut their child's education, the issue is particularly fraught for parents of children with autism. A story from Floridathis month certainly brought that point home. There, according to the boy's mother and press accounts, a kindergarten teacher encouraged her students to tell an autistic classmate what they did not like about him. At the end of the proceedings, the students, apparently with the teacher's approval, if not even encouragement, voted 14 to 2 to vote the autistic boy out of the class.
Finding the Children
Many experts now believe that parents, pediatricians and day care workers should be alert to indications of autism in children as young as 18 months or 2 years. The city provides testing to children under five if the parent asks for it.
Despite that, "some children don't get found," Dorothy Siegel of NYU's Institute for Education and Social policy told a panel at the New School last fall. By the time some kids are diagnosed, they may have already fallen behind. "If this kid had been picked up when he was two or three he would be considered high functioning," she said.
Some parents and day care providers may not know about autism. Others may be reluctant to request a diagnosis that could place a child in the special education system. And others are dissuaded from asking for help. A recent survey by AHRC New York found that parents often suspect something is amiss -- their child is not starting to speak or making eye contact. "A good percentage of parents were told by doctors to wait and see if your child is going to improve," said Chris Treiber, the group's advocacy director.
Once children turn five and start kindergarten, they become the responsibility of the public school system. A team evaluates the child and comes up with a diagnosis. Parents with the wherewithal often bring in their own experts. Those without those resources can receive "a plain vanilla evaluation" involving the special education teacher and a school psychologist who may have no particular expertise in autism, said Bernardo Pace, the parent of a child with autism, who serves on the board of Eden II Programs for Individuals with Autism and wrote the CUNY Law School/Hunter School of Social Work proposal.
The evaluation matters. Based on it, children considered to have a disability receive an "individual educational plan" setting up a placement for the child and the services he or she should receive.
Again, said Pace this places some children at a disadvantage. "Kids who come from lower income neighborhoods....get diagnosed later, get diagnosed with less professionalism," he said. Many then get placed in classrooms that, he said, may "amount to babysitting more than education."
Perhaps few topics so roil education as these educational plans and the accompanying placements. The school system wants to hold down expenses. The parents want help for their child.
"There is increasing tension between parents' aspirations for their child and what the school is willing to provide," Michael McKee executive director of the Virginia Institute for Autism, has said. "School districts pretty much across the country define 'appropriate" as 'merely adequate.'"
Parents can challenge the city's decision first in an impartial hearing and then in court. The issued reached the Supreme Court last year. In a split decision, the justices ruled that parents did not even have to try the public school's proposed program for their child before seeking out a private school.
While parents assail the public schools for failing to meet their needs, the city Department of Education education clearly believes -- although if will not say this so bluntly -- that many parents whose kids could be served in the public school simply want the city to pick up the tab for a pricey private education.
"We basically have looked at our program and tried to meet the needs of kids," Linda Wernikoff, the department's director of special education, said. But she added, "No matter what we do there will be parents who think there will be a private program that is better."
Several years ago, former Schools Chancellor Harold Levy put that far more bluntly. Parents trying to get costly private educations for their children with disabilities consume "resources that are critically needed for the system," he said. "You cannot give one kid the Cadillac and the others the back of the bus."
Attorney Jesse Foley disagrees. "Parents have a moral obligation to give their children everything that they can," he said
To press its case, the city has added some 16 attorneys, many of them good litigators, according to Regina Skyer, a lawyer whose firm represents parents in these cases. "They're putting up a better fight than ever before," she said.
"They are responding to what they feel is a frontal attack by parents who want the world," said John Farago, a CUNY Law School professor who has also served as a special education hearing officer.
But Skyer said the real fault lies with the city's services. "If the programs were good, would there be so many lawsuits? Would you have a cottage industry of private services for autistic children?" she said.
A number of attorneys in the city, such as Skyer, specialize in helping parents handle their cases. Some schools will also help parents; the Rebecca School, for one, has given parents lists of attorneys and pointers on getting reimbursement.
While parents do not have to be represented by lawyers, those who do may be at an advantage. "Families who are able to hire attorneys are able to get better quality services for their kids," said Treiber,
As a result, some question whether the system allocates service equitably. "The kids who get private school placements are not necessarily the most severely disabled kids," said Pagliaro of the New York Center for Autism Charter School.
Staying in the Public Schools
Faced with increasing number of student with autism and the staggering cost of educating them in non-public schools, New York City, like other districts across the country, has sought to expand services within the public schools.
Of the 6,430 New York City students classified as autistic, 82 percent of them attend classes somewhere in the pubic school system, according to Linda Wernikoff, deputy superintendent for special education. Another 16 percent attend a state-approved facility meaning the state pays much of the cost.
As the number of students with autism has doubled, said Wernikoff, "We're coping with it by being aggressive about program development."
One key initiative in the past several years has been the Nest program, aimed at children with Asperger's -- in other words students considered to be "high functioning" on the autism spectrum.
Now serving about 200 students in 11 schools, it places four kids with autism spectrum disorders and 8 general education students in a room with two teachers, using what educators call a collaborative team teaching approach. In many respects, said Siegel, who played a key role in establishing the program, "the classrooms are exactly the same as every other classroom." The class follows that standard curriculum for that grade, although the disabled students receive "intense speech and social development therapy," she said.
"The classrooms look like any well-stocked mainstream classroom, but are designed to minimize distractions for children for whom distractibility is a common problem," Carmen Alvarez, who visited a Nest program in East Harlem, wrote in New York Teacher. "Everything I saw in these rooms was visual or tactile and explicit, all to maintain the children's focus and ensure understanding." And, she continued, something called the Incredible Five-Point Scale helps children gauge how loudly they are speaking and how to modulate their voices
The program has expanded to a middle school, MS 447. There, administrators "are revamping the school to make it more friendly to our kids" and teaching the staff how to do real collaborative team teaching, Siegel said -- doing a variety of things "that are beneficial for our kids but are good for their kids as well."
Nest receives widespread praise. Unfortunately, though, seats remain limited and the program only serves students who can speak and do regular academic work. "It's difficult to get your child in there," said Treiber. "It serves a small percentage of kids with autism."
To try to expand the boundaries, the department has started an intensive kindergarten program to prepare some children for Nest.
For students with more severe deficiencies, the schools offers specialized classes within the students' home districts. Most autistic children, though, attend classes administered by District 75, the citywide special education "district." To meet the rising need, the district has added at least 100 classes for autistic youngsters in District 75, Wernikoff said.
The new classrooms have not kept up with demand, according to Public Advocate Betsy Gotbaum. As a result, she said in a written statement, "Many parents are forced to seek alternative placements in private schools. ... The DOE must create enough placements for children with autism in order to provide them with the best possible education. If they do not, the resulting hearings and private school tuition will end up costing the city more money."
Advocates and parents see a wide disparity in the quality and availability of programs. "The Department of Education has some good programs," Treiber said, citing ones at PS 175 in the Bronx and PS 255 in Queens. But, he added, "It's not the rule, it's the exception."
The district 75 classes have six students of somewhat varying ages and abilities -- not necessarily all autistic -- with one teacher and one paraprofessional. In addition, a student with specific behavior issues may be assigned an individual paraprofessional.
While the staffing is generous for a school system where class size for elementary school averages around 25 students, advocates say it may not be sufficient for these children. This is partly because the language, behavioral and social deficiencies associated with autism "make it unlikely a kid with autism is going to be doing a lot of learning when the teacher is working with another student," said Pace.
"The teacher is supposed to be providing instruction and dealing with behaviors of these students. That can't occur," said Foley.
He has represented students in suburban districts where a class might have one teacher and three aides for eight students. These smaller, more affluent communities may provide extensive therapy sessions and programs extending beyond the normal school day.
There are a number of approaches for educating children with autism, but the city does not adhere to any one of them. Instead it takes an eclectic approach.
Autism spectrum is a very wide spectrum," said Wernikoff. "You need to be flexible.
Some experts, though, question this approach -- however good it might sound. Autistic children "thrive on the consistency of instruction," Gina Green, a California autism consultant told the publication Edutopia. "By definition, a mixed method has a lot of inconsistency."
Creating A Model
Faced with a disabled child and questions about the city's offerings, it is no wonder that some parents turn elsewhere. Ilene Lainer, a co-founder of the New York Center for Autism Charter, was one. Now she has said she hopes the charter school will keep other parents from making the decision that she did.
The charter school provides services to 28 children. As a charter, it must select its students by lottery, perhaps making it more accessible to some parents than private schools. The students range in age from 5 to 12 (the school can accept students up to age 14) and in ability. Some students come in wearing diapers.
"We have a gamut of kids with high -frequency severe behaviors," said director of education Julie Fisher. "We address these behaviors to get them to a point where they can learn new skills."
Some of the students are non-verbal and must communicate with picture or a voice output machine, said Fisher. Others, though, greet a visitor, asking my name and reaching out to shake my hand and trying to look me in the eye.
"We are pushing them to interact with each other, to greet each other," Fisher said.
Each child has his or her own curriculum, spelled out in a bulging binder detailing tasks and levels of accomplishment. This includes personal things, like brushing ones teeth, and helping kids ride bikes or bounce on pogo sticks so they can go to a park in the afternoon.
Teaching is done using applied behavioral analysis techniques. Almost always referred to as ABA, this has emerged over the past decade or so as the preferred method for teaching autistic students. It calls for teachers, parents or therapists to break skills into small tasks that students perform repeatedly. When they do the job correctly, they receive an award, such as a pretzel.
Located in P.S. 50 the charter foster ties with the school system. Some of the charter school students spend time in the larger school. One boy, Fisher said, goes to the larger school for about 15 minutes a day to practice sitting with other children. "He has issues about being in groups. This allows us to desensitize him," she said.
For their part, P.S. 50's seventh and eight graders work with the charter school students and get a little course in autism.
The charter hopes to provide training to public school teachers, part of an effort to take what has been learned at the charter and use it in public schools.
But there may be limits. For one, the school remains very expensive. It receives $62,000 per child in public funds and still needs to fundraise to close a gap of about $20,000 a student. It is unclear how that model would transfer to the regular public school system.
And even with models and training, Pagliaro said, public schools may not be able to provide an appropriate education within the system to every child: "For kids with the most severe problems, the public schools are not equipped to deal with that," he said.
The Private Approach
Some of those students enroll in places such as the Rebecca School. One a recent morning, Ben, a boy of about 9, lay on a mat in a classroom using a large cone to play peek-a-boo with a teacher. Ben smiled but did not say much. He has limited verbal skills.
Unlike many such schools Rebecca, on East 30th Street in Manhattan, is operated by for profit company, MetSchools, which also run the Aaron School for youngsters with learning disabilities. When a number of autistic students applied to Aaron -- even though it was not intended for them-- MetSchools chief executive office Michael Koffler saw a need and decided to fill it.
Opened in 2006, Rebecca now serves 87 students from 4 to 16 (it can accommodate up to age 18) with a range of autism-related deficiencies. Each class has eight children with one head teacher and three assistants, but children also have one-on-one sessions with a range of specialists, including art, music and drama therapists.
The school uses the DIR/Floortime approach favored by some who see ABA as too focused on rote learning and not paying sufficient attention to relationships and to the child's needs." Most of our children are coming from a more behavioral approach," said admissions direction Elizabeth O'Shea. "Our approach is more relationship based and more learning based as well. We're following the child's lead."
Whatever its difference with ABA, though, this model also calls for a lot of individual attention.. In a corner of a hall one morning earlier this month a child made anguished noises as a teacher tried to soothe the student and figure out what was wrong. 'Every behavior is a form of communication and it's our job to try to figure out what the child is trying to communicate," said O'Shea.
Whatever the children's limitations, the school wants them "to them to feel as though they're living normal lives and going to a normal school," said PD Cagliastro, director of public affairs for MetSchools.
The Problem of Shortages
Creating a normal environment -- and life -- for these children is enormously complicated, expensive and, for parent, exhausting. No one disputes that more resources, programs and trained professionals are needed to meet this challenge.
"The most substantial impediment "to children receiving services is "the lack of resources overall," said Farago. For example, he noted, many experts believe a child with autism needs 20 to 40 hours of ABA therapy a week. Money aside, "there isn't anything that approaches that number of therapists," he said.
As a result, "you wind up with people competing for scarce resources, and it's always going to be the case that ...the people with resources can fight harder and longer," he said.
Bridging that gap would cost money. In an op-ed piece, Michael O'Hanlon and C.A. Garland, parents of a child with autism, and developmental pediatrician Brenda Harris recommended that Congress provide at least $20,000 a year for every autistic child in the country needing full-time treatment, for a total bill, they estimate, of about $2 billion a year.
Not cheap, they agree, "but compared to what is spent addressing the nation's other health-care problems and, even more, to the human cost of our treatment approach, it would be a bargain."
Â