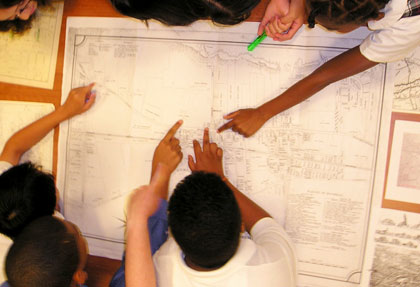 Photo by Joseph Huff-Hannon
On a muggy summer afternoon, students in school uniforms huddle around a long conference table at St. John's University School of Law, scribbling on yellow legal pads and reviewing a set of maps dating back to the 19th century.
"You are going to recreate the environment that existed in Jamaica, Queens in the 1890s," says Professor Victoria Brown-Douglas, tall and authoritative, as she counseled her band of apprentices to learn to think like lawyers, judges, witnesses and members of a jury. "At the end of this we're going to courthouses all over the city, and we're going to tell the world what happened during the desegregation school wars of Jamaica, Queens."
"Their child wasn't allowed to go to a good school," says Alex Samaroo, 12, as he excitedly taps his white Air Jordans together. "And the parents didn't want to accept it."
Alex has explained what lies at the heart of a forgotten legal case that these Queens middle school students are forensically excavating this summer. He and his fellow students from the Immaculate Conception School in Jamaica are the unlikely torchbearers of a unique experiment in cross-curricular educational collaboration. They are working with students and staff at nearby St. John's Law School, as well as librarians at the Queens Library, to bring to life a century's old school discrimination case that led to the desegregation of New York State Schools in 1900.
They could be teaching a lesson as well as learning one. With the city middle schools widely agreed to be in crisis with low test scores and low levels of student interest, the city has concentrated on professional development and focused on teaching to the test and stressing basic subjects. The collaboration in Queens, though, could offer a different kind of model, emphasizing creativity and in-depth coverage of subjects beyond basic language arts and math.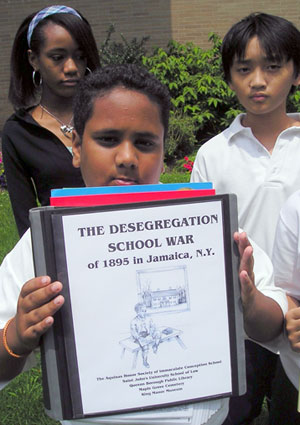 Photo by Joseph Huff-Hannon
A School for Jacob Cisco
The case revolves around Jacob Cisco, the son of Samuel and Elizabeth Cisco, two middle-class African American residents of the village of Jamaica. In 1895, they refused to enroll their son in the local "colored" school, arguing that the teaching was inferior to that at the local "white" school, P.S. 49. In a legal battle that lasted for five years, Samuel Cisco, a cooper whose family had lived in Jamaica for 80 years, was arrested twice for protesting his son's exclusion from the school.
Samuel Cisco died in 1897, but his wife Elizabeth continued to push the case. Elizabeth Cisco and her attorney eventually drafted a law to end legalized segregation in New York City public schools. It was brought to newly elected Gov. Theodore Roosevelt. According to research by St. John's librarian William Manz, Roosevelt refused to consider it until it was amended to apply to the entire state. In 1900, he signed it into law Ăł barring racial segregation in New York State public schools more than 50 years before Brown vs. Board of Education did the same nationwide.
Researching the Case
To find out about this obscure but significant episode in their history, the students pored over old issues of The Brooklyn Eagle and used Google Earth to map the location of the now demolished Ă«colored school.' After they discovered it to be the site of the current York College athletic field, the students visited the president of the college and proposed naming the athletic field Cisco Field, in honor of the family whose five-year long struggle has gotten little to no recognition until now.
The students plan to weave the results of their research into a mock trial script that will be performed in public at various venues citywide during Black History Month next year. They have applied for a grant from the History Channel to eventually turn that performance into a documentary film.
"They're really going to be the first ones to get the story out to a larger audience," says Manz, senior research librarian at St. John's Law School and author of the original article in the New York State Bar Association Journal that ignited the student project. "Students these days are getting their history instruction from original documents, but this kind of project takes it even further. I think the hardest part for the kids is going to be getting in to the mindset of the people who lived during that time. Putting together the mock trial is going to require them to come up with arguments against, and for, separate but equal."
"They probably thought black students couldn't think as fast or as well as white students," says Elizabeth Edwards, 14, as she tries to put herself in the shoes of those who defended segregation at the time. "Learning about all of this has made me a lot more interested in law," says Elizabeth, who graduated from Immaculate Conception in the spring but continued to work on the project over the summer.
Carl Ballenas, a social studies teacher at the Immaculate Conception School and moderator of the Aquinas Honor Society, the student group undertaking the project, says that this kind of site-specific study helps students make a connection to local history. In addition, as the students work with a variety of people from nearby educational and community institutions, they learn to collaborate with several, sometimes competing groups and organizations.
"The project is teaching these student to present their ideas in public, to pay attention to details, to take on leadership roles," said Ballenas. "It is also showing a lot of the adults they meet that these kids can teach us a lot if we pay attention. We don't need to wait until they are in high school or college."
This kind of multi-layered collaboration is not uncommon in some of the city's more specialized high schools or nonprofit organizations. Last year students at the Millennium Arts Academy in the Bronx worked with Elders Share the Arts to produce an evening of short plays performed by a group of senior citizens, based on oral histories about their lives. The plays depicted stories of involvement in the civil rights movement, of surviving the German bombing of London in 1941 and of facing housing discrimination in New York.
This summer CityArts, a nonprofit arts organization, has developed a unique collaboration between teens in Bedford-Stuyvesant and world-renowned Brazilian painter and muralist Duda Penteado to create a massive "Global HeART Warming" mural on the side of St. John's recreation center in the neighborhood.
"When I was their age, I definitely wasn't doing anything this ambitious over the summer," says Paul Pagano, 25, a third-year law student at St. John's who is working with the Immaculate Conception students, and explained to them the importance of developing the theory of the case on a recent afternoon. Pagano pointed out that the case had been largely forgotten and urged the students to do their part in expanding recognition for these little known turn-of-the-century equal rights crusaders.
"Today when you google Samuel or Elizabeth Cisco, you only get 3 or 4 hits," says Pagano. "We're going to make sure that what they fought for in New York is something that other students will eventually be learning in history class."
Joseph Huff-Hannon is a writer on culture and politics, based in Brooklyn. Â