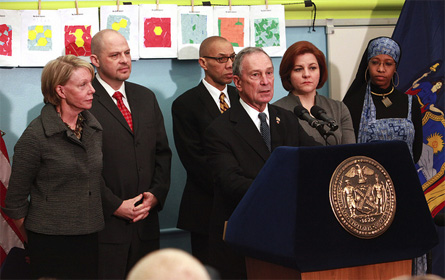 Office of the Mayor
The content of Mayor Michael Bloomberg's State of the City address last month wasn't exactly a surprise. He had made many of the points before. Nevertheless, his pointed call for sweeping labor concessions left many union leaders with jaws agape.
According to some reports, no one was more surprised than United Federation of Teachers" president Michael Mulgrew, who learned of Bloomberg's demands only moments before the speech. Mulgrew and Bloomberg were previously on good terms, but after the address Mulgrew acted like a man betrayed. Bloomberg not only wants the state to give the city the right to negotiate pensions, but he has made doing away with the first-in, last-out law on laying off teachers a centerpiece of his agenda. Looming over this is the question of teacher layoffs. Gov. Andrew Cuomo's budget will cut $518 million in school aid to the city and $1.5 billion statewide.
Bloomberg projected that with the current funding cuts and with the last-hired, first-fired provision still in place he will have to lay off nearly 8,000 teachers – all of whom will be recent hires.
Cuomo and his budget director Robert Megna have said that the cuts are not as bad as Bloomberg claims and that the city could use its rainy day fund to patch the budget.
Teachers say they feel as though they are under siege. Last year the union accepted a new pension tier that would give new teachers lower benefits than their predecessors and found themselves with wage freeze that prevented lay offs. They see little end to what Bloomberg and Cuomo say is "shared sacrifice."
Many teachers see the effort to weaken seniority as still another indication that the mayor and his administration have little respect for career educators. A large number of parents and teachers saw the appointment of Cathleen Black, a publishing executive with no education experience, as a slap in the face, saying she lacked the credentials to teach in the system, let alone run it.
Some complain about the paucity of long-time educators in the education department bureaucracy and about the city's hiring people with scant classroom experience -- but a stint at management training course -- as school principals. They have noted the education department no longer even has an office devoted to "Teaching and Learning."
"I just came from a meeting of thousands of teachers and they have lost all respect for the mayor," said Mulgrew, "This is what they are telling me: 'He is fighting for how to do layoffs instead of fighting against them.'"
Much Ado About LIFO
For now, seniority rules are the main point of contention between the administration and the union.
Bloomberg and his Albany office worked feverishly to persuade Cuomo to add language to his budget bills that would allow the Department of Education more flexibility when it comes to layoffs, so that not only new teachers lose their positions. Cuomo didn't do that, but said he would consider legislation altering the agreement, along with other changes to pension mandates, after the budget is passed.
Cuomo told reportersrecently that negotiations are ongoing.
Bloomberg started pushing for changes to last in-first out last year, but dropped the issue after the salary freeze averted teacher layoffs. Before Cuomo released his budget, though, Bloomberg returned to the idea -- more forcefully than ever before -- threatening as many as 21,000 teacher layoffs. Under existing rules, he said, every teacher hired since 2006 could lose his or her job. He soon retreated from that but has held fast to his position that last in, first out must change.
"State law includes a 'last in, first out' provision, which would force us to lay off some of our very best teachers, while keeping some of our worst. Those layoffs would be felt heavily in the city's poorest neighborhoods, where schools tend to have the newest teachers," Bloomberg testified at a state budget hearing this week.
Mulgrew said he believes that Bloomberg is "playing chicken little" -- exaggerating the severity of the financial situation to get changes to pension law and alter seniority rules. "Just like everything else he [Bloomberg] has done, he says the sky is falling," Mulgrew said. "In his speech he said he wants principals to decide who is laid off, and he said how much money they make should be a factor, so those with seniority will be at greater risk. We have a 50 percent attrition rate in our profession, and it is as if the mayor is saying, 'We don't want you.' More people are going to be scared away from this profession."
A number of education advocates see Bloomberg's State of the City speech and his position on this issue as his way of turning a bad situation to his favor. Bloomberg knew full well Cuomo would make cuts this year, they say. By making teacher seniority an issue the mayor would be able to control which teachers get to teach and rid himself of senior teachers who are due raltively high salaries and expensive benefits.
By repeatedly saying the seniority rules would force the Department of Education to fire many outstanding teachers, some teachers and education advocates think the mayor is implying that senior teachers are inferior to newcomers.
"Look at it this way," said Carl Korn of New York State United Teachers. "If you brought your car to a mechanic, would you want someone straight out of vocational school or someone with 20 years of experience working on cars? We are lucky enough in this state to have some great first- and second-year teachers, but we are also lucky to have some very experienced teachers with 15 or 20 years behind them."
"The mayor is saying that only the new teachers are making a difference in these poor neighborhoods, and I think that isn't right," said Sen. Bill Perkins, who was elected with strong support from the UFT. " It is bad for public education to even make that characterization. There are rotten apples and they should be gotten rid of, but is he saying that all teachers with seniority are bad? That is a very deep prejudice."
Perkins said he thinks Bloomberg's position could be related to his support for charter schools, few of which are unionized. "It may have to do with all these young teachers working for charter schools. He is saying, 'Come in and work for less.'
The split between the Bloomberg administration and the union has grown increasingly rancorous and public. According to the Wall Street Journal, Mulgrew has become so irate about Bloomberg and Black's statements about eliminating seniority privileges that he withdrew his name from an agreement he and Black signed saying they would work collaboratively on hiring, evaluation and retention issues. Mulgrew's action meant he won't be able to attend an upcoming national conference in Denver -- and that Black won't be able to go either.
"If we sign a pledge and before we even get to Denver they've broken their pledge, why am I going? Makes no sense," Mulgrew told the Journal.
Who Goes, Who Stays?
Assemblyman Jonathan Bing, who last year proposed a bill to do away with last in, first out, says he has no exact details on the new criteria that could be used to decide which educators are laid off -- only that Bloomberg and Cuomo are negotiating some sort of legislation. He says he expects it would not undermine seniority.
Corn says he is concerned the real reason for laying off more senior teachers may be to decrease costs. Last in, first out "was put in place to stop patronage and nepotism," he said. "If we do away with it, management could basically decide who gets to teach, and there will be questions about why those decisions were made."
But opponents of the practice say there must be a better way than years served to determine who gets to keep their jobs."As it is now we can't get rid of teachers who perform unsatisfactorily after giving them due process," said Bing. "I think there is a better system out there than the one we have now. I am not trying to bust any union."
Getting Control
Bloomberg also wants Albany to allow him to negotiate pension deals in the city. Pension costs have grown in the last few years as the economy has faltered. As a result, Cuomo, Bloomberg and business groups say, that pension costs are killing the state and local governments.
In his State of the City speech Bloomberg said pension costs for all city employees -- not just teachers -- have increased 360 percent since he became mayor in 2002 and calculated that if the subway fare had increased a similar amount, it would now cost straphangers $7.05 -- each way -- to go to work.
"New Yorkers can't afford those subway fares, and we certainly can't afford pension costs on that level either,' Bloomberg said
Corn points out that school districts did not always have to pay so much to cover pension costs. From the late 1990s to the early aughts school districts were putting in less than one percent of teachers' salaries, while teachers contributed around 3 percent because the economy was doing well. When the economy went bad, governments had to make up some of the difference. Mulgrew said he thinks the economy is rebounding and pension costs will soon decrease.
What's at Stake?
Most unionized public employees have protections similar to the teachers' last in first out. Mulgrew said that "first in last out" is a general principle of civic code."
Perkins fears the effort to do away with it for teachers -- and the fiscal crisis -- could lead to a general undermining of labor law "It would be a sea change for labor if they totally repealed LIFO [last in, first out]," he said.
Bing said he has no interest in undermining labor, but believes the law as it applies to teachers is unique. "I don't think any other profession is affected geographically the way education is. I don't think any other profession is affected geographically the way education is," her said.
Bing said he got involved in the issue during last year's budget process when his community school district seemed about to lose 19 percent of its teachers because of layoffs. "Under the proposed cuts we would have lost four times the number of teachers as any other part of the city," said Bing.
Billy Easton of Alliance for Quality Education said he thinks teachers are being used as scapegoats. "Anytime politicians want to make unpopular cuts they need a straw man to knock down, and teachers are that straw man," said Easton.
Fighting the Change
As the Times reported on Wednesday, teachers unions along with other labor groups are not, as they did in previous years, launching major attack campaigns on the governor for his proposed cuts to education and other programs. Instead, they are trying to take advantage of what they perceive to be good will toward them to create grassroots campaigns to lobby the legislature to stop education cuts and keep the so-called millionaires tax. Korn points to a December Siena University poll that shows that 74 percent surveyed opposed Cuomo's proposed cuts to education, while 73 percent supported continuing the millionaires tax. Cuomo has vowed not to increase taxes and to roll back the current tax on the wealthiest New Yorkers.
"We can't just cut our way out of this budget crisis," said Easton of Advocates for Quality Education. "Seventy to eighty percent of New Yorkers oppose ending the tax on the wealthiest New Yorkers, but so far Albany isn't listening."
As for city teachers, what are the chances that Bloomberg gets what he wants with respect to both the last in, first out rule and control over pension negotiations?
Most legislators have expressed little interest in getting involved in the debate, and Assembly Speaker Sheldon Silver, a longtime ally of the union, has remains publicly noncommittal.
Meanwhile, Mulgrew hopes time is on his side.
"The important thing for us is to get through the next 18 months," he said. "We should look at it fairly--not as the mayor does like Chicken Little trying to cause panic to push his agenda through. It looks like we have an upturn in the economy. It looks like we are getting out of this so we need to talk about not just shared sacrifice but shared prosperity."