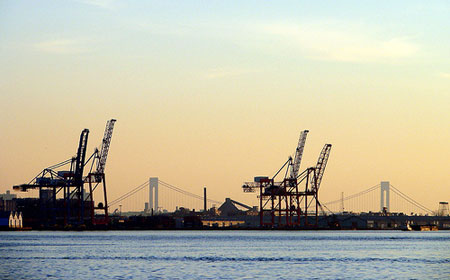 Our region depends on international shipping to maintain our daily habits and our long-term economic growth. Every day, huge ships bring goods from around the world to the Port of New York and New Jersey. Once these ships dock, cranes and other cargo-handling equipment unload the containers -- putting our clothes, toys, food, and other goods on diesel locomotives and trucks that carry them throughout the region.
These ships bring us what we want and what we need, when and where we want it. But they also bring us pollution that unnecessarily threatens the health of millions of New Yorkers who live near or downwind from our ports. Few ships (if any) are equipped with even the most basic pollution controls, and they typically burn a fuel that contains more than 2,000 times as much sulfur as a New York City Transit bus. Their smokestacks spew tons of particulate matter that trigger asthma attacks, cancers and thousands of premature deaths across the nation every year.
The pollution impacts of our region's port facilities are not limited to the ships in New York Harbor. The armada of cranes, cargo-handling equipment, locomotives, and trucks that ferry containers and their contents to every corner of the city and the region all use diesel-powered engines. Most operate without the most up-to-date pollution-cutting equipment.
Given that the Port of New York and New Jersey is the largest port on the East Coast, the third largest port in the nation and one of the 10 largest ports in the world, cleaning up port-related pollution must be a key part of the path to clean air and long-term sustainability in New York City.
Both the U.S. Environmental Protection Agency and the Port Authority of New York and New Jersey are taking this challenge seriously and are taking steps to clean up the delivery of goods into our region.
EPA Takes Action
On March 30, the U.S. Environmental Protection Agency announced a new proposal to reduce ship pollution within 200 miles of U.S. shores. When this new policy is fully implemented, it will have significant public health benefits in port communities and throughout New York, given that ship emissions can travel downwind for hundreds of miles.
Under the agency's proposal, all U.S. and foreign ocean-going vessels in the so-called "Emission Control Area" (within 200 miles of New York Harbor and almost all U.S. shores) will be required to use dramatically cleaner fuel and more effective pollution controls for their engines than they now use. The proposal follows an international agreement reached last year that adopted new emissions standards for the largest container carrying and passenger cruise ships. Under this agreement, nations can petition the International Maritime Organization to create Emission Control Areas off their coasts. In these areas, large ships will have to use fuel that contains 98 percent less sulfur than today's typical bunker fuel and install pollution-cutting equipment to reduce nitrogen oxides by 80 percent, particulate matter by 85 percent, and sulfur oxides by 95 percent, compared to current emissions levels.
The reasons for EPA's concern are obvious. First, of the 100 major U.S. ports where container ships dock, 40 are in metropolitan areas that do not meet federal air quality standards. More than 87 million Americans live near these ports, and many millions more live downwind.
Second, ship emissions are projected to grow dramatically in relation to other pollution sources. According to the EPA, in 2001, oceangoing vessels contributed only about 6 percent of the nitrogen oxides, 10 percent of the particulate matter and roughly 40 percent of the sulfur oxides to the nation's transportation-related air pollution. Without these proposed regulations, ships would have been on a path toward contributing a much larger share: 34 percent of nitrogen oxides, 45 percent of particulate matter and 94 percent of sulfur oxides emissions by 2030. This huge increase would have come from the expected growth in the movement of goods by ship, as well as the dramatic reduction in pollution from cars, trucks, buses and other transportation sources.
A Cleaner Way to Move Cargo on Shore
The Port Authority of New York and New Jersey oversees seven major cargo facilities around New York Harbor. Three are located in New York City -- Howland Hook Marine Terminal on Staten Island, the Red Hook Container Terminal in Brooklyn, and the Brooklyn-Port Authority Marine Terminal.
Reducing pollution from the cargo-handling services at the port is critically important, especially given the expected growth in goods moving into and through the region. Despite recent slips in cargo volumes due to the global drop in economic activity, shipping is forecast to more than triple at the Port Authority facilities over the next decade, from roughly 5 million TEUs (20-foot equivalent units, the industry standard) in 2006 to more than 15 million TEUs in 2020. Simply put, there is no way that New York and New Jersey can meet their federal pollution requirements without significantly reducing the port's pollution footprint. That is why clean air strategies play an important role in the sustainability plan that the Port Authority is implementing now.
Getting rid of the oldest trucks operating at the port must be central to any Port Authority clean up strategy. The average truck servicing the port is more than 10 years old, and approximately 15 percent of the trucks at the port were built before 1994 -- too old to be retrofit with any meaningful pollution-cutting filters.
Dramatically cutting truck pollution is feasible and is already happening elsewhere in the city. New York City Transit buses emit 97 percent less particulate soot pollution than they did in the mid-1990s, thanks to the fleet's Clean-Fuel Bus Program, implemented in 2000. Ninety percent of the New York City Transit emission reductions came from retiring the oldest, dirtiest buses in the fleet and replacing them with the cleanest possible engines. The rest of the pollution benefits came from retrofitting the remaining diesel engines with particulate filters.
Adapting the lessons of the New York City Transit cleanup to the port's trucks is critically important, especially to the communities closest to the terminals. Most of these are low-income communities or communities of color, sparking environmental justice considerations.
Here's how to adapt the New York City Transit program to the port's trucks: First, since truck engines that were built prior to 1994 cannot be retrofit, they should be retired as soon as possible. Replacing the oldest, dirtiest engines will provide the greatest emissions benefits, as the transit program has showed. The old engines should be replaced with new engines that are equipped with state-of-the-art particulate filters. These filters are now common in the transit world and are increasingly being used in commercial trucking. Second, engines built after 1994 can -- and should -- be retrofit with particulate filters that will bring them as close to the current federal standards as possible. Together, these steps will make a dramatic difference in the emissions profile of the port's trucks -- and in the air quality along the trucking routes in nearby communities.
Rich Kassel is a senior attorney at the Natural Resources Defense Council, where he focuses on urban air pollution and transportation issues. He also chairs the Tri-State Transportation Campaign, a regional transportation advocacy organization and blogs on a variety of environmental issues on the NRDC Switchboard.