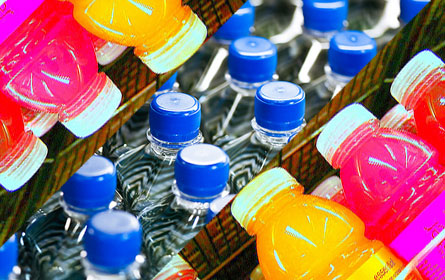 On Monday environmental activists were supposed to be celebrating. The expansion of the state's bottle law was scheduled to go into effect, placing deposits on bottled water, increasing the handling fees stores and redemption centers get per can or bottle and directing 80 percent of unclaimed deposit money from bottling companies to the state. But that didn't happen.
On May 29 federal court judge Thomas Griesa issued an order preventing implementation of the entire law until April 1, 2010. Griesa's ruling came in response to a lawsuit brought by a group of bottled water companies that claimed the law was unconstitutional. The state can appeal the decision.
"Nobody could have predicted the judge's ruling. We were totally shocked," said Laura Haight, chief environmental associate of the New York Public Interest Research Group. The delay could now cost the state $115 million in unclaimed bottle deposits it was supposed to start collecting this year. And stores and redemption centers that were scheduled to see an increase in bottle-handling fees will lose that revenue.
Water bottling companies were upset that the law would have gone into effect just a month after it was signed by Gov. David Paterson, denying them, they said enough time to adequately prepare. "The amendment makes major changes to the bottle bill's framework and for the first time applies to bottled water producers and distributors, who have no experience with the law's provisions," read the complaint filed by the companies. "The short time frame for compliance with the bottle bill is arbitrary and irrational and thus violates plaintiff's substantive due process rights and unduly burdens interstate commerce in violation of the Commerce Clause."
After the bill passed, Haight said she realized the "timetable was very rapid," and expected legislators to address the concerns. They didn't. Haight said state leaders could not "agree on language."
The law also required all returnable bottles sold in the state to have New York State-specific codes. Companies said meeting such a requirement would be expensive, violate the Interstate Commerce Clause in the U.S. Constitution and would be hard to comply with on such short notice. Griesa ruled that this portion of the bill cannot be implemented or enforced at all.
The Fight for the Bigger Bottle Bill
Advocates have fought for years to have the law extended to include mandatory deposits on beverages other than soda and beer. They argue the expansion would increase recycling and reduce litter. Year after year, the Democrat-controlled Assembly would act on the legislation only to have Senate Republicans ignore it. But this year, with Democrats in control of both houses of the legislature, the fight was supposed to get easier. Again, it didn't.
Haight recalls that when she and like-minded advocates discovered that the bottle bill had been included in the budget agreement, they felt they had pulled victory from the jaws of defeat.
The bill, though does not go as far as they would have liked. For one thing, it adds deposits only to bottled water, leaving fruit juices, energy drinks and all the other soft drinks that have proliferated over the past 30 years out entirely.
Beverage companies ran television and radio ads against the expanded bottle bill across the state. They complained the expansion of deposits to drinks other than soda would drive up prices and hurt their business. According to NYPIRG, groups opposing the legislation gave over $2 million to state political parties and politicians in the last election cycle.
In the days leading up to the budget deadline, Haight said, she was just as unsure of what was included in the budget deal between the state's top Democratic leaders as everyone else. "We didn't know what was going on. We were in the dark like everyone else. We didn't know, and the legislators didn't know, either," she said.
Finally, when the three men in the room emerged to share the details, Haight was elated to find that bottle bill was part of the deal. But some legislators were not. According to Haight, "There was a lot of consternation among members of the Senate, as they had not been consulted [about the contents of the budget deal], and some senators went to work to try to unravel the deal."
Lobbyists representing the beverage industry walked the Capitol's halls complaining ferociously to legislators. Environmental groups started a pressure campaign of their own by having constituents call the office of Senate Majority Leader Malcolm Smith. "Our calls shut down his phone system," said Haight. "To this day don't know how we did it."
Those voicing concerns about the bill and its timetable also became more clamorous, though. Legislative leaders acknowledged the June deadline might be too much to ask of bottlers and indicated they were interested in taking action to give them some breathing room. The action did not materialize, though, and on May 18 the International Bottled Water Association, Nestle Waters North America and Polar Beverages filed a lawsuit challenging the bill's constitutionality.
Kennedy Weighs In
Another shocker for environmental groups occurred when environmental advocate Robert Kennedy came out against the bottle bill and signed an affidavit in support of the beverage companies' lawsuit. In an op-ed for the New York Times titled "A Bottle Bill That Will Rot Your Teeth," Kennedy attacked the bill as being "cooked up by lobbyists for makers of sugared drinks and their allies in the legislature." Kennedy wrote that the bill was absurd for adding deposits on bottled water but not sugared beverages like tea and sports drinks. Kennedy also said the bill would hurt municipal recycling efforts by removing water bottles from their programs.
Environmental advocates were enraged that Kennedy hadn't consulted them before taking his position public. They also noted that he runs a water-bottling company. Kennedy's Keeper Springs sells bottled water and donates its profits to environmental causes. "At first I just thought, 'He's got a water-bottling company,'" said Haight.
Haight said that the legislature did not include flavored beverages because grocery store owners complained that bottles that once contained sugary drinks would be messy and dirty their stores. She said that municipal recycling programs support the bottle bill. "Our coalition includes municipal recyclers who were pushing for this," she said.
No Redemption
It is not just the state that will lose money because implementation of the bill has been delayed. "This is going to impact every place where you return bottles," said Sheila Rivers, chairwoman of the Bottle and Can Redemption Association. "Corner stores, local markets and bodegas are all going to feel it. This will have a huge impact on New York City," she said.
Delaying implementation of the entire bottle law for a year will hurt stores and redemption centers, said Rivers, because the law was scheduled to increase the handling fee they receive, from two cents to three-and-a-half cents per bottle. That increase, Rivers said, is decades overdue. "We have no way to raise prices when costs go up," she said.
On top of that, she noted, redemption centers have been gearing up to deal with the influx of now redeemable water bottles. "Up until Friday we thought this was going to start," said Rivers. "I was in a store on Monday where they had big signs saying, 'We take water bottles starting June 1.' We had to plan for this." Rivers said many redemption centers will probably have to lay off staff they hired in anticipation of the increased workload. "A lot of redemption centers have closed this year, and a lot more will close if we have to try to hang on until next April," she said.
What's Next?
Representatives of water bottling companies say they would like to see all bottled beverages have deposits. "What we think needs to happen right now is for the bill to be fixed to include all bottles, and to make sure unclaimed deposit revenue is funneled back to the municipalities to support community-based recycling," Trish Wexler, spokeswoman for Nestle Waters North America told the Associated Press.
Advocates say it is ludicrous for bottled water companies to say they back expanded recycling when they sued to bring an end to the bottle bill.
For now, activists are waiting to see how Attorney General Andrew Cuomo reacts to the ruling to see how the state might go ahead in addressing concerns about the bill. "We will know what the attorney general's office will do in the coming weeks," said Haight, "but the question is, will the legislature do their part if they have a role to play? Right now it seems they are comfortable to sit back and let the governor take the blame, but we aren't willing to do that."