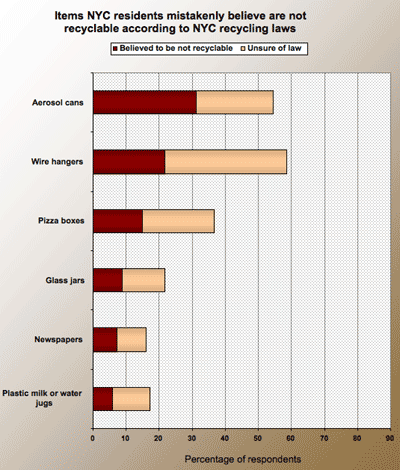 Eighty-two percent of New Yorkers say that they recycle "almost always" or "most of the time" at home, according to a survey conducted by Baruch College's eTownPanel for Gotham Gazette this month. Only five percent say that they never recycle. Fifty-six percent said they recycle more now than they did five years ago.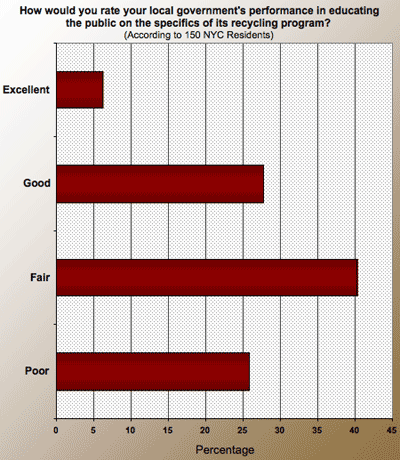 But they also express confusion about what they can and cannot recycle. While 83 percent of respondents knew they could recycle newspapers, only 40 percent knew that wire hangers were recyclable, and less than half knew that aerosol cans were recyclable. Only 62 percent said they were either "very familiar" or "familiar" with the city's recycling program overall, and 15 percent said they were "not familiar at all."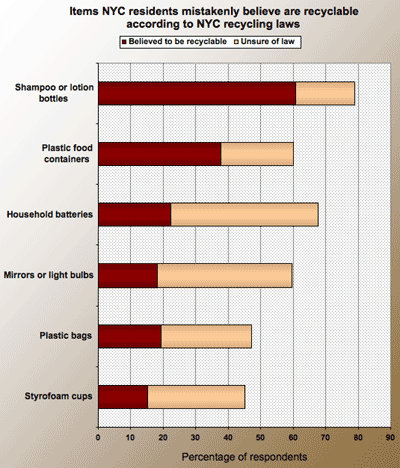 Respondents seemed to see their own confusion as a result of the city's poor performance in educating its residents about the recycling regulations. Sixty-six percent said that the government's performance in education the public was either "fair" or "poor". They were also skeptical of the government's commitment. Over half of respondents said that the city was only "somewhat committed" or "not committed at all" to recycling, while only 11 percent felt the city was "very committed".
The survey was conducted betweeen June 7 and June 14, 2005 of 150 New Yorkers.
Return to Recycling by Sam Williams and Joshua Brustein
Â