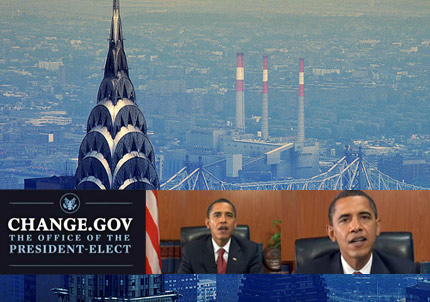 With the election of Barack Obama for president, environmentalists are poised for action on global warming at the federal level for the first time in years. There are good reasons for environmentalists to be optimistic, despite the recent economic news. And, there is a New York angle to all of this.
First, Obama embraced internationally endorsed greenhouse gas emission cuts in a videotaped address on November 18 (to view the speech, go here). He gave the address at the Global Climate Summit, a two-day conference led by California Gov. Arnold Schwarzenegger to break gridlock on the issue before the United Nations Climate Change Conference in Poznan, Poland later this month.
In the speech (his first on an issue other than the economy since the election), Obama committed his administration to passing national cap-and-trade legislation to reduce national greenhouse gas emissions to 1990 levels by 2020 and toward an 80 percent cut in emissions by 2050. These reductions dovetail with the views of most climate experts. Most significantly, Obama's clear emissions-cutting goals are a sharp pivot from the climate approach of the Bush administration, which never moved beyond a 2002 policy that aimed merely to slow down the overall growth of greenhouse gases.
"Few challenges facing America -- and the world -- are more urgent than combating climate change," Obama said in the video. Referring to the ongoing UN negotiations for a new global climate change pact, Obama said, "Once I take office, you can be sure that the United States will once again engage vigorously in these negotiations and help lead the world toward a new era of global cooperation on climate change."
What's the New York angle here? Over the long run, these emission reductions will be necessary to slow down the rise in sea level rise that is expected to threaten low-lying shorelines in New York City, on Long Island and elsewhere in the state. In the short run, while establishing a national market-based trading system for greenhouse gases will not solve all of Wall Street's woes, it certainly couldn't hurt.
Advising Obama
Second, Obama's transition team includes several of the key players in recent litigation over the U.S. Environmental Protection Agency's authority to regulate greenhouse gas emissions. In March 2007, the U.S. Supreme Court ruled that EPA had the authority to regulate tailpipe emissions of greenhouse gases, and that the agency had to articulate a reasonable basis in order to avoid regulation. Justice John Paul Stevens' majority opinion topped off a multiyear legal strategy in a case brought by 12 states (including New York), several cities and many environmental organizations to force the EPA to regulate greenhouse gas emissions under the Clean Air Act.
The lead author of the winning legal briefs, Georgetown law professor Lisa Heinzerling, is a member of the transition team, and so is University of Virginia professor Jonathan Cannon, who helped launch the debate about EPA's ability to regulate global warming pollution when he was EPA general counsel in the Clinton administration. And Carol Browner, former EPA administrator and head of the EPA Policy Working Group for the transition team, was Cannon's boss when he wrote a memo outlining the steps EPA could take to regulate the main greenhouse gases under the existing Clean Air Act.
What's the New York angle here? Lisa Jackson, former commissioner of New Jersey's Department of Environmental Protection, understands the environmental challenges of our region, and is a co-chair of the Obama transition team for EPA. Michelle DePass, a former head of the New York City Environmental Justice Alliance who now directs the Environmental Justice program at the Ford Foundation, is also on the team.
Reversing the Bush Climate Policy
Third, the Obama team seems poised to undo and reverse some of the Bush administration's climate-related actions as soon as Obama moves into the White House. At the top of the list: Obama has already said that he will reverse the Bush administration's decision to deny California its right to regulate automobile emissions.
In 2002, California adopted legislation that required its air agency to implement regulations that would phase in greenhouse gas emission standards for cars and light trucks from 2009 to 2016. This regulation was projected to cut greenhouse gases from California vehicles by about 22 percent in 2012 and 30 percent by 2016, compared to vehicles sold in 2004. Because the Bush EPA rejected California's request for a waiver from the EPA standards, the program has been in limbo.
What's the New York angle? How President Obama acts on this issue will directly affect New Yorkers who buy cars. That's because New York (along with more than a dozen other states) had already opted out of the federal emissions system and adopted the California standards before President Bush stopped the program in its tracks. With a new decision on California's waiver request, New Yorkers will get the cleaner vehicles.
Connecting the Dots
Last, the Obama energy and climate plan links directly to the economic stimulus and other economic items that are top priorities for both the incoming administration and the new Congress. In a strong rebuke to those who claim that economic strength and environmental progress are not related, Obama places his energy priorities at the heart of his economic plan. A few examples:
* Passing national cap-and-trade legislation, covering all sectors of the economy, is designed to meet the administration's global warming goals, as well as modernize the energy industry for a more competitive future.
* Investing $150 billion over the next 10 years to spur private efforts to build a clean energy future is designed to create 5 million new "green jobs" as well as prepare for a lower-carbon economy.
* Increasing vehicle fuel economy and putting more than a million "plug-in" hybrid vehicles on our roads will reduce greenhouse gases, increase our energy security and could help restore the viability of America's automakers.
Ensuring that 10 percent of our electricity comes from renewable sources by 2012, and 25 percent by 2025 will help modernize our outdated energy grid.
What's the New York angle here? A cleaner environment now and action on global warming for our future, all tied in with our critical economy recovery.
In sum, environmentalists can find much to be enthusiastic about in President-elect Obama's first climate steps, including his Nov. 18 speech, his transition team, his statements on the California vehicle emissions waiver, and his longer-term climate agenda. And, through a local lens, many direct benefits to New York can be found in each of these steps.
Â