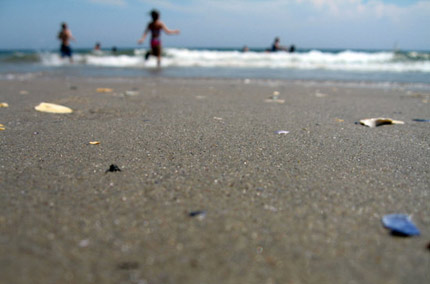 Photo by YH Huang
With eight public beaches in the city, New Yorkers do not have to venture far from home to smell the salt air and sunblock. But does our Urban Riviera really offer a respite for residents fed up with the cement landscape and longing for fresh ocean air and soft sea breezes? And how clean and safe are the beaches -- seven city and one federal?
Gotham Gazette's audio slide presents words and images from some of the city's most popular beaches, as beachgoers critique the scene around them, from litter to accessibility to jellyfish.
To view the audio slide show, go here.
Beach Map: Sounds from the Surf
Call it the heat island effect or the draw of fun in the sun, the desire for sand between your toes and salt in your skin hits many of us during the summer. While some New Yorkers spend their days drowning in traffic on the way to the Hamptons, others recognize we have seven city public beaches and many more private facilities right here in the five boroughs.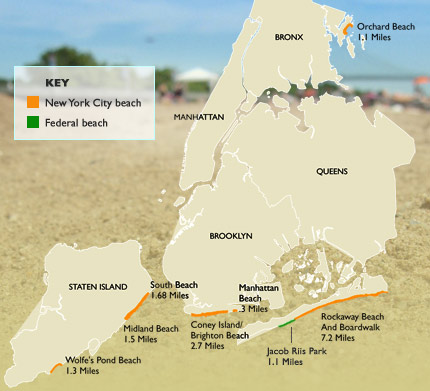 ---
TAKE YOUR PICK:
There's the vivacious and crowded
Coney Island
or its more subdued neighbors,
Brighton Beach
and
Manhattan Beach
.
Head to
Rockaway Beach
in Queens and dip your toes in the Atlantic where few remnants of New York City, besides the A train, remain.
Feeling adventurous? Take the ferry, then a train and maybe a long walk (see
related story
) on Staten Island, which boasts three city beaches:
Midland
and
South Beaches
as well as
Wolfe's Pond Beach
.
Then there's
Orchard Beach
, tucked into Pelham Bay Park, the only public beach on Long Island Sound.
If none of those satisfy, meander through
Jacob Riis Park
, a federal beach in the city, or check out the many private beaches that line our urban coastline.
---
Sounds from the Surf
South Beach, Staten Island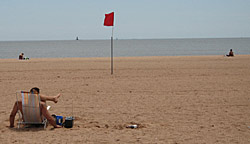 Midland Beach, Staten Island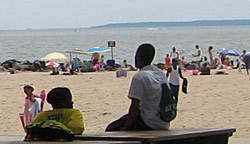 Manhattan Beach, Brooklyn


Â