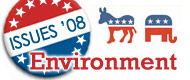 Not so long ago, global warming was on every candidate's mind. Al Gore had won a Nobel Peace Prize and an Oscar, Hurricane Katrina was a potent reminder of the increased severity of our hurricanes, and cities around the country (including ours) were adopting sustainability plans left and right.
According to Dr. James Hansen, the NASA scientist who sounded the alarm on climate change more than two decades ago, we have only a few years to change the trajectory of the pollution that causes global warming if we hope to avoid serious and irreversible damage (including, of course, a rise in sea levels that would threaten significant areas in all five boroughs of New York City).
Today, though, the economic picture dominates the news, and national security fills whatever little space isn't covered by the financial crisis gripping New York's -- and the nation's -- voters.
But, from an environmental perspective, nothing has actually changed: No matter what happens on Wall Street or Main Street, the next president needs to take strong action to reduce the threat of climate change. Both Sen. John McCain and Sen. Barack Obama support federal legislation to stabilize and then reduce global warming pollution through the use of a market-based, "cap-and-trade" system - in fact, McCain brought the first significant climate change bill to the floor of the Senate, back in 2003.
It's reasonable to assume, therefore, that Congress will be urged to tackle climate change legislation next year, no matter who wins on Nov. 4. However, a quick review of their statements and Websites (you can jump to Barack Obama's energy plan here and John McCain's energy plan here) show a dramatic difference on some key components of the climate change puzzle.
Long-Term Goals
Most environmental organizations and scientists concur on the long-term goal: By 2050, we need to cut global warming pollution by 80 percent from its 1990 levels. Obama agrees with that target. McCain's plan would cut emissions by 60 percent from the 1990 levels.
Renewable Energy
Obama has consistently shown a strong commitment to renewable energy like wind and solar. He has pledged to get 10 percent of our electricity from these clean energy sources by 2012, and 25 percent by 2025. He believes that this shift, in conjunction with improved fuel economy standards for vehicles and greater investments in energy efficiency, would generate 5 million new "green collar" jobs.
These campaign pledges are consistent with his performance on renewable energy issues on the Senate floor - for example, from 2005 to 2007, he voted pro-environment on every one of the 12 Senate votes on renewable energy. In contrast, McCain voted against the 2005 bill that would require 10 percent of electricity to be renewable energy in 2012, and he opposes subsidies for wind and solar energy.
Nuclear Power
McCain's primary focus for change in the electric power sector is nuclear power, in large part due to its low carbon footprint. (Nuclear power plants produce no greenhouse gas emissions when operating, although there can be significant emissions linked to the mining of the uranium used at these plants, as well as emissions linked to decommissioning old plants and transporting and storing nuclear waste). McCain promotes a plan to build 45 new nuclear power plants by 2030. He plans to use more than $200 billion dollars in federal subsidies to help pay for these plants. And, in order to move this plan forward, he favors storing nuclear waste at Yucca Mountain in Nevada.
Although Obama favors "keeping nuclear power on the table," he would not allocate new or additional subsidies to the development of new nuclear power plants, and he opposes storing nuclear waste at Yucca Mountain.
Powering Our Cars
Transportation is a key piece of the climate change/energy independence puzzle, and it has three key components: the fuels we use, the vehicles we drive and the amount we drive.
Over the summer, the candidates diverged sharply on fuel issues: McCain proposed a gas tax holiday to reduce fuel prices, while Obama labeled that move a gimmick that wouldn't actually solve anybody's problems, since the spike in prices was due to rising oil prices and other industry factors, rather than gas taxes.
McCain's current fuel strategy has been made famous by the oft-heard chant at his rallies: "Drill, baby, drill." Drilling offshore is the centerpiece of his energy strategy for transportation fuels.
In contrast, Obama proposes a National Low-Carbon Fuel Standard (LCFS) to reduce the carbon content in all transportation fuels by 10 percent by 2020 and to ensure that we move to advanced, sustainable biofuels during this period - 60 billion gallons of them annually by 2030 (e.g. cellulosic ethanol fuels that are not derived from food products).
With respect to vehicle fuel economy, Obama has voted consistently to raise fuel economy standards and has promised to double the fuel economy of our vehicles. Achieving these goals would reduce oil consumption by more than one third by 2020. Plus, he aims to put 1 million plug-in hybrid vehicles on American roads by 2015 - cars that could be capable of going up to 150 miles on a gallon of gasoline.
On the other hand, McCain has a long history of opposing higher fuel efficiency standards for vehicles-and still has not set a target for future fuel economy, despite consumer fears of higher gas prices and the collapse of the SUV market.
(For more on how much we drive cars -- and the candidates' stands on mass transit -- see Federal Transportation Spending: Priority or Pork?)
There are many important issues to consider this Election Day. While most media coverage has focused on the economy, Iraq, and the ups and downs of the race itself, the next president will have to focus also on climate and energy issues. With Election Day just around the corner, the details of the candidates' climate and energy proposals are worth considering.
Rich Kassel is a senior attorney at the Natural Resources Defense Council, where he focuses on urban air pollution and transportation issues. He also chairs the Tri-State Transportation Campaign, a regional transportation advocacy organization and blogs on a variety of environmental issues on the NRDC Switchboard. Any opinions expressed in this article are his personal views, and do not represent the views of NRDC or the Tri-State Transportation Campaign.
Â