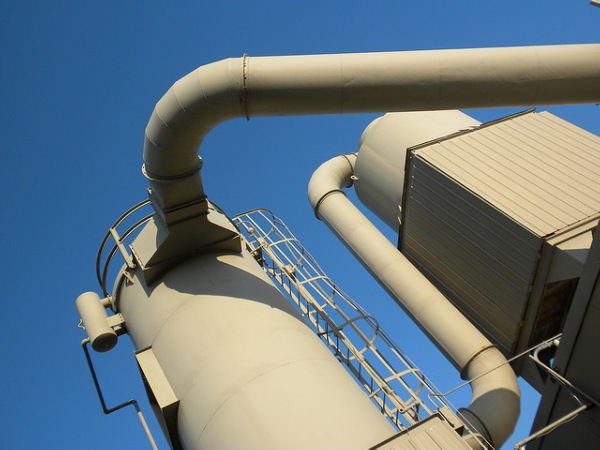 NEW YORK — New York is moving forward with a new policy that could transform the way polluting industries interact with state regulators.
Polluters across New York will be able to see penalties waived in exchange for reporting violations themselves, according to the proposed "self-audit" policy that Gotham Gazette first reported about last year before it was made public.
Under the proposed policy, any entities regulated by state law — such as chemical storage and industrial facilities, wastewater treatment plants, and farms — will be eligible.
The public has until April 22 to review and comment on the self-audit policy before it is finalized and put into place by the DEC:

The state says a more flexible approach to enforcement will lead to enhanced compliance with environmental regulations.
Similar policies have been enacted in other states, and at the federal level.
Pollution generators may also be able to secure more time to report and correct violations in exchange for making their operations more transparent to state environmental regulators. State Department of Environmental Conservation spokeswoman Lori Severino said it is likely the policy will be finalized this year.
The DEC maintains that the new policy would not impact how the state monitors sources of air, water, and ground pollution.
Severino said in an email that "all current means of scheduling inspections would continue." She explained that "the scheduling of inspections varies by program and statutory or regulatory requirements … Certain facilities must be inspected on a regular basis … Other facilities may be selected for inspection randomly from a large universe of regulated facilities. Inspections may also be scheduled based upon a complaint from the public."
One key aspect of the policy is that the state will offer increased incentives to companies in exchange for more substantive steps to control pollution.
Examples of meaningful steps that companies can take include compliance audits, and environmental management or pollution prevention systems that "reduce the adverse environmental impact of their (companies') activities, products, and services."
In a Feb. 22 statement on the draft self-audit policy, DEC Commissioner Joseph Martens noted: "This policy will encourage companies to audit their operations and quickly return to compliance before an inspection is scheduled and fines are levied for violations." He added, "It will also reward companies who make a long-term commitment to beyond compliance performance in order to save money and protect the environment."
The policy has been endorsed by the Business Council of New York State. It also has qualified support from some environmental groups.
Rob Moore, executive director of Environmental Advocates of New York, said that the draft policy is a significant improvement over an earlier version obtained by the Gotham Gazette in May 2012. He noted that repeat environmental offenders will not be able to take advantage of the new policy.
"They've done a really good job moving this in a positive direction," he said, referring to state regulators. "It's an incentive for people to report infractions … (and) they are also on a pathway for the DEC to take a look at the whole operation."
The draft policy waives civil penalties for polluters that report infractions prior to a state-ordered inspection. Certain violations are excluded, including recurring violations, those involving criminal activity, and those categorized as "significant" or "high-priority" under the provisions of the Federal Clean Water and Air acts.
The draft document states that a violation entailing "serious actual harm, or one that may have presented an imminent and substantial endangerment to human health or the environment" is not eligible for penalty waiver under the new policy. But the draft also acknowledges that the new policy will pertain to "violations that negatively impact human health or the environment."
The policy appears to give the DEC expanded latitude in determining how to approach a violation of environmental law, and in deciding whether penalties and other punitive actions should — or should not — be taken.
Lori Severino said in an email that "serious actual harm would be determined based on the particular circumstances of the violation, but could include illegal disposal causing contamination of surface or ground water, or intentional releases of carcinogens into the air."
Richard Walka, a senior vice-president at D&B Engineers and Architects, which specializes in environmental projects and works with private firms on compliance issues, argued that the DEC would proceed with caution. "That latitude is always going to go to the conservative side … They're not going to give up any power," he said of the DEC. "They'd be foolish to stop that (use of enforcement capabilities)."
To be eligible for a possible penalty waiver, violations must be reported within 30 days, and "corrected" within 60 days. Correcting violations includes "remediating any environmental harm associated with the violations, as well as implementing procedures to prevent future violations."
The draft policy notes that an alternate time frame may be established "as part of an environmental audit agreement." As a further incentive, companies and other pollution generators that enter into self-audit agreements with the state will "not be prioritized for inspection during the limited audit period" if they meet certain conditions.
Severino said that audit agreements would generally be completed within a year or less. She explained that during that period "DEC would not prioritize (will not target) that facility for inspection to identify violations, since it would not be an effective use of DEC resources to inspect a facility that has agreed to undergo a compliance audit and report those findings to the DEC."
But, she added, "That said, DEC always has authority to enter a facility, and conduct an inspection, if warranted, and will do so …"
Polluting facilities that enter into self-audit agreements with the DEC may also be able to secure additional penalty waivers, financial and technical assistance with implementing pollution control strategies, and public recognition under the DEC's New York Environmental Leaders program.
The union that represents DEC's professional and technical staff has argued in the past that the DEC does not have sufficient resources to properly monitor self-audit agreements with regulated polluters. The agency has lost several hundred staff members since 2008.
Moore agreed that this was an open question. "The situation with DEC staffing is troublesome," he said. "(The DEC is) almost fully reliant on self-reported information … They don't have the resources to collect information … That's really shameful. The state has to correct that problem. Even people being regulated recognize that it's a problem."
He said the self-auditing program would be "most successful when it complements a robust enforcement program."
Darren Suarez, government affairs director at the Business Council, concurred that the new policy was not intended to deal with bad actors. He agreed with Moore that DEC enforcement was still a critical tool for dealing with environmental offenders and, he added, to "put them out of business" if necessary.
Walka, who worked at the U.S. Environmental Protection Agency before entering the private sector, said that the EPA's development of a self-audit program in the late 80's led to a "tremendous increase in compliance. I see this (the new DEC policy) as an opportunity for compliance."
He agreed that the policy represented a shift in philosophy. But he argued that it could actually be a more effective way to expand the DEC's — and the state's — regulatory reach, especially into new companies and growing industries. It could even be a way to attract companies into the state, he said.
"It's a little bit of a paradigm shift. The state has always been a rigorous enforcer. They would not have done this before. They have realized they have had some changes in resources … They are focusing on the new owners in this policy. These are the new low hanging fruit."
Could a more flexible approach to compliance lead to less pollution of New York's air, soil, and waterways?
"Will it work? Time will tell. The next step will be metrics. How do we track this? That will be the next challenge. They can pull the plug on this if they need to," said Walka.