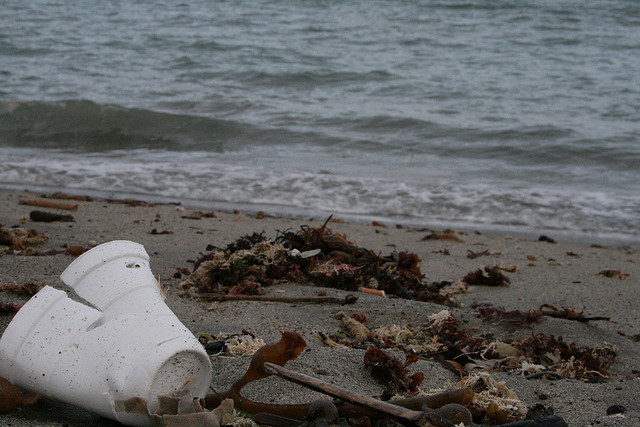 NEW YORK — Foam makes up one half of one percent of New York City's total waste, takes decades if not centuries to biodegrade and can end up polluting waterways. And it could cost the city millions a year to recycle.
A push to ban foam food containers sold in the city, spearheaded by Mayor Michael Bloomberg's legacy-conscious administration, has spurred opposition from industry including from the world's largest manufacturer of foam cups.
The Dart Container Corp., through an intermediary, spent thousands on local political races in this year's historic elections, including on the campaign of a failed candidate for Manhattan borough president. The councilman, who lost to Gale Brewer in the BP race, is now sponsoring a new bill that would render the proposed ban null and void.
"We had to engage. There's so many lies being told, so we had to engage and be part of the political process," said Michael Westerfield, Dart's director of recycling programs, of the company's political contributions. "And we've provided full disclosure on everything we've done."

The company has also hired lobbyists and worked to make sure their opposition is known to key members of the City Council, which is considering legislation backed by the Bloomberg administration.
In many ways, the opposition to the proposed ban has changed the conversation, with a revision of the legislation before the Council requiring the sanitation commissioner to explore recycling opportunities initially for a year seen as a compromise. But Dart Container Corp., has dismissed that compromise. It instead backs Councilman Robert Jackson's competing bill that would outright redefine foam as recyclable.
With mere days left before a new mayor and City Council take their places in City Hall, there is little time for the outgoing Council to move ahead on any legislation. The foam legislation could be voted out of committee this week.
To Recycle Or Not To Recycle
Expanded polystyrene foam starts out as small white beads and are transformed into everyday goods familiar to many New Yorkers. Coffee cups. Take-out clamshells. School lunch trays. Disposable picnic plates.
"Something that we know is environmentally destructive, that is costing taxpayers money, and that is easily replaceable, is something we can do without," Bloomberg said in February's State of the City. "Don't worry: the doggie bag and the coffee cup will survive just fine."
While many, including city officials, refer to the foam as Styrofoam, the name is a trademark that belongs to Dow Chemical Co. and isn't used to produce those items that the mayor and Council would ban with Intro 1060-A. The proposed law itself isn't as concerned with all foam goods as it is with foam goods used as "single service articles." There would be no ban on foam used for shipping products, only on foam used for eating or drinking.
New York wouldn't be alone in banning foam goods. Seattle, San Francisco and Portland all have existing bans, as do smaller municipalities across the country, on expanded polystyrene foam.
The problem is no one can agree on whether or not foam is actually recyclable.
The original sponsor of the bill backed by the mayor's office says no, despite what Dart Container might say.
"Dart has a lot of skin in the game. I would expect them to defend their product," said Brooklyn Councilman Lew Fidler told the Gotham Gazette before a committee hearing on his bill on Nov. 25. "I wouldn't expect them to spread the misinformation that they have spread. If they felt they could defend their position without misleading people, they would have."
Dart contends otherwise, and that it's been recycling foam since 1990, although never in a city as large as New York. Westerfield repeatedly questioned the honesty of supporters of the bill and their understanding of the product — much less its recyclability.
In a heated exchanged between Westerfield and Fidler during the hearing, Westerfield referenced an Oct. 9 meeting organized by the Black, Latino and Asian caucus to discuss the bill.
"The first thing you said is, 'I want you all to know that foam is not a plastic,'" Westerfield told Fidler. "If that's the type of research that you conduct, if that's what your findings are, I'm sorry but we've got to disagree with you."
The city plainly argues that foam used for food service cannot be tossed into a recycling bin. That much is true. New York City currently asks residents to toss those used containers into the trash bag. In fact, even clean foam is currently not recyclable in New York City. Polystyrene goods are classified as no. 6 plastics, identifiable by a small number on the bottom of most containers.
Deputy Mayor Cass Holloway, testifying at the late November Council hearing, argued that the city doesn't have the infrastructure to collect, sort and re-process foam.
Even a state of the art recycling facility being completed in Sunset Park, Brooklyn, cannot currently handle expanded foam. Managed by Sims Municipal Recycling, the 11-acre, $110 million site at the 30th Street Pier was designed to process the city's recyclable plastic, metal, and glass.
Tom Outerbridge, general manager for the Sims site, admitted at last week's hearing that the site cannot recycle expanded foam, at least not right now. Outerborough testified the facility wouldn't be able to handle foam, favoring a ban that would require manufacturers to use conventionally recyclable products.
Outerbridge testified that he wasn't opposed to a provision in Fidler's ban bill that would give the sanitation commissioner sole oversight over a year-long pilot program to explore recycling foam.
While the Sims facility cannot currently recycle expanded foam, it's not to say that the city can't repurpose the foam — even dirty foam. Dart Container, one of the country's biggest producers of expanded foam goods, has arranged a deal with an Indianapolis company willing to pay $160 per ton of waste that the city currently can't recycle itself.
Plastic Recycling, Inc., would purchase both dirty foam and other no. 6 rigid plastics that the city considers non-recyclable and currently end up in landfills. The plastic containers used for salads, coffee cup lids and the ubiquitous red Solo cups, would all be collected with the foam, which by itself is often considered too lightweight to be profitable for most recycling companies.
Once Sims sorts and collects 20 tons of no. 6 plastics — both dirty and clean — the waste would be taken by rail to the Indiana facility, where it would be washed and repurposed back into pellet form. The contract would be guaranteed for at least five years, with penalties for pulling out of the agreement even after the allotted five years.
Conflicting Information
Ahead of the late November hearing, Capital New York reported that a lobbying effort by Dart Container had successfully included the year-long delay on the ban for the foam industry to prove it could recycle EPS products. Public records show that Dart hired former councilman Ken Fisher now of Cozen O'Connor Public Strategies and Mercury Public Affairs at a total cost of $120,000.
But Westerfield told the Gotham Gazette that Dart had nothing to do with the year-long delay.
"Absolutely not, and they didn't work with that on that compromise either," he said. "If they would have worked with us there would have been more objective criteria."
Westerfield argued a one-year study of New York City's ability to recycle foam wouldn't be a sound investment considering the final decision lies not with the Council that voted on the bill but on whomever the next sanitation commissioner under Mayor-elect Bill de Blasio — who has come out in support the ban — may be. Even then, the ban bill doesn't outline any standards or methods by which the merits of recycling foam are measured.
It would take at least six months to get a recycling program fully working, according to Dart representatives, which would include installing equipment at the Brooklyn facility. Dart briefly implemented one part of the program as a trial, temporarily outfitting the location with a sorting device to pick out foam goods.
At the hearing, the city called that short pilot a failure and not viable for New York City, while Westerfield passed around a small vial of foam pellets he said were the result of the sorting machine's dry run.
The conflicting information from the administration and the foam industries have already proved frustrating to some Council members.
Manhattan Councilman Robert Jackson and Brooklyn Councilwoman Diana Reyna introduced a competing bill on the day of the hearing to counter Fidler's. Currently, city law doesn't allow polystyrene foam to be considered recyclable. Intro 1205 would redefine the law to include it as recyclable waste, effectively nullifying the need for the administration's proposed ban.
"Quite frankly, I'm not sold on the administration's messaging," Jackson said to Holloway at the hearing. "I say to you, deputy mayor, that if we can recycle it, I'm ready to recycle it instead of outright banning it."
Both Jackson and Reyna, members of the BLA caucus, were at the meeting with administration and foam industry representatives in October. However, Jackson appeared not only unconvinced but upset with the administration during the hearing.
Jackson told the Gotham Gazette that the administration had given him conflicting information about foam's recyclability during the caucus meeting, where Gonen presented on its behalf. The term-limited councilman from Harlem said that he's convinced that it is recyclable.
The Bloomberg administration has called those arguments a distraction.
The Money Behind Foam
Unsurprisingly, Dart Container supports Jackson's bill. And, beyond its own lobbying activities, the foam company also indirectly supported Jackson's recently failed bid for Manhattan borough president.
The New York City Campaign Finance Board lists a bevy of donations totaling $38,525 from Ariane M. Dart, listed as a homemaker in Sarasota, Florida.
Ariane is married to Robert Dart, CEO and one of two brothers heir to the Dart Container Corp. The couple sits on the board for the Dart Foundation alongside Robert's mother Claire and elder brother Kenneth, the company's chairman.
The brothers have been embroiled in tax evasion controversies since the 1993, when they both renounced their American citizenship and moved to the Cayman Islands after the Internal Revenue Service found they had charged millions in personal expenses to the family company.
The Dart Foundation, created in 1984, reports having given hundreds of thousands of dollars to nonprofits and educational programs over the years, including Columbia University's Dart Center for Journalism and Trauma.
Ariane Dart was listed as donating three times to Jackson for a total of $3,850, as well as seven City Council campaigns and Sanitation committee chair Letitia James, who won her race for the public advocate's office. James, despite being a sponsor of the foam ban bill, received $2,650 from Dart.
Immediately after last week's hearing, however, Jackson said that he hadn't made the connection between the donation to his campaign and his anti-ban bill. Jackson said he remembered being put on the phone with a woman from Florida who donated to his campaign, but to discuss an entirely different issue.
"It had nothing to do with this whatsoever, in my opinion, because my conversations — if that's the same woman — my conversation was about education," Jackson said, adding that the foam ban hadn't been raised to his attention until September or October. "Had not one iota to do with recycling or Dart or any discussions."
Jackson's campaign also benefitted from a $12,948 independent expenditure paid for by the Restaurant Action Alliance, an Albany-based organization that has mobilized local small businesses against the foam ban.
The mailer — paid for on Aug. 3, almost two months before the BLA caucus briefing where Jackson said he felt misled by the administration — explicitly quotes the Councilman in opposition to the foam ban, featuring photos of smiling business owners of color using various foam containers.
The alliance's website, which touts more than 18,000 member restaurants, was first registered in April 2013 to the American Chemistry Council, a chief opponent of the foam ban. Campaign finance records also show that ACC allocated $824,500 to the alliance between April and May, but the Jackson IE mailed out was its only listed expense.
A representative for the ACC told the Gazette that the balance of the contributions was spent on "outreach and education on the significant fiscal impact of the proposed ban for local restaurant owners."
"I don't know who the restaurant alliance is funded by," Jackson said, indicating that testimony from alliance members about a potential increase in packaging costs is real regardless of who mobilizes the owners.
He said the foam ban is being rammed through the City Council at the last minute. "This is another type of legacy that the Bloomberg administration is attempting to do," he said.
One Last Push
In a letter dated Oct. 8 to Sanitation Commissioner John Doherty from a Dart Container representative, the foam company provided a timeline of events from March through July, detailing meetings it had with Deputy Sanitation Commissioner Gonen and Sims facility representatives.
Dart argued that it believed "that Mr. Gonen has interfered with our contract negotiations with Sims and is misleading members of the New York City Council," and that Councilman Fidler had misinformed fellow Council members.
The Bloomberg administration repudiated the allegations.
"They are false and meant as a distraction from the fact that polystyrene foam is a devastating pollutant infecting our parks and waterways while never biodegrading and that it has been classified as a carcinogenic health hazard by the National Institute of Health," wrote Bloomberg spokesman Jake Goldman in an e-mailed statement last week.
Styrene, from which polystyrene is derived, is "reasonably anticipated to be a human carcinogen," according to a 2011 report from the NIH's National Toxicology Program.
The report does point to previous studies on how certain foods can leach styrene depending on a number of variables, yet mostly focuses on worker exposure to styrene during the manufacturing process and cancer testing on animals exposed to the chemical.
However, the NIH reported that the source for the general population's greatest exposure to styrene is one long banned by Bloomberg and the Council: cigarette smoke.
The Council's sanitation committee meets one more time before the next Council moves in, its final hearing scheduled for Dec. 9. If the committee votes it through, the foam ban could go to a floor vote the following day or at the final stated meeting on Dec. 19.
Seventeen of the 51 Council members are currently on-board with the bill, giving the Council members and mayor two weeks to get more votes to ensure it can make it to Bloomberg's desk for one last signature, keeping his promise from February.
But Fidler holds that his bill is more than just another notch on the mayor's belt of public health feats.
"This is not a rush to the mayor's nanny state," Fidler argued at the hearing. "This is actually a rush toward the future, for the protection of the Earth, for our environment, for people who work in this industry."