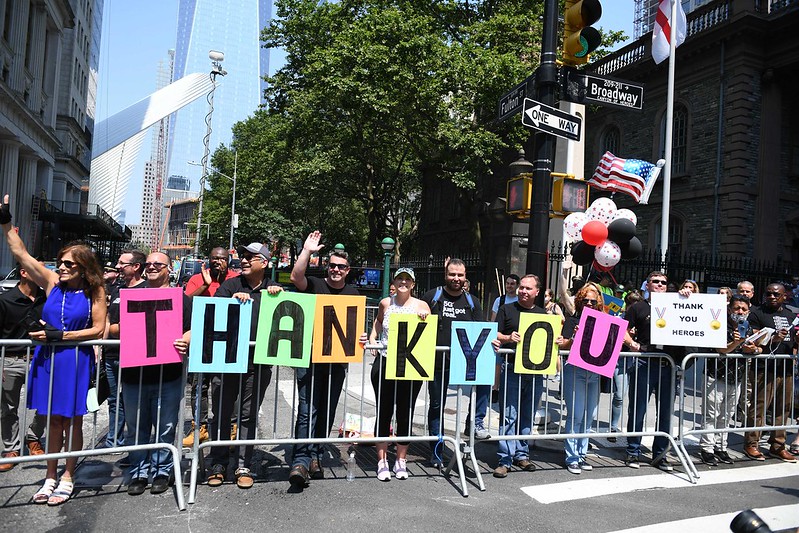 (photo: Ed Reed/Mayoral Photography Office)
---
Luz is a home care worker in New York City who routinely logged 24-hour shifts caring for patients in their homes during the start of the COVID-19 pandemic. (Luz is a pseudonym to protect her privacy.)
As a frontline worker, she was especially susceptible to the virus, yet she was forced to purchase her own gloves, masks, and other PPE because her employer refused to provide them. Despite the grueling hours, unsafe working conditions, and persistent wage violations, Luz could not leave her job because her family depends on her steady paycheck. But through New York City's Low-Wage Worker Initiative (LWWI), Luz and her colleagues bravely came forward to file a lawsuit in federal court against their employer, a home health agency, for unpaid wages.
The lawsuit and other cases like it offer an opportunity for these essential workers to improve the jobs on which our city relies. They also require a substantial amount of attorney time and case management resources, as well as multi-year, sustainable, and reliable funding from the city for the LWWI to see it through. But right now, the program remains under-funded. New York City must adequately and reliably fund the LWWI expansion, by allocating $4 million in the current fiscal year (FY22) and ensuring multi-year funding moving forward.
For many low-wage workers like Luz and her colleagues, obtaining private counsel is prohibitively expensive. Often, the worker's damages from a case are less than the actual cost for a private attorney to bring the case forward. Created in 2019, LWWI is the only dedicated city-funded program that provides free, individually-tailored, employment civil legal services and case management support to workers in New York City's low-wage industries. These services enable workers to seek redress from wage theft, discrimination, harassment, unsafe working conditions, and other workplace violations. Each year, LWWI helps thousands of low-wage workers -- the overwhelming majority of whom are from Black, Latino, Asian, and immigrant communities -- access justice so they can enforce their legal rights.
Despite LWWI's proven track record of recouping millions of dollars annually in unpaid wages through judgements and settlements for essential workers, the program's funding has not kept pace with demand for its services. New York City has chosen to fund the program on a year-by-year basis rather than providing multi-year funding. The resulting uncertainty makes it difficult for LWWI service providers -- community-based organizations, grassroots worker centers, and advocacy groups -- to know if they can continue serving clients like Luz when they do not know if LWWI funding will be renewed in the coming year. A lack of expanded and multi-year funding for LWWI hurts low-wage workers' chances of achieving economic justice, and could significantly reduce or eliminate the resources we need to help them obtain assistance and enforce their rights.
To more effectively address this issue, the Citywide Immigrant Legal Empowerment Collaborative (CILEC), has been zealously advocating for LWWI funding to be expanded and reliably funded. Having exhausted all other options, CILEC is now calling upon New York City's Office of Management and Budget (OMB) and City Hall to increase funding for LWWI to $4 million in Fiscal Year 2022 and re-assess multi-year funding for it moving forward. This is critical to keep pace with the demand for services, which has increased exponentially due to the COVID-19 workplace violations and health and safety concerns that essential low-wage and immigrant workers have been grappling with.
Luz's story is unfortunately representative of many essential workers struggling to survive this pandemic, while victimized by wage theft, discrimination, harassment, anti-union threats, safety violations, trafficking, and other forms of workplace mistreatment. Throughout the COVID-19 pandemic, the exploitation and abuse that have always been pervasive in low-wage industries have continued.
Instead of "staying at home" or "sheltering in place," essential low-wage and immigrant workers were forced to risk their lives for substandard pay and with inadequate safeguards, and to benefit those staying safe at home. They were delivering food from restaurants and grocery stores, tending to the sick and elderly as home-care attendants, providing childcare as domestic workers, cleaning homes and hospitals, working in laundromats, and packaging supplies in cramped warehouses. They are heroes of this pandemic, but have been faced with a cruel choice: survival depends on an ability to continue working, yet exposure to a deadly virus and exploitative working conditions pose grave risks.
The situation is even worse for workers who lack immigration status. Their labor made it possible for others to stay home, but their employers continue to exploit them by skimping on wages and safety measures. A recent report from the Center for Migration Studies of New York highlights America's reliance on immigrant workers during this crisis, finding that 74% of undocumented workers are employed in "essential" infrastructure industries.
In the coming weeks and months, New York City workplaces will continue to reopen and will rely more than ever on essential workers to support the city's economic recovery. While we cannot fully control the course of the pandemic, we can modify our systems, resources, and infrastructure now to better protect our essential workforce through employment-related civil legal services. This requires support from the city.
Now is the time when workers in New York City's low-wage industries, like Luz and her colleagues, most need reliable "Know Your Rights" community trainings and information sessions about their workplace rights, and zealous legal representation and case management support when these rights are violated.
City government should lead the way in ensuring an equitable and just economic recovery for New Yorkers, and demonstrate its support by adequately and reliably funding LWWI. Our city's workers, and ability to weather new waves of infections, depend on it.
***
Thomas Power is a Senior Staff Attorney at Catholic Migration Services. Sarah Leberstein is a Supervising Attorney at Make the Road NY. Katisha Andrew is the CILEC Coordinator at TakeRoot Justice. All three organizations are member organizations of the Citywide Immigrant Legal Empowerment Collaborative, a consortium of nonprofit legal services providers and community-based organizations. On Twitter @MaketheRoadNY, @CMSBQ & @TakerootNYC
***
Have an op-ed idea or submission for Gotham Gazette? Email This email address is being protected from spambots. You need JavaScript enabled to view it.