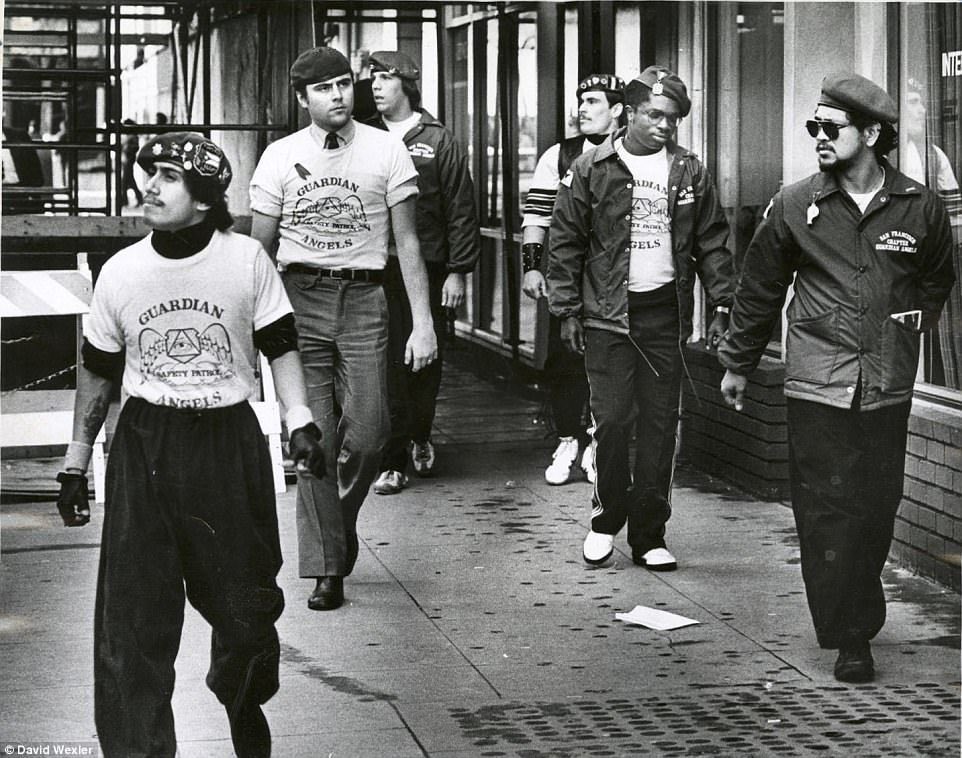 Curtis Sliwa & the Guardian Angels (photo: @CurtisSliwa)
---
Curtis Sliwa, the Republican nominee for New York City mayor, has portrayed himself as a police advocate and crimefighter dating back to his founding of the Guardian Angels in the late 1970s. But the image Sliwa has crafted of himself as the original civilian crimefighter distorts his role with the renegade patrol group.
While the Angels – a group of largely young African-American and Latino New Yorkers that began patrolling subways – may have been the most well-known volunteer crime-fighting group in the city – they were far from the first. They emerged only after wide swaths of New Yorkers pioneered a movement in which residents took to patrolling city streets. And it was Sliwa's own deceitful tactics and bombastic deriding of law enforcement and officials while leading the Angels that helped facilitate the demise of this grassroots anti-crime movement that had been flourishing until that point.
In the mid-1960s, for example, Jewish residents of Crown Heights formed the Maccabees, the first citizen patrol of this time. Each night, hundreds of volunteers escorted residents and served as "crime-spotters" for the police in cars equipped with two-way radios.
Similar volunteer patrols grew in the years ahead. By the end of 1972, there were an estimated 15,000 volunteers in tenant and neighborhood patrols and at least 75 citizen car patrols.
New Yorkers formed these patrols out of deep concerns about rising crime. Homicides, for example, nearly tripled to 1,117 between 1960 and 1970. Many residents believed that the police – whether because they were outnumbered, inefficient, or just corrupt – were "not sufficient to check crime in our community," as one group of Brooklyn residents put it.
For many whites, the city's growing populations of color heightened fears about crime. But patrols also spread throughout African-American neighborhoods. In the early 1970s in Bedford-Stuyvesant, for example, 73 community groups came together to patrol residential areas, while Black shopkeepers formed their own patrol to stop holdups.
Citizen watches also spread throughout public housing projects, where by the end of the 1970s, nearly 13,000 residents patrolled across 127 developments. Residents of color commonly demanded not just more but better policing as well as greater educational and job opportunities that would address crime at its roots.
Though initially skeptical of these community patrols, officials ultimately switched course due to the city's deteriorating economy. Officials supported these patrols as a low-cost means to combat crime as city budgets were constrained. In 1973, for example, Mayor John Lindsay initiated a program that provided matching funds for citizen patrols to purchase equipment like walkie-talkies and uniforms.
As the city's financial conditions worsened over the 1970s, the police stepped up their support as well, especially through training programs. By late 1977, more than 32,000 residents had gone through the NYPD's block watcher training while a Civilian Observation Patrol (COP) trained citizen patrols. By 1977, COP groups were active in nearly 65% of precincts.
Most critical to the growth of citizen patrols, however, was the thousands of residents who believed their volunteerism was necessary – from the residents who patrolled six nights a week in Hollis Hills to the dozens of community groups in the African-American areas of Crown Heights and Flatbush who patrolled on foot and by car in uniform with radios connected to the local precinct.
It was this environment – of a city gripped by widespread concerns about crime and by the belief that police alone could not stop it – that forged the opening for Sliwa and the Guardian Angels to move onto the subways and capture the attention of the city and the country. Indeed, by the time the Angels gained public prominence, volunteer anti-crime groups had become established across the city's landscape. Citizen patrols numbered 60 in 1977 and 135 in 1982; the overall number of residents involved in anti-crime programs by that time doubled to 150,000.
Once the Angels emerged, Sliwa's consistent criticism of the failures of officials and police to effectively address crime certainly had merit, but they were undermined by his arrogance and bravado as well as his self-promotion tactics, which were designed to keep himself in the media spotlight (a number of these schemes were faked, as Sliwa later admitted).
What's more, Sliwa's antics helped cause officials to become more cautious of supporting grassroots anti-crime initiatives. City officials dismissed the Angels as vigilantes, but also began pulling back on resources for resident patrols more generally, instead focusing more narrowly on boosting police funding. Over the 1980s, the number of residents involved in patrols ultimately declined by one third and the number of active block watchers dropped by over 80%.
Indeed, by many measures, Sliwa did more to help usher in the decline of the broader citizen patrol movement, rather than being the catalyst that he portrays himself to be.
Today, the city once again finds itself awash in concerns about public safety, despite crime rates remaining far lower than decades earlier and despite perceptive criticisms of police. And Sliwa's position once again threatens community safety.
Sliwa's campaign has expunged his criticisms of policing he once made from his biography while portraying him as having been the singular New Yorker who "had to do something" when all others had "resigned themselves to the reality" of crime to buttress his law and order credentials and call for increased police. This false narrative not only omits the richer and more complex history of citizen patrols in New York. It also deliberately diminishes proposed responses to crime that have emerged from within New York's neighborhoods today that go beyond Sliwa's position that the predominant path to safety lays with more police.
***
Benjamin Holtzman is an Assistant Professor of History at Lehman College and author of The Long Crisis: New York City and the Path to Neoliberalism. On Twitter @holtzman_b.
***
Have an op-ed idea or submission for Gotham Gazette? Email This email address is being protected from spambots. You need JavaScript enabled to view it.