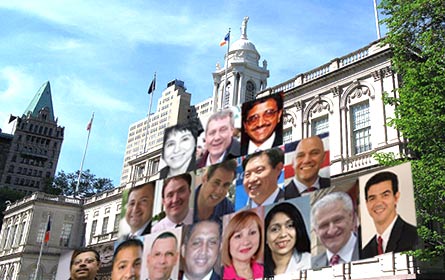 It's officially campaign season.
In just a few days, many of the races throughout the city will be decided (thanks to a practically impenetrable Democratic majority). So Gotham Gazette has geared up to get you the most comprehensive and incisive coverage of election '09.
We have traveled to new heights, that is both Washington and Jackson, and analyzed the campaigns of the city's most viable Democratic mayoral contenders. We've looked into Manhattan's district attorney race and dived into the debate over the Gowanus Canal.
And we're going to bring you more.
Over the next three weeks, check back with Gotham Gazette as we go out to cover the most competitive races.
You can get to our stories through Who's Running for What (our 2009 election database) by searching for the district you are interested in. We're also compiling an archive of related coverage from other news sources to give you a comprehensive look at every race in the city. That's available in Who's Running for What too.
Check back often for the latest on who is in and out in election '09. And for a quick look at what we've done so far, see our stories below.
City Council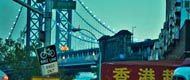 District 1: In Lower Manhattan, an Incumbent Fights for His Seat
The extension of term limits has proved a double-edged sword for City Councilmember Alan Gerson. On one hand, it has given him a chance at four more years; on the other, it has provided his opponents with a political weapon to use against him.
---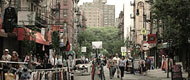 District 2: Mendez Vows to Keep Fighting
If Councilmember Rosie Mendez wins a second term -- as seems likely -- she says she will continue to focus on preserving neighborhoods facing development.
---

District 3: Two Challengers Take on the Speaker
With her power and prominence, Christine Quinn should have an easy path to re-election. But her opponents say some voters may balk at the speaker's close ties to the mayor and some of her stands on the issues.
---
District 7: Three Remain on Ballot to Challenge Jackson
Some well-known politicians decided against challenging Robert Jackson, but the incumbent will still face three opponents who hope to gain traction in this primarily Hispanic district.
---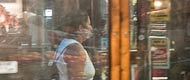 District 10: Drumming Up Support in the Heights
The resignation of disgraced Councilmember Miguel Martinez creates an opportunity for a political newcomer in upper Manhattan.
---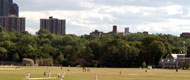 District 11: Koppell Fights for a Third Term
The northwest Bronx's political stalwart and a pro bono attorney disagree over whether the district really is changing and whether it needs a change.
---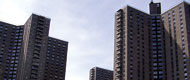 District 12: Seabrook Aims For Another Term
Two challengers question incumbent Larry Seabrook's ethics and commitment, but he counters that he has accomplished a lot for his Bronx district.
---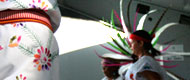 District 14: The Maria Baez Revolt
Resident of District 14 say they rarely see their council member, but Maria Baez remains confident she can beat her two challengers and win a third term.
---

District 16: Booing the Yankees in the Bronx
Incumbent Councilmember Helen Foster and her challenger agree the new baseball stadium has not been good for the 16th district. They're on opposing teams, though, when it comes to whether Foster deserves a third term.
---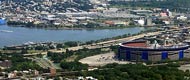 District 19: Debating Who Can Best Preserve Northeast Queens
In rapidly changing District 19, candidates vying to replace Tony Avella all base their platforms on methods of curbing and regulating what many see as overdevelopment.
---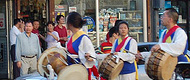 District 20: A Diverse Group of Candidates Competes in a Diverse District
Five candidates -- four of them immigrants -- hope to replace John Liu as Flushing's representative on the City Council.
---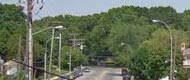 District 23: In Eastern Queens, A Weprin Wants to Change Jobs
A state legislator from a prominent political family wants to leave Albany and represent the 23rd district at City Hall, but his two opponents say they could better serve this area of Queens.
---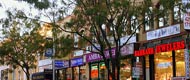 District 25: Closed Hospital Plays Key Role in Jackson Heights Race
Incumbent Helen Sears faces two challengers who question whether she has done enough to provide adequate health care in the 25th district.
---

District 27: It's Down to One Opponent for Comrie
The head of the Queens delegation faces a political newcomer.
---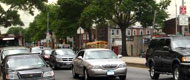 District 28: Words (and Punches) Traded in District 28
Drama and controversy tend to overshadow the issues in this Jamaica district.
---

District 29: Racing to Represent Long Island City
The three candidates seeking to replace Eric Gioia grapple with how to deal with the changes in what was once an industrial area.
---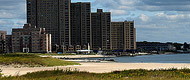 District 31: Rockaway Incumbent Faces Five Challengers
Incumbent James Sanders' record is one issue in a district concerned about housing foreclosures, jobs and crime.
---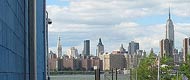 District 33: Eight Candidates Run in a District Marked by Change
Sweeping along the Brooklyn waterfront, District 33 has seen dramatic development and massive rezoning. A slew of candidates offer different prescriptions for what to do next.
---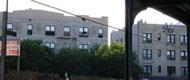 District 34: Housing Project Splits Bushwick District
Politics and a controversial plan to build affordable apartments are inextricably linked as Diane Reyna fights to hold on to her council seat.
---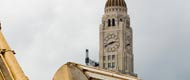 District 35: Atlantic Yards Dominates Debate in District 35
The race between Councilmember Letitia James and her leading opponent may shape up as a referendum on the controversial development plan for downtown Brooklyn.
---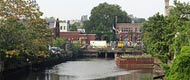 District 39: Gowanus Canal Looms over District 39 Race
This Brooklyn district includes some of the city's most gentrified blocks -- but a key issue in the City Council campaign harkens back to the area's far grittier past.
---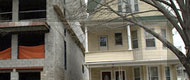 District 40: In Flatbush, the Campaign Turns Negative
Incumbent Mathieu Eugene, a blogger and a neighborhood activist, are locked in a nasty fight over who can best serve this Brooklyn district.
---

District 41: Brownsville's Dynasty Looks for a Comeback
One-term Councilmember Darlene Mealy faces a stiff challenge from a local business owner and activist, and from a member of the area's politically powerful Boyland family.
---

District 42: In East New York, an Outspoken Incumbent Faces Challengers
Councilmember Charles Baron has won attention for controversial comments but his challengers argue that someone a bit less confrontational might better serve the district.
---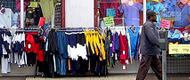 District 45: In East Flatbush, the Incumbent is the Issue
Five candidates are vying to replace Kendall Stewart in the 45th district -- and some think such a crowded field could propel the beleaguered council member to victory.
---
Comptroller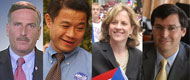 Adding Up the Comptroller's Race
Four City Council members are locked in a tight -- and expensive -- race for the important but often obscure citywide office.
---
Public Advocate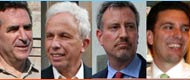 Four Democrats are vying in a spirited contest for an office that some officials hope to abolish.
---
District Attorney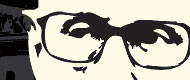 The Race to Fill Morgenthau's Shoes
Three Democrats vie to replace the legendary district attorney and consider how to bring change to an iconic office.
---
The Mayor's Race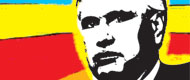 Despite a minuscule budget and little name recognition, Tony Avella thinks he can parlay his maverick reputation into victory in the Democratic primary for mayor. Most experts think that's laughable.

Bill Thompson Hopes for an Upset
Can an affable but quiet career politician topple a popular mayor with billions of dollars at his disposal? Bill Thompson thinks he can. But how?