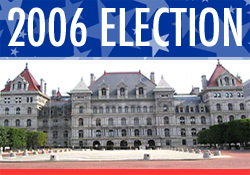 ALBANY
. Governor
. Attorney General
. Comptroller
. State Legislature
WASHINGTON
. Senate
. House of Representatives
BEFORE YOU GO TO THE POLLS
. Where and When Do I Vote?
. What Are My Rights?
. Where Can I Go for Help?
. What Do First Time Voters Need To Know?
GETTING THE RESULTS
. How Do I Find Out Who Won?
WHY THE 2006 ELECTION MATTERS
If Jeanine Pirro's marriage weren't so rocky, Alan Hevesi hadn't been caught using taxpayer money to pay for his wife's chauffeur, and John Spencer hadn't called Hillary Clinton ugly, it would have been easy to forget that people are campaigning to be elected to public office in New York.
But people are campaigning -- lots of them. On November 7 New Yorkers will vote for governor, state attorney general, and state comptroller. Every single seat in the state legislature is up for election, as are all 13 of the seats for the House of Representatives representing New York City, and one of New York State's two United States senate seats.
New York's Democratic Party has been predicting a sweep of the three highest statewide offices -- governor, attorney general, and comptroller. Polls support their assertion, while also showing that their party may well make gains on the national level. This, say Democrats, will shift the direction of state and federal policy, allowing them to push policies that have been blocked by Republican officials. There are concrete differences between the state's Republican and Democratic candidates in how they would approach school funding, gay marriage, and the dysfunction that currently reigns in Albany -- all issues that state officials will soon be weighing in on.
To help voters as they make their decisions, we offer the following guide. And check out Gotham Gazette's election results starting at 9 p.m. on Election Day.
ALBANY
GOVERNOR
New York State will elect a new governor for the first time in 12 years, as George Pataki is not running for reelection, setting his sights on the 2008 Republican presidential nomination instead.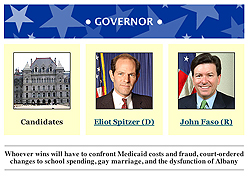 Click here for 2006 New York Gubernatorial Candidates Grid
The campaign for governor of current Democratic state attorney general Eliot Spitzer has energized New York's Democrats, who hope a Spitzer win will be key to shifting Albany's balance of power in their favor. His opponent, former Republican state assembly member John Faso, is pro-life, anti-gay marriage, and is running on a platform of across-the-board personal and corporate tax cuts.
The winner of this race will inherit some serious challenges. The state's Medicaid program is unaffordable, say both candidates, and will have to be addressed. The Campaign for Fiscal Equity, a lawsuit that would require the state to increase school funding by billions of dollars, is reaching its conclusion and will have to be addressed by the next governor. And demands for the reform of Albany's "Three Men in a Room" version of democracy -- where all decisions are made through private agreements between the governor, the head of the state assembly, and the head of the state senate -- are growing.
Faso and Spitzer's ideas for Medicaid reform are similar: combat fraud, provide care in less expensive community settings when possible, and use generic drugs to lower the costs of prescriptions. But the candidates have very different ideas on how to confront other issues facing the state. (Watch a video of a debate between the candidates)
A court decision on gay marriage this year set the stage for the state legislature to make a big decision on how New York will treat gay couples. Eliot Spitzer says he would introduce a bill giving gay marriages full legal recognition; Faso says he would veto any such legislation, though he is open to recognizing civil unions.
Spitzer has said he wants to dedicate $4 to $6 billion in additional school aid to New York City public schools as a way to settle the Campaign for Fiscal Equity suit. Faso argues that a lack of money is not the problem, and that the poor performance of the city's public schools would be better dealt with though increased accountability. He has also proposed giving financial help to parents who want to send their children to private schools.
Spitzer's pledge that "Day One, Everything Changes" includes the promise to implement policies of which Faso disapproves, including an independent redistricting commission, and strict campaign contribution limits and public financing for state-level elections.
There are four other candidates running for governor: Malachy McCourt of the Green Party; John Clifton of the Libertarian Party; Maura DeLuca of the Socialist Workers Party; and Jimmy McMillan of the Rent Is Too Damn High Party.
Look also at the gubernatorial "Campaign Trail" -- summaries of, and links to, articles about the race going back to the beginning of the year.
ATTORNEY GENERAL
Democrat Andrew Cuomo and Republican Jeanine Pirro, are running to replace Attorney General Eliot Spitzer, who is leaving his seat to run for governor.
The duties of attorney general have been largely defined by the person holding the office. Eliot Spitzer is known -- and, in some circles, criticized -- for expanding the responsibilities of the office to go after Wall Street transgressions. Supporters and critics agree that he has significantly raised the profile of the office. Spitzer's legacy, many say, combined with the continued tendency of the current United States Supreme Court to rely on the judgment of the states on many issues, will give whoever wins this election a lot of power.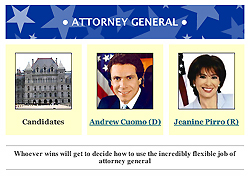 Click here for 2006 New York Attorney General Candidates Grid
The race to replace Spitzer has not inspired a lot of enthusiasm. Newspaper endorsements have regularly started with the caveat that both candidates are seriously flawed. Indeed, it has been difficult to look past the personal scandals that have dominated the campaign -- or the abundance of evidence that neither candidate wanted the job until better opportunities fell through. But some digging will show that the candidates do differ in their political views and conception of how the office should work.
The Republican, Jeanine Pirro, is running mainly on her experience as a former district attorney in Westchester -- her campaign Web site does not devote a single word to her plans for the office she is running for. She says that the highlight of Andrew Cuomo's political career -- his time as the secretary of the federal Department of Housing and Urban Development -- has not prepared him to serve as New York state's top lawyer.
As district attorney, Pirro focused largely on sexual predators; she has said she wants to continue that focus as attorney general. Pirro calls sex offenders "the most important public safety issue of our time," and has been pushing for civil confinement -- or continued supervision even after a sentence is completed -- for those convicted of violent sex crimes.
Pirro's critics say that this focus would be appropriate for district attorney, but not for attorney general. Cuomo sees the post less as an office for criminal justice than as a place to launch campaigns to "clean up government" and "fight for social justice."
This difference is reflected in the candidates' different approaches to Medicaid fraud, something that all those running for statewide office have cited as a priority. Pirro says she will use aggressive law enforcement tactics to catch those cheating the system; Cuomo wants to create a law that would offer financial rewards to whistleblowers.
Another clue about how Pirro and Cuomo would differ as attorney general are their views on social issues. Cuomo opposes the death penalty and supports gay marriage, while Pirro is pro-death penalty, and against a gay marriage bill --- an issue that will almost certainly come up in Albany come January. (Watch a video of one of the two debates between Cuomo and Pirro.)
There are three other candidates running for attorney general: Rachel Treichler on the Green Party line; Christopher Garvey on the Libertarian line; and Martin Koppel on the Socialist Workers Party. (Watch a video of a debate among the third-party candidates.)
Look also at the attorney general's "Campaign Trail" -- summaries of, and links to, articles about the race.
COMPTROLLER
Until September, the assumption was so wide-spread that Alan Hevesi was cruising to re-election as the state's comptroller that pollsters didn't even include the race in their surveys of New York voters. Hevesi's performance to that point had inspired few complaints, and the Republican party had put up what everyone was acknowledging as a token opponent: J. Christopher Callaghan. Hevesi didn't even bother to put together a campaign Web site.
Then Callaghan got an anonymous tip that Hevesi had inappropriately used a taxpayer-funded driver as a chauffeur and companion for his ailing wife. By the time the smoke cleared, a state ethics committee had alleged that Hevesi had committed a crime, Attorney General Eliot Spitzer withdrew his support, and others were calling for Hevesi to resign.
Suddenly, unexpectedly, Callaghan had a chance.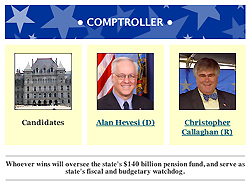 Click here for 2006 New York Comptroller Candidates Grid
Hevesi agreed to debate Callaghan (watch video of debate), and began running television advertisements questioning his ability to run the large comptroller's office, which oversees the state's $145 billion pension system and serves as Albany's fiscal watchdog. Callaghan, meanwhile, continued to criticize Hevesi's ethics, also attacking the comptroller's acceptance of campaign contributions from companies that do business with the state. Support for the previously unknown candidate ballooned; he has been endorsed by officials as far away as Arizona . In a nutshell, Hevesi says Callaghan isn't experienced enough to do the job, and Callaghan says Hevesi isn't honest enough to do it.
Callaghan has proposed a 401(k)-style pension plan for new state employees, which would not have the guaranteed payout of the current pension plan. Callaghan argues that such an approach would be cheaper for taxpayers and would be as secure as the current system. But Hevesi has attacked what he describes as a "privatization" plan, saying that new employees would be at risk of losing their pensions.
Callaghan has also criticized Hevesi's practice of investing the state's pension fund in "socially responsible" ways. While Hevesi argues it is possible to do this while also maximizing returns, Callaghan says it is inappropriate.
There are three other candidates running for comptroller: Green Party candidate Julia Willebrand; Willie Cotton of the Socialist Workers Party; and Libertarian John Cain.
Look also at the comptroller "Campaign Trail" -- summaries of, and links to, articles about the race going back for months.
STATE LEGISLATURE
In the last few years, the cry to reform Albany, particularly the state legislature, has become a kind of mantra. But many lawmakers are running unopposed, and those who do face opposition have all the advantages of incumbency, so the opportunities for sweeping change in the Capitol seem scant.
State Senate
Democrats had hoped that the major change in the legislature would be a shift in power in the state senate, in which the Republicans now hold a 35 to 27 majority. In New York City, Republicans have only five of the city's 26 seats. There are four open seats, including the Manhattan/Bronx district of David Patterson, who is running for lieutenant governor on the Democratic ticket. Democrat Bill Perkins, Republican Al Mosley, and Independent Jessie Fields are running to replace him.
In another notable race, the Republican Party has decided not to field a challenger against incumbent Efrain Gonzalez, representing the 30th District in the Bronx, even though Gonzalez has been indicted of mail fraud for allegedly using $37,000 donated to a non-profit organization for personal expenses.
(To see a list of all the contested Senate races, click here)
State Assembly
The State Assembly is controlled by Democrats who hold more than two thirds of the 150 seats. In the city, the numbers are even more one-sided, with Republicans holding only four of the city's 65 seats. (One Republican, Dov Hikind, has the Democrat's backing as well.)
In Queens' 25th District, Assemblyman Brian McLaughlin decided not to seek re-election, and was indicted shortly thereafter on federal racketeering charges. Morshed Alam is running on the Republican line, with Rory Lancman running as the Democrat. The contest is a rematch of the Democratic primary.
But not every assembly member under indictment has ducked out. Diane Gordon, who is charged with taking bribes, is running for re-election in the 40th District in the Bronx. Her opponent, Godfrey Jelks, is not running an active campaign.
(To see a list of all the contested Assembly races, click here)
JUDGES
This year's ballot also includes elections for civil and supreme court judges. The state Bar Association has put together a voter's guide profiling the candidates.
WASHINGTON
SENATE
New York's junior senator, Democrat Hillary Clinton, is facing a challenge from former Republican mayor of Yonkers John Spencer.
The campaign has dealt largely with Senator Clinton's ambitions beyond the senate. One of Spencer's major criticisms of Clinton is that she is planning to run for president in two years; Clinton refuses to comment on the nearly universally believed rumor. In a bizarre chance encounter with a reporter on an airplane, Spencer allegedly ridiculed Clinton as having been an ugly teenager, and said that she had gotten millions of dollars worth of plastic surgery. Spencer denies making such comments, but the encounter quickly became the most memorable moment in an otherwise low-key contest.
(Watch a video of a debate between the candidates)
HOUSE OF REPRESENTATIVES
Across the country, the campaign for a third of the 100 seats in the U.S. Senate, as well as all 435 seats in the U.S. House of Representatives is in high gear, with Democrats hoping six seats in the Senate will change hands and give them control. They need to pick up 15 more seats in the House to be the majority party there.
New York City has 13 seats -- 12 of which are held by Democrats, the other held by Staten Island Republican Vito Fossella. Three incumbents are running unopposed. There will be at least one new Representative, in Brooklyn's 11th District, where Representative Major Owens is not seeking reelection. Democrat Yvette Clarke faces Republican Steven Finger, Freedom Party candidate Ollie McClean, and Conservative Marianna Blume.
(To see a list of all the contested House races, click here)
BEFORE YOU GO TO THE POLLS
The election will be this Tuesday, November 7, with polls open from 6 a.m. to 9 p.m. Only registered voters who have registered at least 25 days before the election can vote.
You should have received a notice in the mail telling you where to vote, but if you do not have it, you can go to the Board of Election's poll site locator or call 1.866.VOTE-NYC. This number can provide you with other information as well, such as registration deadlines.
On its Web site, the Board of Elections also has instructions for how to work the voting machine.
Absentee ballot applications can be obtained by calling the Board of Elections at 1-866-VOTE-NYC, e-mailing a request to This email address is being protected from spambots. You need JavaScript enabled to view it..
Those who wish to vote by absentee ballot have two choices:
- Deliver by mail: To be counted, an absentee ballot must be postmarked the day before Election Day, November 6, and reach the Board of Elections no more than seven days after the election. Or you can drop off an absentee ballot at one of the Board of Elections borough offices by 9:00 p.m. on Election Day.
If the deadline for requesting an absentee ballot by mail has passed and you cannot appear at the polls on Election Day because of an accident or sudden illness, you may send a representative with an authorized letter to receive an Absentee Ballot Application and Absentee Ballot and return both to the Board of Elections by 9 P.M. on Election Day at your Borough office.
The New York Voter's Bill of Rights guarantees the right to:
. Vote: The right to vote includes voting for candidates and questions on the ballot.
. Have Your Vote Count: Vote on a voting system that is in working condition and that will allow votes to be accurately counted.
. Secrecy in Voting: Secrecy in voting will be preserved for all elections.
. Freedom in Voting: Cast your vote, free from coercion or intimidation by poll workers or any other person.
. Permanent Registration: Once registered to vote, you will continue to remain qualified to vote from an address within your county or city.
. Accessible Elections: Non-discriminatory equal access to the election system for all voters, including the elderly, disabled, alternative language minorities, military and overseas citizens, as required by federal and state laws.
. Assistance in Voting: You may ask for help in voting because of blindness, disability, or inability to read or write.
. A Ballot in Your Language: Voters in New York City are entitled to a ballot in Spanish. Voters in Brooklyn, Manhattan and Queens have the right to a ballot in Chinese and Queens voters must be able to obtain a ballot in Korean.
. Instructions in Voting: You can view a sample ballot in your polling place prior to voting, and before entering the machine, you may request help in how to operate the machine.
. Absentee Voting: If you will be out of your county of residence on Election Day, or are unable to go to your polling place due to illness or physical disability, you may cast an absentee ballot.
. Affidavit Voting: Whenever your name does not appear in the official poll book, you will be offered an affidavit ballot.
What Do First Time Voters Need To Know?
New Yorkers who registered to vote for the first time via mail, may be asked to provide identification, such as a driver's license, when they go to the polls.
Those without a driver's license can also offer a copy of one of the following:
. a valid photo ID
. a current utility bill
. a bank statement
. a government check or other government document that shows the voter's name and address.
Those who don't have any form of identification or refuse to supply one will be allowed to vote on paper ballot, not in the machines, according to the Board of Elections. Those votes will be counted if they are verified to match registration forms.
The new rule is part of the federal Help America Vote Act, which Congress passed after the turmoil in Florida during the 2000 presidential election.
What If You Encounter Problems at the Polls?
If a poll worker says you are not on the list, ask an inspector to verify that you are at the correct Election and Assembly District for your address. If you believe that you are eligible to vote, you can ask for a paper or affidavit ballot. After the election, the Board of Elections will check its records and your vote will be counted if you are deemed eligible to vote and were at the correct polling site.
The Board of Elections says that it has increased efforts to make polling places accessible for senior citizens and handicapped voters, but they admit that there are still problems at some sites. Voters who feel that their polling site is inaccessible should call the Voter Registration Unit of their local borough office for information.
If you encounter problems at the polls, call one of the following places:
- New York Public Interest Research Group: 212.822.0282
- League of Women Voters Election hotline: 212 725-3541.
- New York Civil Liberties Union: 212-607-3300
For assistance in Chinese, Korean, Tagalog, Hindi, Khmer and English, call the Asian American Legal Defense Fund at 800-966-5946.
HOW DO YOU FIND OUT WHO WON?
Visit Gotham Gazette's Election Results.
Â