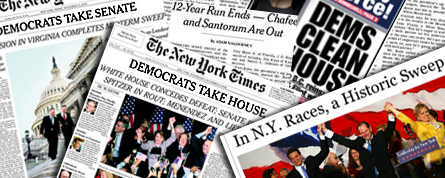 Last week's Democratic takeover of the House of Representatives and the Senate indicate that it is "time for a change," according to soon-to-be Senate Majority Leader Harry Reid. In Albany, meanwhile, Eliot Spitzer led a Democratic sweep of all statewide offices -- the first time this has happened since 1938 -- and vowed that "Day One, Everything Changes."
Many are predicting that New York City stands to gain from all this change. Its congressional delegation holds more clout in Washington than it has had in decades, something that can only benefit the city, according to Republican Mayor Michael Bloomberg. Spitzer's lopsided victory, meanwhile, gives him a solid chance of reforming Albany's legendary ineffectiveness -– or at least that's what many of those who voted for him are hoping.
But is sweeping change really on the way? How will the results of last week's election affect the lives of New Yorkers? Some of Gotham Gazette's regular contributors take an issue-by-issue look.
By Andy Humm
CIVIL RIGHTS: The Democratic sweep in Congress and in the New York Statehouse may result in little more than a change of tone, rather than concrete legislative change, when it comes to civil liberties.
By Glenn Pasanen
FINANCE: The ascendant Democrats in Washington and Albany could deliver big to New York City in tax relief and tax dollars. On the other hand, the U.S. President, and the New York State Senate, are still Republican.
By Joe Lamport
HOUSING: Activists hope Democrats in Congress will take steps to address the city's housing crunch, but worry about Eliot Spitzer's ties to the real estate industry.
By Anne Schwartz
PARKS: Advocates expect Eliot Spitzer to continue his support for open space in New York City, while they hope the new Congress will increase funding for urban parks.
By Nancy Rankin
SOCIAL SERVICES: Most New Yorkers would want newly elected Democrats in Albany and Washington to take bold steps to improve education and affordable housing.
By Bruce Schaller
TRANSPORTATION: New York officials will likely use their new clout to push the 2nd Avenue Subway and other needed transportation projects forward.
By Blair Horner
VOTING: How can Eliot Spitzer change Albany's wayward ways?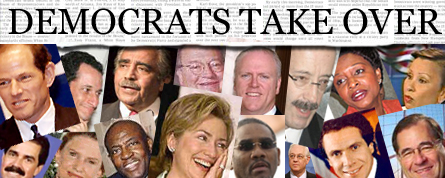 Gotham Gazette asked experts and advocates from a variety of perspectives to weigh in on what will be different after November 7
The World Is Now Perfect
By Angelo Falcon
As a result of these past elections, peace will return to the world, poverty will disappear, everyone will be able to afford college, socialized medicine will be adopted, civil liberties will be totally restored...
Congressional Clout
By Jerry Skurnik
With the Democrats in control on Congress, members of New York City's congressional delegation have the committee assignments and the seniority to help the city.
An Urban Agenda in Congress?
By Douglas Muzzio
With a Democratic majority in Congress, New York politicians may try to take on gun control, immigration and funding for transit.
Mighty Wind of Change, or a Breeze?
By Julia Willebrand
The Green Party candidate for comptroller questions what Democratic victories in the state and in Congress will really mean to New Yorkers on issues such as health insurance, tax fairness, an end to corporate handouts, and the free dissemination of information.
Taking on Special Interests
By Nicole Gelinas
Governor Eliot Spitzer could do much for the city of New York by cutting through Albany's firewall of special interests (such as the health care workers' union) to tilt the balance of the Empire State's taxing and spending toward the public interest. To do that, he will have to battle Albany's self-serving culture.
Gay Rights Moves Forward
By Christopher Murray
Members of the lesbian, gay, bisexual and transgender community in New York City seem uniformly optimistic
Helping Small Businesses
By Jonathan Bowles
The shift of power in Washington will benefit New York's small businesses
New Energy to Combat Predatory Lending?
By Mark Winston-Griffith
Eliot Spitzer's victory bodes well for New Yorkers needing protection from unscrupulous financial institutions.
Fewer Children Left Behind?
By Norm Fruchter
Democratic control of both the House and the Senate should result in changes in the No Child Left Behind program that will benefit New York City's schools and students.
Hope For Education and The Arts
By John Brademas
A former member of Congress hopes the future will be more like the past, when it comes to bipartisan support for the institutions that matter to New Yorkers.
Â