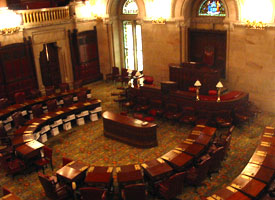 With the presidential election the focus of so much attention, one could easily forget that all the members of the New York State Assembly and Senate also are up for election this fall. Most of the incumbents want their jobs back, and little seems to stand in their way. As in most years, few sitting members of the legislature face primary challenges, proving once again that, when it comes to elections in New York, nothing is left to chance.
Lack of Competition
As of now, only 23 out of 65 Assembly seats and 11 of 35 State Senate seats in New York City are set to have a primary on Sept 9. This is the number of districts where more than one candidate has filed petitions seeking his or her party's nomination. The number will almost certainly shrink as candidates challenge one another's petitions. The Board of Elections is holding hearings on challenges this week, and inevitably some candidates won't make it through the process.
Previous reports and articles have highlighted how uncompetitive New York's elections are, with nearly all of the incumbents running being reelected to their seats. In many cases this year, incumbents will not face a primary challenger. Most of those who do are expected to beat their opponents rather handily.
Not that there aren't a few notable races. Assembly Speaker Sheldon Silver faces two Democratic opponents, and State Senator Kevin Parker in Brooklyn is being opposed by two-term limited City Council members. State Assemblymember Adriano Espaillat in upper Manhattan is facing a tough challenge by a former ally, City Councilmember Miguel Martinez.
Only four incumbents are not seeking re-election. And only one of those seats features a wide-open contest. That is taking place in the East New York section of Brooklyn where Diane Gordon had to give up her Assembly seat after she was convicted of corruption charges. Currently the only other officials not running again this year are Sen. John Sabini from Queens, who Gov. David Paterson has named to head the Off-Track Betting Association, and State Assemblymembers Ivan Lafayette and Luis Diaz, who were also given positions by Paterson.
A Special Election with Special Timing
The race to replace Gordon in the 40th Assembly District seems to be one of the more competitive contests in the city, since six candidates have filed petitions to appear on the ballot. Voters there can expect more than their share of confusion.
Generally when a legislative seat becomes vacant in mid-term, the governor calls a special election to fill it. Gordon's vacancy occurred so late in the term that the deadline for special elections had passed, and one was never called. Last month, one candidate, Inez Barron, challenged this, filing suit against the New York City Board of Elections for not holding a special election to fill the remainder of Gordon's term.
Barron won the case, and so, unless the ruling is overturned on appeal, the Board of Elections must hold an election to fill Gordon's term, which ends in just five months. That vote is set for Sept. 9, meaning that voters in the 40th will have to cast two votes that day -- one for someone to fill a full two-year term and one for a person to serve until the end of December. Only two of the candidates running for the full term have filed to run in the special election: Barron and Earl Williams.
Getting Around the Rules
With years of practice, New York's party organizations have mastered the art of using rules and laws to help incumbents and party favorites to win.
Sabini faced a strong opponent in term-limited City Councilmember Hiram Monserrate. Many party leaders were lining up behind Monserrate, but Sabini seemed intent on trying to win another term. Then Paterson gave Sabini a job, avoiding a bruising battle for his Democratic Party but also depriving voters of a choice. Monserrate is unopposed.
Lafayette, who represents Queen's 34th District, and Diaz, from Bronx's 86th Assembly District, circulated petitions this summer and filed nominating petitions. The day after the July 10 deadline for submitting signatures, both men announced they would not appear on the ballot.
Each of them already had an opponent -- Marlene Tapper in Queens and Gloria McFarland in the Bronx. But by the time the Assembly members announced their plans to leave the legislature, it was too late for other candidates who might have wanted to compete for an open seat, to run.
As a result, the Democratic Party gets to select a new candidate to run in each district. That nominee, handpicked by a five-member committee of district county leaders, will not have to circulate petitions. Through this system, Michael Den Dekker in Queens and Nelson Castro in the Bronx will have the benefit of party resources in the September primary without ever having to collect one signature.
Because of the likelihood that they will win their primaries and eventually the general election, these candidates will have been elected without ever having to be fully vetted by the voters, some good government advocates argue.
The Importance of Primaries
In overwhelmingly Democratic New York City, most elections are won by the Democratic candidate. Whatever competition there is often takes place during primary campaign, when Democratic candidates challenge one another for the right to be the party's nominee. The winner of that battle not only has an excellent chance of triumphing in the general election but also garners party resources and support. When candidates have no Democratic primary opponent, they can win without ever facing a campaign or putting their records before the voters.
Experts have offered a multitude of policy recommendations to make New York's primaries and elections more open. These include drawing districts to make them more competitive in the general election, campaign finance reform and allowing voters to register on Election Day or to vote in either party primary. But for this year, with few primaries and many seemingly already decided, voters will have to stand by as New York politicians enjoy the power of incumbency.
Andrea Senteno is program associate for Citizens Union Foundation, which publishes Gotham Gazette.Â