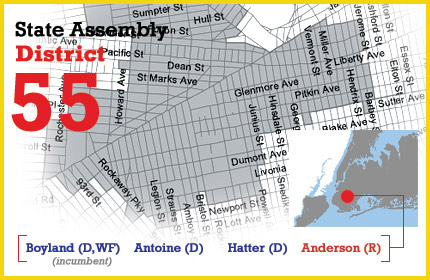 The Boyland family has been a power in Brownsville for decades, and now the nephew of the founder of the local dynasty, William F. Boyland Jr., represents the area in the Assembly. This Boyland won the seat in a special election, called when his father resigned only weeks after being re-elected.

Back to the
Last Minute Voter Guide
This year, he faces a challenge from Rev. Leonard Hatter, who reportedly is a longtime religious-activist, founded a youth empowerment program named called "Courage to Change" and is pastor and founder of "Partnership Ministries," a Brownsville church. He will be joined on the ballot, blogger Rock Hackshaw reports, by two other community activists -- Cleopatra Brown and Daniel Gourdine, who are running for district leaders.
Jonathan Anderson, a Republican district leader, will run for the Assembly seat on that party's line in November.
Campaign finance information was not available for any of the three candidates.
Â