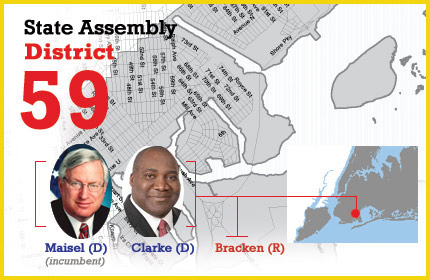 Democratic incumbent Alan Maisel faces Conservative Party candidate Edward Bracken. Maisel, defeated H. R. Clarke, in September's primary.
Maisel collected $2,780 in contributions in the period covered by the 32 Day Pre-General filing and ended September with $48, 476. There was no report for Bracken.
Assemblymember Alan Maisel of Brooklyn faces another primary challenge from H. R. Clarke, a professor of political science at the City University of New York. Clarke tried to run against Maisel in 2006, but was kicked off the ballot for having invalid signatures.

Back to the
Last Minute Voter Guide
Clarke, who grew up in Jamaica, was the first black candidate to run for the 59th Assembly district in 2006. In a questionnaire to a local Democratic club focusing on disability issues, he said the incumbent failed to hold handicapped accessible meetings and pledged to hire a disability liaison if elected.
Maisel was first elected to represent Canarsie, Flatlands and the surrounding area in a special election in 2006. He was the assistant director of the New York State Legislative Task Force on Reapportionment for a decade, a chief of staff for the former assembly member and a former school principal.
The primary victor will face Republican Edward Bracken this fall.
AS of the July filing deadline, Maisel had $43,164 on hand. Clarke had a negative balance of $4,295. Campaign finance information for Bracken was not available.
Â