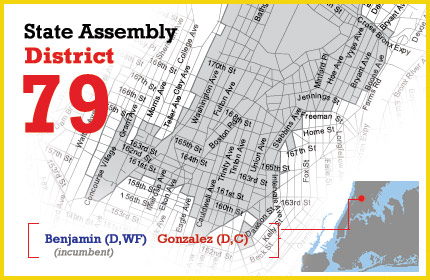 Update: Sigfredo Gonazlez's idea that a head-to-head matchup with Michael Benjamin would carry Gonzalez to victory did not work out -- at least not yet. Benjamin won the Democratic nomination, but the two will face off again on Tuesday, with Gonzalez as the Republican nominee
This race marks the third time that Sigfredo Gonzalez, a sales manager for medical supplies, has sought to oust Michael Benjamin from representing Morrisania and Crotona in the State Assembly.

Back to the
Last Minute Voter Guide
Gonzalez, though, thinks he has an edge this year. Unlike in the previous years, he is Benjamin's only primary opponent. And that's no accident -- Gonzalez successfully challenged the petitions of a third candidate, Jose Padilla, to get him removed from the ballot.
"This is the optimal situation for me," Gonzalez told the New York Times. "Now we have on the ballot only one African-American and one Hispanic. Of course, I'm not suggesting that the district should be represented by one or the other. I believe that it's for the voters to decide what will happen. And voters are tired of the representation we have now."
The district is 52 percent Hispanic and 43 percent black.
In addition to any ethnic division, the race offers a choice between Benjamin, a member of the anti-party organization faction known as the Rainbow Rebellion, and Gonzalez, a candidate who, Benjamin charges, has the backing of the organization. Gonzales denies he does. Steven Stern is the Republican and Conservative candidate.
Benjamin, a Bronx Board of Elections official, has held the seat since 2003 when the Democratic Party chose him to replace Gloria Davis, after she quit the Assembly and pleaded guilty to bribery charges.
Benjamin, who unlike most state Democrats backed Sen. Barack Obama against Sen. Hilary Clinton in this year's Democratic presidential primaries, has been cited for an independent streak, backing expanded social services and tenants' rights, enthusiastically supporting charter schools and opposing same-sex marriage. He achieved a brief bit of notoriety last year when he proposed making the cupcake the state's official snack, a gambit to quash efforts on Long Island to ban the treats at school birthday parties, in Benjamin's view, "robbing children of pleasant childhood memories."
July campaign filing records showed Benjamin with $38,677. Campaign records for the other two candidates were not available.
Â