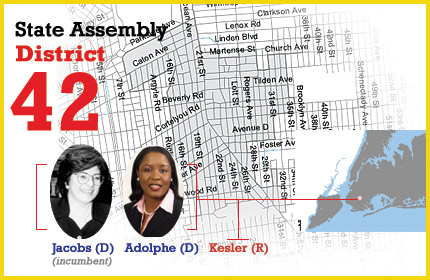 Update: Democratic Incumbent Rhoda Jacobs won the state primary by a vote of 3,982 to 1,644 against Michele Adolphe. Jacobs now faces Alan Kesler.
Information could not be found on Kesler. Jacobs recently received an above average environmental record score from EPL/Environmental Advocates.
Jacobs has $73,362 in her campaign account, and, according to the latest filing, has spent $1,832. Campaign finance information was not available for Kesler.
In the 30 years since Rhoda Jacobs was first elected to this seat from the Flatbush section of Brooklyn, the area has changed dramatically. But as her district has become increasing black -- more than half the residents are from the Caribbean -- and Hispanic, Jacobs, who is white, has managed to hold on, beating back a number of challengers.

Back to the
Last Minute Voter Guide
Some observers have attributed her survival at least partly to divisions in the opposition. If that is the case, Jacobs could be in trouble now as she faces only one challenger in the Democratic primary: Michele Adolphe, who ran unsuccessfully against Jacobs in 2004. A former high school teachers who has held executive positions with a number of programs for children, Adolphe is basing her campaign on a call for change,
Jacob had almost $75,000 on hand on the July campaign finance filing deadline; Information on Adolphe's fundraising was not available.
Whoever wins the primary will face Republican Alan Kesler in November.
Â