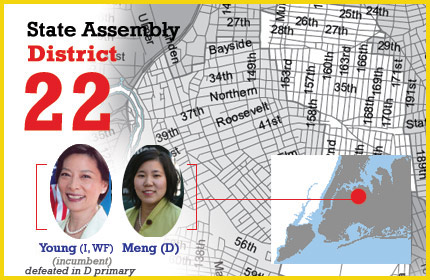 UPDATE
Grace Meng, the daughter of former Assemblymember Jimmy Meng, defeated incumbent Assemblymember Ellen Young in the hotly contested primary. Although Young will appear on ballot on the Independent and Working Families Party lines, a person on her staff said she is not actively campaigning. Young told the Queens Chronicle that she plans to retire and focus on volunteer activities. Meng will then, for all intents and purposes, be unchallenged on Election Day.
* * * * * *
As a technical problem interrupted a recent candidates debate in Flushing, someone named Jerry dropped the ball.
"I'd like to just make the announcement that the Chinese headsets should be set to channels D or E," the moderator said. "I think Jerry was going to maybe make that announcement in Chinese."
No Jerry responded.
"Is he here to make that announcement?" the moderator repeated.
From her seat onstage, Ellen Young snapped to attention. "I'll do it," said Young, the incumbent State Assembly member from the 22nd district in Flushing and one of the evening's debaters. As she switched into Mandarin to relay the message, a few audience members clapped.

Back to the
Last Minute Voter Guide
Born in Taiwan, Young arrived in New York three decades ago at age 25. Her relationship with New York's largest Chinese community, based in Flushing, helped her become the first Asian woman elected to the state legislature. But her opponent in the Democratic primary this year, Grace Meng, is seeking to present Young's immigrant background as a liability. This even though Meng is a second generation Chinese-American who, four years ago, helped her father become the first Asian elected to the New York State legislature.
Meng, who speaks fluent Chinese, stresses her own status as "American born." "Someone who was basically raised as an American just has a better capability to reach out to the younger generation," she said in a phone interview this week.
The bitter divisions in this largely Asian district would strike many observers as startling. But this contest would be unusual even without those rifts. Young is the only member of the State Assembly from Queens facing an opponent in the primary. Plus, on the surface at least, she appears to have a heftier record than many first-term Assembly members, passing five bills into law, including a measure to extend senior-citizen services. This made Young the first Asian American to pass a law in New York State. She also presided over the body as speaker pro-tempore, a special honor.
So, why is Young facing such an energetic, well-funded opponent? Her side attributes it to what they see as racism. Meng's camp cited a protracted political battle between two strong local political leaders - neither of whom is running in this race.
Language and Birthplace
On Main Street in Flushing, herbalists concoct remedies from ginseng, teens relax at bubble tea cafes, and the smell of Sichuan peppercorns wafts from the restaurants. The Asian community dominates the business scene there. And since the late 1990s, they have come to control much of local political life, as well.
As the Asian population and influence has increased, an undercurrent of resentment has festered among some non-Asian residents. According to Grace Meng, the primary challenger, some locals complain about "signs not translated into English" and "language barriers" in stores. Meng is seeking the support of those voters.
"I'm someone who was born and raised here. I'm comfortable with the culture. I'm comfortable with the language," Meng said . "When I speak to members of the Latino and Jewish community, they say things like, 'it's when the next generation that was educated here run for office' that the community has really advanced."
A lawyer in her 30s, Meng portrays herself as the American candidate. She supports stricter enforcement of an existing - but widely ignored - law requiring that signs be translated into English. Unlike the incumbent, she speaks English as a first language and without an accent, a point that she emphasizes.
"People have made comments to me that they understand me better," she said. "I can see why people would feel more comfortable with me." But she added, "I don't want to judge anyone based on their accent."
Meng is running with a coalition of locals known for their objections to the increasing Chinese presence in the area. One is Julia Harrison, a former member of the Assembly and the City Council who once described Flushing's Asian immigrants as "criminal smugglers" and "robbers." She has also supported measures to require storeowners translate their signs into English.
In response, Young's campaign labels as bigoted Meng's effort to portray herself as the American candidate.
"To somehow imply only an American-born Chinese is capable of serving the district is straight up racist and I'm not surprised to be hearing that from Grace Meng," Joe Reubens, the spokesman for Young's campaign, said in a recent phone interview.
Grace Meng doesn't see a contradiction between her stance and her father's election to the Assembly "He told me it was difficult sometimes because he didn't grow up here and because he wasn't as familiar with our community," she said.
The candidates' views on immigration, a key question in Flushing, reflect their different postures toward the Asian community. Meng emphasized her stance that immigration is a federal matter, and said that the state Department of Motor Vehicles should not issue driver's licenses to undocumented immigrants.
"The DMV and the local police department shouldn't be regulating immigration," she said.
Young, however, supports driver's licenses for illegal immigrants, countering that the measure would help protect other drivers. She added that it would help bring undocumented people into the system.
This represents one of the few substantive policy differences between the two candidates. They largely agree on schools, housing, supporting small businesses and senior citizens issues.
The Clash of Two Powers
While the names of Meng and Young will appear on the ballot, some residents see the race as a kind of proxy fight between two area powers: City Councilmember John Liu, Young's former boss and the first Asian member of the City Council, and Jimmy Meng, a prominent businessman in the building materials industry. Liu is term limited and believed to have broad political ambition.
After being elected to the Assembly from this district in 2004, Jimmy Meng decided not to run again in 2006, citing health problems. He also faced growing speculation over possible improprieties in his 2004 campaign. Grace Meng stepped up to run for her father's seat, but so did Young, Harrison and Terence Park, a Korean America who has run in several races over the last few years.
Liu - who has said that anger over Harrison's characterizations of Flushing's Asian community inspired him to enter politics - backed Young. His organization challenged Harrison, Meng and Park's eligibility to appear on the primary ballot. Harrison and Park remained on the ballot, but Meng withdrew when her residency in the district was disputed. Young won the primary with 1,912 votes to Harrison's 1,855 and Park's 1,595.
Now backed by Harrison and Park - a coalition that Park takes credit for - Grace Meng said that Young is too closely tied to Liu.
"She's not as independent as she could be," Meng said.
Others in Meng's camp had stronger words. "I believe [Liu] has absolute power over our local community," said Park, who wants a new political machine to replace Liu's organization. Park, who is running for Democratic district leader from the area, said he sees the potential for the Mengs to grow into a powerful political family.
"Look at all the prominent family tree lines in our system, look at the Kennedys," he said.
Michael Tobman, a lobbyist and political consultant at Hudson TG who advises the Meng campaign, also portrayed Young as beholden to Liu.
"Ellen Young is a creation of the councilman," he said. "She would not have won without him. And she doesn't make decisions for herself. She doesn't have much in the way of independence. She just does what he says. It's not what the community deserves."
Young's campaign spokesman, Reubens, did not deny the two politicians work together. "John Liu is the local city councilmember. Obviously they have a longstanding relationship. Together they're tackling the problems of the community," he said.
For her part, Meng has benefited from being Jimmy Meng's daughter. Her father's connections in Flushing's business community have allowed her to raise a reported $111,943 as of the last filing deadline. Young outstripped her, with $224,073, but Meng is still running one of the best-funded primary campaigns in the state.
"My father has been really helpful in reaching out to the business community, just as anyone's family would be," Meng said.
Â