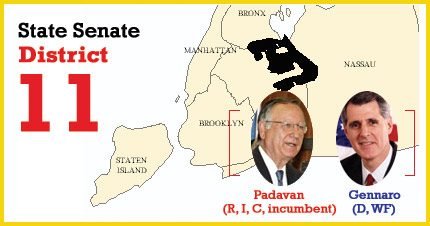 Defeating an incumbent in New York's State Senate is always something of a long shot, particularly when the incumbent has held the seat for decades. Many of the city's state senators and Assembly members will not even face challengers this year. But in the 11th district in Queens, City Councilmember James Gennaro, a Democrat has mounted a vigorous campaign for the seat long occupied by Republican Frank Padavan.
Until the latest machinations over term limits, Gennaro faced being out of a job in January 2010. As a two-term City Council member the law seemed to bar him from seeking a third council term. Now, Now, with the council having extended term limits, Gennaro presses on with his State Senate campaign, buoyed by new voter registrations and big-name endorsements.
There is more at stake here than the right to represent northeast Queens in Albany. Republicans have held the majority in the State Senate for 40 years, but Democrats have whittled away at their margin over the past few elections, and Senate Republicans outnumber Democrats by only 31 to 29. If the Democratic Party holds on to the seats it already has and picks up two additional districts, it will control the Senate -- along with the Assembly and the governor's office.
The Contenders
Now 73, Bellerose Republican Frank Padavan has represented the 11th district for 36 years and remains a vital and popular presence in the area, which is largely blue-collar, ethnically diverse and overwhelmingly Democratic. Padavan had no challengers in the last two general elections; in the three before that he dispatched his opponents by solid margins.
He is a member of the Senate majority leadership and sits on the finance, transportation and cities committees. He has served as co-chair of the Senate Majority Task Force for Government Reform, and previously chaired the Senate Committee on Cities, advancing measures to secure major capitol improvements for New York City schools and to support the police force.
Gennaro, 51, of Jamaica Estates, is a former geologist and adjunct professor of political science at Queens College. Before becoming elected in his own right, he served as a senior policy advisor to then-Council Speaker Peter Vallone Sr. He currently chairs the City Council's Environmental Protection Committee and bills himself as the state's leading "green" legislator.
Gennaro has authored many of the council's environmental bills, including those targeting pollution emissions, protecting Jamaica Bay and safeguarding other natural areas around the city. In 2008 he led the unsuccessful fight against Mayor Michael Bloomberg's 14.5 percent water rate hike.
The Issues
District 11 is a cluster of mostly working-class neighborhoods split by six-lane expressways. According to census data, more than half of the district's 318,000 residents are white, about a quarter are Asian and around eight percent are black.
Schools in neighborhoods like Whitestone, College Point and Flushing are overcrowded, according to a 2006 report by the city comptroller, and recent program cuts have sparked new fears about what might the Department of Education might eliminate next. Rosa Yordan, a middle school teacher in Floral Park, attended a candidates' forum in late September.
"I just found out today at my job there are no more school trips - that was a major shock," she said. "It's going to be a rough haul. The children are not going to be having that additional learning that goes on outside of the class. And that's too bad, that broadens their horizons."
Padavan has said he wants voters to send him back to Albany so he can continue to fight for Queens' schools. This year, the Bloomberg administration named a campus in Glen Oaks for the senator, who had arranged for the state to donate the unused land to the education department.
Gennaro says the city's public schools were under funded for years, and the funding formula didn't change until the courts ruled that it violated students' rights under the state constitution - a decision the Republicans in the state challenged.
"When Jim Gennaro goes to the State Senate," the Democrat said, "it's not going to take the highest court in the state to tell me that we have to properly fund our schools in New York City."
Lawmakers in Albany will likely face tough decisions about taxes, particularly with the national economy in turmoil. Gennaro warned that, particularly if Republicans have their way, Albany would likely look to the state's largest city to make up shortfalls stemming from the fiscal crisis.
"The Senate Republican majority, they've got 32 members, and 29 of those members represent districts outside of New York City," Gennaro said. "So how we get through this economic tough time is to squeeze the golden goose of New York City taxpayers even harder." Gennaro said that putting Democrats in control of the Senate would help protect the city's interests.
Padavan says the Republican majority has actually cut taxes. "We've eliminated the state tax on home heating fuel," he said. "We eliminated the tax on clothing completely - that's city and state. We've done things to help families make ends meet. But we cannot obviously solve the world-wide economy on our own."
Gennaro wants to use incentives to lure "green'' businesses to New York and make it what he calls "the environmental business capital of the country." Padavan favors incentives for solar energy and alternative fuels companies as well, and points to Queens' growing film and television industry as an example of how incentives for businesses can attract companies and jobs.
The candidates diverge sharply on immigration. Padavan introduced a bill last year that would have barred public hospitals from treating undocumented immigrants and opposed then-Gov. Eliot Spitzer's plan to issue driver's licenses to all drivers, regardless of immigration status. Gennaro favors medical care and driver's licenses for undocumented immigrants.
Despite such differences, the race will not likely be won on the issues, according to Bruce Berg, chair of the political science department at Fordham University. "It is much more fundraising and party mobilization that's going to make the difference here," he said.
Big Stakes
District 11 is one of three downstate districts - along with District 15 in southeast Queens and District 3 on Long Island - that have emerged as battlegrounds in the Democrats' fight to control the Senate. In terms of sheer numbers, Democrats have the edge in 11.
According to the latest figures from the State Board of Elections, 54 percent of registered voters in District 11 are Democrat, 20 percent are Republican, and 22 percent are unaffiliated. Grassroots attempts to sign up new voters in the last six months have resulted in 2,400 additional Democrats and 1,200 unaffiliated. In contrast, only 72 of the new registrants are Republican.
Many pundits predict a strong showing this November for Democrats, at least in New York. Robert Pecorella, who teaches political science at St. John's University in Queens, said he has never seen this level of student interest in an election. "Every Democrat in the country is going to be helped by the registration boost that Obama's candidacy has caused," he said.
The money advantage goes to the Democrats, as well. As of the last required campaign finance filing, Gennaro had out-raised and outspent Padavan by a wide margin.
"He's got me outgunned in everything, but I don't rely on that," Padavan said. "The people out here tend to vote for the person, rather than the party, and I don't think they want to see an oligarchy in New York."
Mayor Michael Bloomberg and the New York State Independence Party have endorsed Padavan. In Gennaro's corner are Gov. David Paterson and U. S. Senators Charles Schumer and Hilary Clinton. Gennaro was also the beneficiary of a recent fundraiser on Manhattan's Upper East Side hosted by Robert F. Kennedy, Jr. and City Council Speaker Christine Quinn.
All of this can pale, though, against the advantages of long-term incumbency. Over the years, Padavan has brought the district money for schools, museums, little league ball fields and senior housing. Many of the improvements that the senator brought to the district with "member item" money bear his name, like the new Padavan Campus in Glen Oaks.
Berg says such largesse helps to some extent, particularly among those who turn out for campaign event, but does not have much of an impact on the average voter.
"Most people are not aware," he said. "And Gennaro, as a City Council person, has probably done well by the district as well."
Â