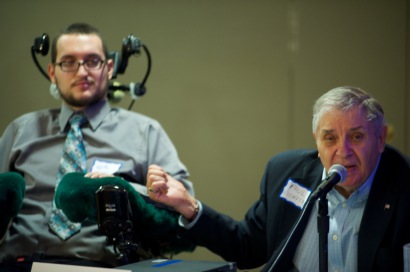 ALBANY, N.Y. — Dr. Ryan Gilbert's research may one day help a person's spine fix itself — something even he admits sounds like "something out of science fiction."
It isn't junk science. Gilbert's work has been hailed by numerous scientific journals, and he has the respect of a number of major researchers in his field. And he's doing his groundbreaking work at Rensselaer Polytechnic Institute, just a short car ride up State Route 787 from Albany.
A program generated and made law in the marble halls of the capital helped lure him to New York from Michigan back in 2010. But between the time he interviewed for the job at Rensselaer in February and when he arrived there in August, the state had diverted all the funds from the program into its general fund. In other words, there were no more grants.
That hasn't stopped his research, but it has made it more difficult. "When funding a lab you really need at least two grants to have enough people to move forward and get real results," he said.
Last week, spinal cord injury researchers gathered in Albany in part to jumpstart a new effort to draw attention to their successes — and it has one major target: Gov. Andrew Cuomo. With Cuomo's focus on drawing business to the state along with young talented professionals, researchers think the governor needs to hear about the results coming from spinal cord injury research.
Cuomo's office directed the Gazette to the office of the budget. Agency spokesman Morris Peters said: "There is no proposal to restore funding in this budget. The decision to phase out the program was made under a previous administration, and that's all we have to say on it at this point."
Queens-born Paul Richter was a state trooper when he was shot three times checking out a vehicle that had been used in crime — once in the arm, once in the leg and once in the neck. He is only alive today because the shooter's accomplice assured his friend, "Nah, he's dead." Partially paralyzed, Richter and his friends worked to establish funding for spinal cord injury research throughout New York State.
In 1998, a bill passed that added a surcharge to moving violations and the Spinal Cord Injury Research Board was born. The surcharge raised about $150 million annually and the law says the state had to give "up to" $8.5 million to spinal cord injury research. The state has handed out millions in grants.
But in 2010 the funding was zeroed out by then-Gov. David Paterson. The surcharge still exists, but the money doesn't go to spinal research — instead the money from the surcharge goes directly into the state's general fund and is used as part of the state's income. "They wouldn't have that money if it wasn't for our legislation," Richter said.
New York's program was such a boon to spinal cord researchers because it allowed them to compete against other spinal cord researchers for funds, whereas national grants from the National Institutes of Health and the National Science Foundation place prospective grantees into a pool with every kind of research you can imagine. "We get put into the biomaterials group which includes orthopedics and cardiovascular research," says Gilbert.
Gilbert has continued his research without funding from New York, but life would be a lot easier and he would be able to spend more time on his research if he had a state grant to leverage other grants with. Gilbert uses biomaterials as "scaffolding" in the spines of severed rats in an attempt to help restorative axons – nerve fibres — cross over the injury. So far he has had promising results.
Recently, Gilbert was reviewing a grant application for Missouri's spinal cord injury program and said he thought: "If I lived in Missouri I might have a shot at better funding. New York should have this kind of funding if Missouri does."
Another researcher, Dr. Mark Noble of The University of Rochester Medical Center, heads a lab that has made breakthroughs in stem cell therapy not only to treat spinal injuries but also for brain injuries.
Noble said the state's grant program was "a factor in moving my own team from the University in Utah."
He said the state's spinal cord program created a network of talent all researching the same subject, and an environment supportive of novel research and treatments. Noble points out that a number of therapies developed with the help of state funding have helped return function to severely injured patients, lowering their cost of care and allowing them to return to more normal lives.
"Andrew Cuomo is supposed to be very interested in neurological disease. This fits every characteristic Cuomo wants — it is hi-tech, it creates jobs, addresses health care costs. So how could this not be worth funding?" Noble wondered.
Cuomo has been obsessed with economic development since becoming governor and Noble and Gilbert both think the state would do well to help research these new technologies and therapies.
"A lot of research we do actually makes something," Gilbert said. "I have a number of students who are interested in starting their own business and using our research."
But Gilbert points out that, rather than being able to focus on developing these new technologies and bringing in more students and expanding his research, he has to spend time writing grants. He even started visiting the Legislature to lobby lawmakers to restore the state program.
It isn't the ideal way for Gilbert to spend his time; he would rather be in the lab working on technology that has the potential to help scores of people walk again.
It is almost like deja vu for some spinal cord injury researchers. In 2010, some of them met with legislators and their staff to tout the good the program had done, the breakthroughs created thanks to state cash, the number of award-winning researchers lured here because the program had created a community working on the problem. But the meetings were to no avail and funding was never turned back on.
Noble was among those who met with the lawmakers. It is a touchy subject for him to recall. He bristles when asked how those meetings went. "People were ... Polite," he said.
___
Image of Paul Richter taking part in a panel discussion on the successes of the state's spinal cord research program. Photo by Sally Temple.