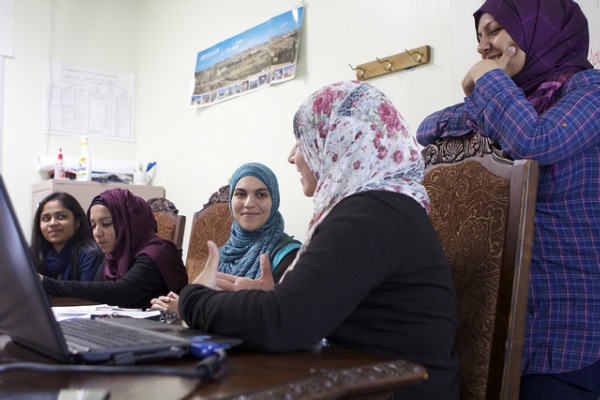 NEW YORK — On a recent weekday, Eladia Causil-Rodriguez spoke to a crowded Brooklyn classroom about how she had run a popular day care business while raising four children.
Then she told the audience of 50 or so women at the Arab American Association of New York, most of them immigrants from the Middle East, that they could be just as successful.
"Use your talents," she said encouragingly to a pattern of nodding heads. "Learn the language. And don't let anybody stop you."
Linda Sarsour, the Bay Ridge-based association's executive director, called the session unconventional, since most of their business classes are held at night and are mostly attended by men.
It was also unusual for the role the state was playing behind-the-scenes: The association is one of 27 groups across New York to be identified and receive funding as "opportunity centers" through the newly announced state Office of New Americans.
Gov. Andrew Cuomo announced the office last Monday, saying it would harness New York's resources to help immigrants who contribute to the vibrancy of the state economy. He also emphasized that, unlike other jurisdictions across the nation that have worked to shun immigrants, New York welcomes them with "open arms."
Cuomo's announcement came as advocates push to get the state to adopt DREAM Act legislation that would provide tuition assistance to undocumented college students. (Cuomo spokesman Rich Azzopardi said that the governor supports the federal version, but is still reviewing several proposals on the state level.)
The opportunity centers are at the heart of the Office of New Americans, or ONA, and have been established at organizations with deep ties to immigrant communities. Thirteen of the centers are in New York City. Immigrants are contributing to the city's record-high population numbers, and the state wants to employ an existing infrastructure to reach out to the more than three million estimated foreign-born residents.
Cesar Perales, secretary of the Department of State, which oversees the Office of New Americans, has grand plans for the program.
"The beauty is, we can harnesses all the resources of the state," he said. "I've spoken to the agricultural commissioner about farms, spoken to the [Empire Development Corp.] about people starting businesses." Perales says the Office of New Americans can take advantage of the entire executive branch and the Cuomo cabinet while teaming with local service groups.
The state originally set out to find 30 programs statewide, but settled on 27 groups that applied, said Jorge Montalvo, a South Bronx-native and a policy advisor for the New York Department of State who is helping lead the charge behind the opportunity centers initiative.
Montalvo explained that the groups chosen to be opportunity centers were evaluated on their merits and proposals by analysts, with each group eligible for $150,000 grants. Groups can also qualify for up to $25,000 more if they exceed their minimum performance expectations. The money for the centers comes from a combination of state and federal funds, the latter of which Montalvo said are derived from a block grant for states to use at their discretion.
The Department of State's goal is to help 100,000 New Yorkers over the next three years, whether it be through English language training, by providing them with advice from immigration attorneys or through intensive business training courses.
Perales said the opportunity centers centralize services that immigrants might otherwise have to look for in a number of different places or are not usually provided in their communities.
"I am confident no other state has a program like this," he said. "They may have an office with a similar title that acts as a liaison between the governor and the immigrant community tells him what parades to attend. But they are not providing the set of services we provide or looking at how best to integrate immigrants and get them involved in the economic life of the state."
A survey of other state programs show mostly websites charged with disseminating information about groups that provide the kinds of services that New York State is now providing through the Office of New Americans.
The groups that were given the grants were selected within about a month, Montalvo said, relatively quickly as far as government initiatives. He explained that the speedy turnaround is a result of the program's nature. Not having to duplicate what existing advocacy and education groups already do saved the Department of State from reinventing the wheel. Montalvo added that the ONA and its financial support will allow the participating groups to expand their services to communities that might typically avoid any interaction with the government.
"What we're trying to do is formalize it and strengthen infrastructures that already exist," he said.
Sen. Jose Peralta of Queens, who is involved in immigration matters, is withholding judgment on the centers for now. "I think, overall, it's still too early to judge," he said, "but it looks very promising. The help is definitely needed …. In my vast experience with immigrant communities, a lot of the community don't know where to turn to talk about legal services and are often victims of fraud. The state adds legitimacy."
Members of the ONA network are subject to regular evaluations from the state, with assigned Department of State staff tasked with staying in contact with each group. In order to remain in good standing, the groups must keep the state up to date with their financial status, meet minimum expectations based on regular evaluations, and attend quarterly regional meetings.
Census figures estimate that almost 40 percent of the more than 8 million New York City residents are foreign-born, which helped drive the State Department to fund opportunity centers across the five boroughs. While the selection process was blind, Montalvo said that the department took care to look at a variety of factors that differentiate needs between upstate and downstate immigrant communities.
Another organization that has been chosen to be part of the ONA network is the nonprofit Opportunities for a Better Tomorrow.
On the same day as the visit to the Arab American Association in Bay Ridge, a reporter visited OBT's Bushwick, Brooklyn office.
There, a middle aged woman stared intently at her glowing monitor, her furrowed brow shifting her headset. Two seats in front of her, a young man with a jagged haircut clicked a mouse through his computer's prompts while an older, gray-haired man across the room did the same.
They and the ten other individuals sitting in the bright classroom had gathered for a morning class to learn English. OBT opens it doors to about 2,000 participants annually.
"We're excited to work with the state on this," said Marjorie Parker, deputy executive director for OBT. "In terms of government direction, it's the right way to go."
Michelle Lopolito, OBT's adult education and literacy director, said that 60 percent of the area residents speak Spanish at home. Coupled with the area's poverty rate — which exceeds both the borough and city numbers — OBT's Bushwick location focuses its efforts on adult education and job training, including English as a second language classes. Organizationally, however, OBT specializes in a specific demographic: youth.
"That's what we're known for — serving young adults," Lopolito said.
OBT was founded in 1983 as a resource for young New Yorkers to get job skills and training. And while their mission has expanded beyond the 18- to 24-year-old demographic, its experience with young immigrants is part of the reason the state came calling.
When President Barack Obama opened up the opportunity for young immigrants to stay in the country legally in August 2012, groups including OBT scrambled to help. About 400,000 young people applied, with almost 24,000 from New York state — behind only California and Texas.
The number of applications have rapidly declined since October 2012, something that the state hopes to turn around through the opportunity center network. One of ONA's New York City area groups — the City University of New York's Research Foundation — also operates the school's Citizenship Now! program, which actively helps eligible residents to apply to the program announced by Obama.
The relationship with legal services from CUNY allows member organizations to focus their legal clout on more difficult immigration cases, with Citizenship Now! focusing on the more basic application process and eligibility questions, Montalvo said.
Sarsour of the Arab American Association of New York said the groups own attorney was already seeing 30 to 40 cases at a time. Now, through the ONA network, attorneys from CUNY visit their Bay Ridge office once a week to consult residents on the immigration process.
Sarsour said she hopes that its new relationship with ONA can also raise her group's profile beyond the Arab American community that it has served since 2001.
"We want to become a center that serves anyone who comes through our door," she said.
___
Image of volunteers being trained on voter education at the Arab American Association office in Bay Ridge, Brooklyn. Sept. 14, 2012. Photo by Raed Rafel, used under Creative Commons license.