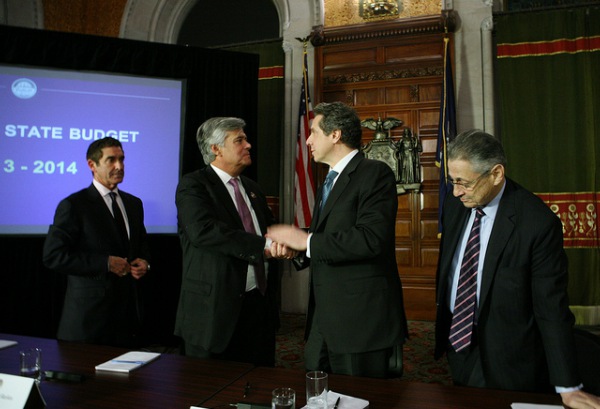 ALBANY, N.Y. — New York's drama-free budget officially no longer exists.
There is a budget deal but — after weeks of promises from lawmakers that no conflict would derail the process — the facade that it would be smooth going disappeared yesterday.
While the Senate labored to pass budget bills yesterday, Assembly Speaker Sheldon Silver announced he would delay his chamber's vote until mid-week.
Senate Republicans said that a weekend voting schedule had been reached with Silver only for him to change his mind.
"Whatever the Assembly decides to do that's their business," Republican Sen. Tom Libous of Binghamton told reporters on Sunday. "But we don't have to follow their lead. They don't run the Senate. We do."
Republican Sen. John DeFrancisco of Syracuse called Silver's decision "impolite."
Silver spokesman Mike Whyland told Capitol Confidential the delay was caused because "we don't have agreement on all of the issues."
The Legislature was scheduled to be on vacation for the next three weeks to allow members to celebrate religious holidays but an on-time budget earns legislators and the governor major political capital.
Under Gov. Andrew Cuomo the appearance of a functioning government reigns supreme over all else. As weeks of supposed drama-free negotiating wore on, legislators and the governor repeated their mantras ("There isn't a deal until there is a deal," "Progress is being made") and sticking points emerged — sticking points that could have created drama. Those sticking points were jettisoned from budget negotiations last week and a "conceptual agreement" was announced.

A number of sticking points that did not make the $135 billion budget agreement are major issues that impact residents of New York City from a speed camera program designed to reduce traffic accidents and deaths to tweaking the laws regarding possession of small amounts of marijuana.
And that is surprising given that Silver hails from Manhattan and one-half of the coalition that leads the Senate — the breakaway Independent Senate Democrats — are also led by a city native, Sen. Jeff Klein.

One issue that was in a way resolved for the city was the $260 million in education funding taken away by Cuomo when the city failed to reach an agreement on teacher evaluations with the teacher's union. The money has not been restored, but the city will receive $300 million more in education funding than it would have in the governor's original budget proposal.
Even on major issues that made the budget deal, advocates and rank-and-file Democrats feel that they got the shaft in negotiations. The minimum wage plan would see the wage raised to $8 an hour next year and $9 an hour in 2016 with no indexing to inflation and it would also not apply to tip workers.
Sen. Kevin Parker of Brooklyn said he was horrified by the minimum wage deal, contrasting it with President Barack Obama's minimum wage proposal. "So if the nation is going to have a minimum wage of $9 an hour, do we really believe New York should have a minimum wage that is the same as Utah?"
Mark Dunlea, executive director of the Hunger Action Network, in an interview last week, wondered who was "negotiating on behalf of the workers and Democrats here"
"There is a majority of senators eager and waiting to vote for $9 an hour, with indexing, and yet the three Democrat leaders in the back room keep giving away more worker wages and tax dollars to appease the minority Senate Republicans," he said. "This isn't how democracy is supposed to work."
Meanwhile, a middle class tax rebate that is part of the budget deal would send $350 checks to families with at least one child whose household income is between $40,000 and $300,000.
Advocates are astonished the rebate does not apply to families that make under $40,000 and applies to families that make up to $300,000.

Sen. Jose Peralta of Queens, who has been pushing Cuomo to include tuition assistance to undocumented students in the budget through flattering statements, issued a terse statement after the budget deal was announced.
"We seem determined to shrink our middle class, grow the ranks of the impoverished and widen the gap between the richest and poorest," he said. "It's the only way to explain the minimum wage debacle that's playing out and why immigrants who want to go to college, work and pay taxes are treated like social outcasts."

Supporters of the DREAM Act protested by surrounding Cuomo's office in the city and Albany, but legislators and staffers said they felt the effort was too little, too late.

Jackie Vimo, director of advocacy at the New York Immigration Coalition, said she and other advocates had been putting tremendous pressure on legislators. "I think that I can speak on behalf of immigrant communities when I say we are growing frustrated about the silence on The DREAM Act from the governor," she said.
But Vimo noted Cuomo's record on immigration issues, noting he issued an executive order to improve language access in state government and pushed back against the federal Secure Communities Act. "He has such a strong record, we hope that he would support this," said Vimo.
On Saturday, as legislators prepared to vote on the budget, Assemblyman Nelson Castro who heads the Assembly's Task Force on New Americans issued a press release with a host of other Assemblyman decrying the fact that the budget did not address the DREAM Act.
"New York State can no longer continue to ignore the need to ensure that these young adults, who we have educated and raised for decades, have access to good quality education and be given the opportunity to accomplish their goals," he said in a statement.
Sen. Jeff Klein, head of the Independent Senate Democrats, who was one of the four men in a room during the budget negotiations, didn't give any reason for the immigration legislation being excluded from the budget.
Klein told the Gazette that while the goal of the DREAM Act has been a priority, he said he would put his energy toward establishing a fund that would create a pool of cash for private donors to contribute to help undocumented youth attend college, instead of the legislation. "I think we should look at that. It is something we are going to have to look at later this year," he said.
Klein and the IDC have faced major criticism from fellow Democrats as well as editorial boards around the state for not pushing for more on issues they say are most important to them.
Parker voted against all three budget bills on Sunday, citing a lack of minorities and women at the negotiating table as well as the lack of a DREAM Act provision. Sens. Jose Peralta and Adriano Espaillat also registered no votes in protest over the exclusion of a DREAM Act deal.

Perhaps the largest policy piece that was part of budget discussions but was left out of the final deal was legislation designed to combat arrests of young men for the possession of small amounts of marijuana as part of the city's stop and frisk program.
Cuomo pushed for legislation that would have altered the law making it only a ticketable offense to carry small amounts of marijuana but Senate Republicans blocked the bill. In negotiations this year, the tweak to the law would have only affected New York City but the issue was dropped from the budget altogether.
"We have to do something about stop-and-frisk," Parker told the Senate chamber on Sunday.

Speed cameras for the city were also left out of the budget and advocates are blaming Brooklyn Republican Sen. Marty Golden.
Golden has come down on the side of the Patrolman's Benevolent Association who want officers to remain in complete control of issuing speeding tickets.
The New York City Department of Transportation found that speeding was the largest cause of crashes last year. The City Council passed a resolution last week asking the Legislature for the cameras and Mayor Michael Bloomberg, Ray Kelly and the DOT support the program.
When asked why the issue was not addressed in the budget on Sunday, Golden told the Gazette: "I have no idea." Advocates hope they can move legislation in both houses before the end of session.
Klein again said he thought the issue would come up later in the year. "I have found them useful around schools, but we have some members who don't like them," he said. "This is an issue that will come up later in the year."
The budget deal also doesn't provide cash to the SUNY Downstate Medical Center that officials warn could shutter its doors without financial assistance. The budget contains language that calls for hospital officials to submit a restructuring plan to the state by June and allows them to negotiate less expensive contracts.
Parker said layoffs at the Brooklyn-based hospital would be devastating to the area's economy.
The Senate is scheduled to convene at 11 a.m. today but will likely be unable to vote on any budget bills. They will then return Tuesday and likely work overnight into Wednesday until they have passed the entire budget. While there were only a few votes against the budget yesterday, Senate Democrats plan more cohesive opposition later this week.
Image of the four men who will determine the direction of the state budget courtesy of the governor's office.