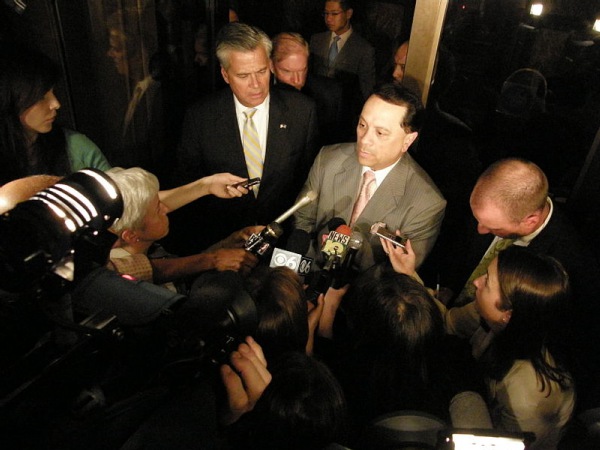 ALBANY, N.Y. — Former state Sen. Pedro Espada expensed a garage door, a new fence and a few dinners at Red Lobster to his nonprofit health clinic's corporate credit card.
Former Queens state Sen. Shirley Huntley was said to have bought toiletries and household items with money she pocketed from a state-funded nonprofit she controlled.
Both got prison sentences for looting their organizations.
Nonprofit agencies have long been the favored vehicle of unscrupulous state lawmakers for schemes to embezzle state funds — and for good reason: they are easily created and self-governed, allowing politicians to surround themselves with cronies who approve their decisions and are rewarded with positions and other patronage.
Attorney General Eric Schneiderman unveiled two bills yesterday that he said were designed to overhaul charity law in New York and curb such fraud. The bills were negotiated with the state Legislature and nonprofit groups.
The measures come less than a week after Huntley was sentenced to one year and a day in prison, and just days after prosecutors charged Assemblyman William Boyland of funnelling taxpayer money to a nonprofit and misused it. Among the allegations is that Boyland used the money to pay for self-promotional t-shirts. The lawmaker pleaded not guilty.
Doug Sauer, CEO of the New York Council of Nonprofits, said he isn't convinced the measures being championed by Schneiderman will do much to prevent corruption or cut red tape.
"I'm not so sure this is going to have that great of an impact," said Sauer, who served on the committee that prepared recommendations that led to the legislation. "This is just not terribly bold. I was quite up front and told them this was addressing low-level fruit."
The goal of The Nonprofit Revitalization Act and The Executive Compensation Act, according to Schneiderman, "is to revitalize New York's charitable organizations and, at the same time, put a stop to the financial abuses that have come to light."
The Revitalization Act would require that nonprofits audit themselves, verify that transactions with nonprofit insiders are fair, prohibit any employee of a nonprofit from serving as its board chair and increase the attorney general's power to "unwind" transactions between interested parties and a nonprofit.
Sauer said these measures just create red tape rather than implement clear rules. "It doesn't do a lot to bar conflicts of interest. We would like to have seen something banning board members as staff at nonprofits," he said.
However, during deliberations over the legislation, a number of nonprofit heads said that having staff members serve as board members brought useful information to the board.
Sauer said he also isn't sure the attorney general's office has enough resources to pursue enforcement. "It is generally known that the AG's nonprofit bureau doesn't have the resources to enforce what is on the books now," he said. "I don't know how much preventative ability they are going to have. Now they just come in afterward something bad has happened and do an investigation. I don't think this will change that."
Representative's from Schneiderman's office said that despite being one of the best-staffed attorney general offices in the country, they don't have the ability to police every transaction in the state's 100,000 nonprofits. Only California and Texas have more nonprofits.
Schneiderman's legislation is designed to prevent it from taking place by setting standards for nonprofit boards to follow, the attorney general's office said. If those standards fail then the legislation will give the office more power to rectify the misdeeds than it currently has.
A number of legislators and nonprofit heads were supportive of the legislation.
"These bipartisan proposals strike the right balance in two important ways by achieving a comprehensive modernization of state law to assist charitable organizations and requiring common sense Board of Directors oversight and governance," said Susan Hager, CEO and president of United Way NYS, in a statement.
While Schneiderman's office wants to see more nonprofits form in New York so that the state reaps the financial benefits and so that the entities will clearly be under state law, Sauer said it is already too easy for nonprofits to form.
Sauer said that there is plenty of redundancy in the nonprofit community with staff and other expenses eating into the overall money going towards addressing one problem or another--from saving parkland to helping feed starving children.
Schneiderman's legislation does seek to alleviate some of that by cutting the red tape involved in forming a nonprofit and in closing one done. Under current law it costs more to shut down a nonprofit than to start one.
On executive compensation, the legislation would require nonprofit boards review an executive's salary and determine if it is "fair, reasonable and justified."
The goal of the legislation is to dissuade nonprofit heads from receiving massive salaries while being funded by taxpayer dollars. In 2011, The New York Times highlighted the salaries earned by executives of organizations that provide Medicaid-financed services to the developmentally disabled.
One striking example was that of Joel and Phillip Levy, who each earned as much as $1 million annually while heading The Young Adult Institute. The brothers and other executives were allowed to bill the organization for their children's college tuition and one brother paid for part of his daughter's Greenwich Village co-op. Both brothers resigned in June 2011.
Charities that make over $2 million in annual revenue would have to review the payment of their five highest paid officers under the proposed legislation.