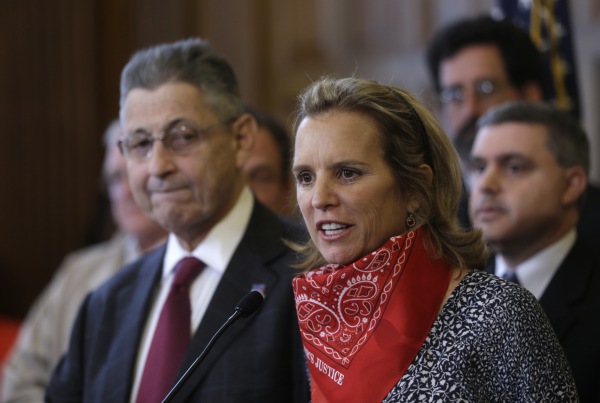 ALBANY, N.Y. — Actors Martin Sheen and Eva Longoria, food writer Michael Pollan, Latino state lawmakers and Gov. Andrew Cuomo's ex-wife would not seem to have anything in common.
But they do: They are all working to expand the rights of farmworkers in New York.
All three legislative conferences in the state Senate have been involved in serious negotiations over compromise legislation designed to give farmworkers the kind of basic protections most workers in the state already enjoy such as unemployment benefits, a day off a week, overtime, and collective bargaining.
Legislative staff and advocates were hashing out amendments to currently proposed legislation at the end of last week and legislators from all three Senate conferences were scheduled to meet to discuss a compromise today.
Sources say the effort was set in motion by six Senate Republicans who want to get something done on the legislation and comes with only eight days remaining in a legislative session that has been wracked by scandal, indictments and lack of agreement on legislative issues.
Groups that support the legislation plan to launch a major public relations push this week with a radio spot by actor Martin Sheen. Sheen received the Cesar Chavez award in 2000 for his work on issues relating to farmworkers, the poor and Latino issues. Chavez founded the National Farm Workers Union and was good friends with Sheen.
The farmworker legislation has been repeatedly passed by the Assembly and defeated or bottled up in the Senate for more than a decade. While amended legislation is expected to be introduced this week, sources say any deal could easily slip away in the last-minute rush of session.
Cuomo has also said he supports the legislation.
"I know the farm worker bill that's in the state. I am supportive of it. I am working and talking to the legislative leaders," he said when asked about the legislation on the day his ex-wife, Kerry Kennedy, came to Albany to launch a major push through the Robert F. Kennedy Center For Justice and Human Rights. "So it's one of the items that we have on our agenda towards the end of the session," he said.
The Farm Workers Bill of Rights, as currently proposed by Sen. Adriano Espaillat, would give farmworkers the right to collective bargaining, one day off a week, overtime, unemployment benefits and disability insurance, while also creating health and safety standards workers' living arrangements. Over 70 percent of migrant farmworkers are of Hispanic descent, and they travel from state to state doing seasonal farm work as it becomes available.
Groups like the pro-business Farm Bureau that functions a lot like the AARP does for the elderly say that some of these provisions would be simply untenable for small farms.
"Collective bargaining, overtime per day are things that don't work on a farm," the Farm Bureau's Steve Ammerman said. "It could rain one day and there would be a need to work to make up for the missed day. Things that work in the factory don't work in the farm."
But both those against the bill and those who support it seem to indicate there is some common ground.
Ammerman said his group supports giving workers one day off a week if workers are not forced to take a day off. He says farmworkers have a limited number of days in a season when they can actually make money.
Politicians on both sides of the issue may also be more willing to compromise because the Legislature's record has been so abysmal this session and major issues that are important to Hispanics and immigrants have fallen by the wayside.
The DREAM Act — which would have opened the path to higher education for some immigrant students — and the push to change the state's marijuana possession laws to reduce the impact of New York City's stop-and-frisk police tactics are by most accounts dead for this session.
Other high-profile legislation pushed by Cuomo — like the Women's Equality Agenda and public campaign financing — are also unlikely to come to a vote.
The Hispanic vote is also becoming increasingly more sought after across the state but especially in Long Island where districts are becoming less conservative. The Latino vote is critical for a number of Republican legislators to hold their districts.
Espaillat said he does not see the farmworkers legislation as a consolation prize.
"I don't see it that way but we should come away with something," he said. "Particularly in a year when we have seen movement in Washington on immigration and Connecticut has passed a law allowing undocumented immigrants to apply for driver's licenses. It would be a shame for New York not to do anything on immigrant rights this session."
If a compromise bill is passed in the Senate, the Assembly would have to also approve the changes.
Espaillat said this may be the year to get farmworker legislation passed because major groups have shown interest.
Last month, when Kennedy came to Albany to help push for the legislation, she said farmworkers lacked "rights that are enjoyed by every deli worker in New York, every other worker in this entire state, and it is unacceptable that this is going on" and added that workers lacked these protections because of lingering Jim Crow laws.
Besides the star-powered push to get the law passed, Espaillat said the bill legislation has 27 sponsors in the Senate. "We know that there are Republican and IDC members who are interested. They may not be interested in the bill as it is now but we are going to negotiate."
Wade McMullen, a staff attorney for the RFK Center, said that momentum is building thanks to new political realities in the state and because of of interest in the local food movement.
"I think there has been enormous grassroots support for years around this," he said. But he also attributes the heightened interest to the star-power being lent by celebrities like Kennedy, Sheen and Eva Longoria, who has tweeted about the bill.
"We must demand dignity 4 #NY #farmworkers who harvest our food. Join us at http://t.co/brjmbse6G7 #EFNY @rfkcenter @maldef," Longoria posted on her Twitter feed recently.
She has repeatedly brought up the cause of farmworker rights and thanked them for harvesting the nation's food.
A number of prominent New York City chefs have also backed the farmworkers legislation, as well as former Gourmet Magazine editor-in-chief Ruth Reichl.
McMullen said that the bill has stalled in past years because farmworkers haven't had strong allies since most don't vote or only do so in conservative rural districts where their impact is muted.
"We all eat the food these workers pick everyday," McMullen said. "People are gaining awareness everyday. And if you look at the purple districts in Long Island the Latino vote is becoming more important every day."
State Sen. Neil Breslin of Albany, who carried the bill in the Senate for over a decade, said the issue is complicated because some rural legislators from both parties are completely opposed to discussing the issue for fear of alienating farmers in their district.
There is also a concern among conservative legislators that unions are pushing the legislation in order to grow their ranks. They note that city legislators are trying to legislate issues that have major impact on upstate economies. The bill last came to a vote in the Senate in 2010 but it failed to pass despite some Republican support.
"If you look at how the vote in the Assembly broke down this year it is mostly New York City lawmakers versus legislators from rural areas," the Farm Bureau's Ammerman said. "Not all of the votes went that way but it tends to be an urban versus rural issue. And some people don't understand some of the issues at play."
Espaillat said downstate legislators have just as much reason to be interested in the issue as upstate legislators.
"I think we all have skin in the game. We have green markets in my district. I buy products produced in New York," said Espaillat. "I may not have any farms in my district but I know justice should be everybody's goal in his state. We shouldn't partition off plight."
Dennis Poust of the Catholic Conference of New York said he doesn't think it will be easy to get the bill passed with only eight days remaining in session. "We do think this is an uphill battle at this point. But I do think there is room politically."
Ammerman said he has become used to seeing the issue brought up each year, pass in the Assembly and fail in the Senate. "Obviously we are keeping a close watch but we haven't seen any movement as of late and we hope it stays that way." He said the legislation could hurt family farms.
But McMullen said that is simply untrue. "When the Farm Bureau says this could hurt family farms they are saying family farms in the same way as Walmart is a local business," he argued.
McMullen said most farms in New York do not use migrant laborers because they are too small. It is the agribusiness giants that would be impacted by the mandates of the legislation. In 2010, when the legislation was last voted on in the Senate, bill language was changed so that collective bargaining would only apply to the state's largest farms.
With eight days left in session and a number of other bills listed on the top of Cuomo's legislative agenda, advocates and opponents of the legislation both acknowledge that the bill could easily slip away.
Legislators are predicting a major rush to pass bills in the next two weeks. Some legislators are expecting to be in session through the night, and some expect to vote on up to 150 bills in one day before the end of session.
The farmworkers bill could be one of those dozens of pieces of legislation that come to a vote — or the process might start again next year.