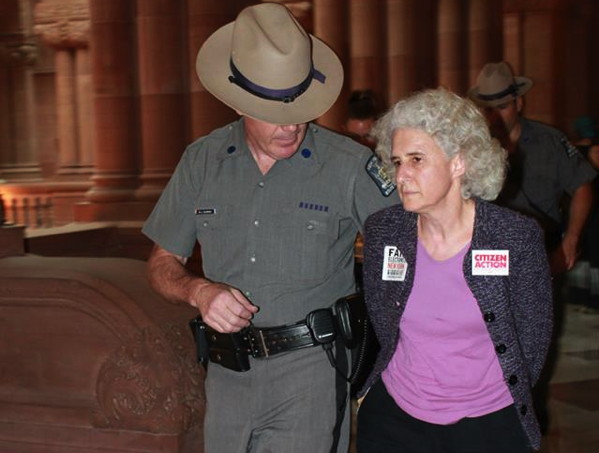 ALBANY, N.Y. — Karen Scharff, a veteran activist with long, flowing gray hair, spent Tuesday barricading the front door of Bronx state Sen. Jeff Klein's legislative office with nearly two dozen other advocates in an effort to pressure Klein and his breakaway faction of Democrats to bring progressive issues to a vote.
After chaining themselves together, hand-in-hand, the advocates, working under the Fair Elections For New York banner, began chanting "IDC stands for 'I don't care'" — in reference to Klein's Independent Democratic Conference.
For their efforts, Scharff and 20 others were arrested, put in handcuffs, charged with disorderly conduct and led from the capitol building. Scharff, who is the executive director of the labor-linked "grassroots" organization Citizen Action New York, noted that the state trooper who arrested her was "polite."
As the advocates were being arrested, IDC spokesman Eric Soufer posted on Twitter: "Barricading a door so that junior staffers can't leave their office isn't civil disobedience. It's idiocy." He then posted a picture of Klein with a group of school children, with the note, "As you can tell, the pressure is clearly affecting us." Soufer didn't respond to requests for comment.
Fairly or not, progressive advocates have singled out the IDC as the key to getting a vote on campaign finance reform. But the relationship between the groups fractured once it became clear the IDC was unwilling or unable to push a compromise bill to a vote in the Senate where their governing partners, the Senate Republicans, fiercely oppose public financing of campaigns.
"I understand why the advocates targeted us," said Sen. Diane Savino, a member of the IDC. "As Democrats, it is one of our bread-and-butter issues and they feel we are in a position to move it. If cooler heads had prevailed I think we could have sat down and really worked out something to change the current system."
With two days left to go in session, advocates have been inundating IDC members with mailers and knocking on lawmakers' doors in their districts.
Advocates say their aggressive tactics in the last days of the session has gotten them results: They point to a last minute push by IDC members to bring nine points of Andrew Cuomo's women's equality agenda to a vote as well as legislation addressing stop-and-frisk, gender expression protections and farm workers' rights.
"We are starting to see little pieces of bills shaking through here and there," said Michael Kink, executive director of Strong Economy For All, a progressive group that works to implement policies to benefit middle class and low income New Yorkers. But Kink, who was also arrested yesterday, said Klein had broken his promise to bring a campaign finance bill to a vote in the Senate.
In an op-ed published in the Lower Hudson Journal on Nov. 20, 2012, Klein said he would support a "progressive Democratic agenda, including campaign finance reform, a minimum wage increase and defending a woman's right to choose."
But much has changed since then: In early December, the IDC and Republicans announced they would share power in the Senate — bringing together two groups with sometimes diametrically opposed views on policy matters.
While there was some initial hope that the bipartisan coalition would lead to a more democratic airing of legislation, that has not been the case. Instead, tension and disorder has reigned in a session that has been the least productive in years.
Signaling that he was growing tired of the shenanigans that were stalling the legislative process, Cuomo said in a press conference yesterday that he insisted he get all of his corruption and campaign finance package with no compromise.
The governor said he would empanel a commission to investigate corruption in the Legislature.
With all the moving pieces and players that would be involved in a deal on campaign finance reform, it would be nearly impossible to assign blame solely to the the IDC for the legislation's failure.
Cuomo has hinted that these issues will be resolved during next year's elections. "Campaign finance — public finance — and the choice issue are going to be significant election-day issues next year," Cuomo said.
Savino said she thinks the outcome could have turned out differently for the campaign financing package this year if Cuomo had pushed harder a lot earlier in the year.
"The way the governor has moved his issues in the past is that he introduced his priorities and worked towards a consensus," said Savino. "You can't just introduce a bill with two weeks left in session and tell everyone to get on board."
Regardless of where the blame lies, the relationship between advocates and the IDC has grown so ugly that advocates are contemplating primaries against IDC members next year. "There are major groups who are part of our coalition that are working on the electoral side of things," Kink said.
The Daily News reported this week that Friends of Democracy, a political action committee founded by the son of billionaire George Soros, is open to funding challenges to IDC members because of the perception that the IDC blocked action on a campaign finance reform bill.
Republican state Sen. Tom Libous has said he would be more than willing to assist IDC members in any primary challenges they might face.
Interestingly enough, both sides seem to be shocked at the current circumstances. Advocates can't believe the IDC isn't publically pushing Senate Republicans to vote on the abortion point of Cuomo's 10-Point Women's Agenda and public financing of campaigns while IDC members seem absolutely shell shocked by the amount of pressure they are facing from advocates and confused as to why advocates seem laser focused on them.
"It's very strange to target people who support your issue," Klein told The Wall Street Journal in a recent interview responding to pressure from women's groups that are angry Klein has refused to bring the abortion plank of Cuomo's women's agenda to a vote.
The IDC were leaders when it came to campaign finance reform and corruption measures. After their chairman, Sen. Malcolm Smith, was charged with bribery and fraud they unveiled a comprehensive reform package and held town hall meetings around the state.
Most advocates admit that the IDC's reform package — which would introduce a New York City based public campaign finance system and close a number of fundraising loopholes — put Cuomo and Assembly Speaker Silver's plans to shame.
So, logically, the IDC expected the support of advocates; but the IDC measure also would have done away with the Wilson Pakula law that enables third parties like the labor-backed Working Families Party to cross endorse candidates.
Regardless of the two major issues, a whole host of other progressive legislation like the altering of marijuana laws to reduce the impact of stop-and-frisk in the New York City and the state DREAM Act have also been bottled up in the Senate. IDC members have been working to push deals on farm worker rights and the Gender Expression Non Discrimination Act.
But, in general, this legislative session has been extremely slow. There is a current end-of-session blitz of legislating going on now but, after the budget was passed, the Senate dribbled out minor bills in spurts and left the capitol for a week as indictments were unveiled against sitting legislators.
"I think we have seen this coalition style of government has been a real roadblock to getting legislation passed," Scharff said. "They seem to be surprised they are facing this much pressure but what did they expect? They asked for this power and they are the Democrats in power, so they are the point of pressure."
So what is next? Most Albany observers believe there won't be any deal on the women's agenda or campaign finance reform this year. Many also believe Cuomo will either make good on his promise to invoke a commission with broad investigatory powers to scrutinize the Legislature or will call a special session later in the year.
But when the next session rolls around, advocates will be paying close attention to the IDC to see if they try to make amends.
"As they say, 'In politics there are no permanent friends or enemies. Just permanent issues,'" Kink said.
When asked about the next session, Savino repeated the exact same line.