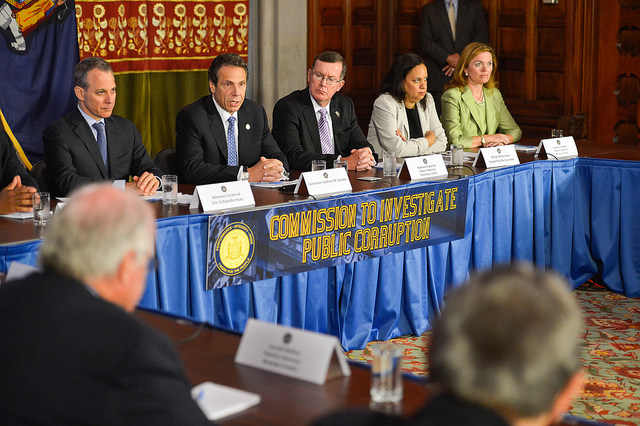 ALBANY, N.Y. — A state commission charged with investigating government corruption met tonight in Albany for the first time publically since state legislators refused requests that they disclose the names of their clients.
Throughout the hearing, Moreland Commission members posed questions that pointed to the possibility that they were seeking for ways to clean up Albany without the help of the state Legislature. A major line of discussion revolved around reforms to the campaign financing system.
Commission co-chair William Fitzpatrick, the Onondaga district attorney, asked Bill Mahoney of the New York Public Interest Research Group whether the state's "62 DAs" could simply reverse a Board of Elections ruling that allows companies to funnel cash to candidates or committees by creating multiple front companies.
During his testimony, Brian Paul of Common Cause/New York, was quizzed by Fizpatrick on other solutions.
Paul said he wasn't an attorney, to which Fizpatrick replied: "Don't apologize for that!"
Later, commissioner Richard Briffault asked whether another loophole could be closed with a simple change of language. "Is it a one-sentence solution?" he asked.
Commission members repeatedly asked where they should specifically look for corruption and how members of good government groups thought change should be enacted in the state's campaign finance system. Some legislative staffers moaned as members of good government groups repeated familiar mantras about New York State's broken campaign finance system.
Bill Mahoney of the New York Public Interest Research Group reminded the audience of how the BOE's lax rules have allowed legislators to spend campaign cash on pool covers, cars and their legal defense.
"The Legislature has shown an unwillingness to act," Mahoney said, while offering a detailed report on how the commission itself could move to address some of the state's largest problems. But he cautioned that the commission should provide a comprehensive legislative package along with any individual action they take.
Mahoney said that existing campaign finance rules have been "abused without board oversight or legal challenge for years," and, he concluded, "It is certainly feasible that a strong commission pronouncement and referral could deter this behavior in the future." Mahoney was asked whether he felt the BOE had failed at policing campaign finance because of a lack of resources or a lack of will. "It's definitely a lack of will," he responded.
SEPARATION OF POWERS
The Moreland Commission to Investigate Public Corruption was formed by Gov. Andrew Cuomo in July, calling on state law he had previously used to investigate public utilities, after the Legislature refused to pass anti-corruption measures in response to a series of scandals involving legislative corruption.
Cuomo had held out the possibility of a Moreland Commission since taking office but many saw it as a last resort because it might risk alienating his allies in the legislative branch. With his reelection drawing near, Cuomo likely didn't want to be seen defending the culture in Albany that he has claimed to have reformed.
The commission's second hearing came after attorneys for the legislative majorities refused the commission's request for more information on state lawmakers' outside income. Specifically, the commission wanted more information on the outside income of those who make more than $20,000 in private business and lists of their clients. Legislators perceived the request as an overreach by a commission created by the executive branch.
"These demands substantially exceed what New York law authorizes. All information legally required to be disclosed and relevant to any legitimate inquiry already has been disclosed," wrote attorneys Marc Kazowitz and Michael Garcia, who represent the Assembly and Senate, respectively.
Legislators pointed to increased disclosure requirements that were agreed to under new ethics laws that created the Joint Commission on Public Ethics and was hailed as a major step forward by Gov. Andrew Cuomo when he signed it into law.
The letter went on to question whether the commission had the right to demand anything of the Legislature, claiming the law creating the Moreland Act specifically states that the commission can only investigate departments, agencies and commissions of the executive branch, not the Legislature itself; and that the Legislature is further protected by the constitutional separation of powers.
Michelle Duffy, spokesperson for the commission, issued a sharp response: "The New York state Legislature has refused to turn over the information requested by the Moreland Commission revealing their outside clients. As the old adage goes, if you've done nothing wrong, you have nothing to hide."
Gerald Benjamin, a professor of political science at SUNY-New Paltz, said the arguments from the Legislature echoed similar ones made by state lawmakers when Gov. Mario Cuomo formed a Moreland Commission in the late 1980s.
"This is roughly the same argument," he said. "The Legislature believes the commission inappropriately focuses on them rather than on all government practices."
The separation of powers argument is something that Blair Horner of the New York Public Interest Research Group expects to playout for the duration of the commission's work but he says the commission could help itself by being more open. "There is a legitimate separation of powers fight behind this whole thing," Horner said.
Benjamin said the commission's first hearing did nothing to allay legislators' fears that they were the sole target. "Taking testimony from federal prosecutors who have investigated a number of legislators tends to feed those thoughts, that they are being targeted," said Benjamin.
During that hearing last Tuesday, federal prosecutors Preet Bharara and Lorretta Lynch testified about their work fighting corruption in Albany. Bharara focused specifically on how legislators convicted of corruption continue to draw pensions from the state. Bharara said he planned to change that. "We will use federal forfeiture law to claw back an appropriate dollar amount commensurate with that pension where appropriate," Bharara said.
Cuomo told reporters last week that he had tried to strip legislators of their pensions following corruption cases but that the state constitution does not allow it.
LOOKING TO THE PAST
At tonight's hearing, NYPIRG's Mahoney suggested the commission look back to the recommendations of the Feerick Commission that was the result of Gov. Mario Cuomo's attempt to investigate legislative corruption back in the 1980s. The Legislature at the time fought back by cutting funding for the commission and negotiated the parameters of the Feerick Commission. Mahoney said that most of that commission's recommendations had been ignored.
But Jess Wisnewski of Citizen Action pointed out that there was a major difference between the late 1980s when the Feerick Commission met and now, emphasizing that there existed major public support behind this commission. The Feerick Commission was not well regarded by the public because it was the result of legislative haggling and looked like another corrupt piece of the puzzle. Wisnewski reminded commissioners that good government groups around the state were organizing citizens to support their recommendations.
The commission's relationship with regular New Yorkers became an issue during its first hearing last week when members of the public were turned away and told that the 50-seat hearing room was full before just about anyone had entered. Many who had registered to testify were also turned away.
Tonight's hearing was scheduled to take place at a smaller venue but on Friday the commission changed the location to a large hall in the Empire State Plaza. There were numerous protesters chanting in support of campaign finance reform but the hearing room was not nearly full to capacity. It appeared about 100 people were in attendance during the peak.
Horner, who did not attend this evening's hearing but spoke to Gotham Gazette hours before it began, said the effectiveness of the commission will likely be affected by how open the process is, how the commission and the Cuomo administration engages the public and what kind of proposals they put forward. The commission's first report is due in December. Both Benjamin and Horner think it will be difficult for the Legislature not to go along with any legislative package Cuomo proposes after the commission does its work.
"If this is done in public with an eye toward building public opinion and forged by the executive in an appropriate manner I think they will come up with useful solutions," Horner said. "If the process is opaque and not really open, I think it will be more difficult to make change happen."
Horner said Andrew Cuomo has many more advantages than his father did at the time he convened a Moreland Commission to investigate public corruption.
"Mario Cuomo's power was waning. He was in his third term and he really had no clout with the Legislature," Horner said. "This Cuomo is at the peak of his power heading into an election. It will be very hard for this Legislature, in an election year, to say no. It will be very hard."