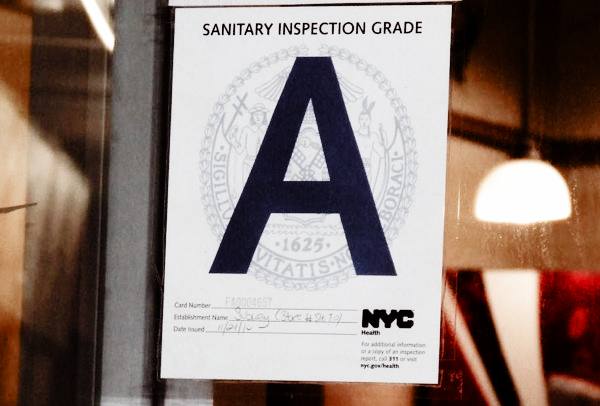 NEW YORK — Eateries could face fewer fines under reforms to the restaurant letter-grading system approved by the City Council on Wednesday.
While the five bills passed by a vote of 46-to-0 would not alter the standards for inspections — or how inspectors grade restaurants — they do aim to create new layers of accountability and transparency. For instance, not only would owners be able to request a dry-run inspection before the real one, they could also take complaints to a newly established city office. Owners would also be provided additional information on inspections.
The bills come as a response to criticism that the letter-grading system has been arbitrary and unnecessarily punitive to restaurant owners.
"As restaurants are given more guidance, they should be able to perform better," Quinn said. "This should keep them in business, keep New Yorkers dining safely and keep money in the restaurant's cash register — not going to the Department of Health."
Hours before the vote, Quinn stood with a number of her fellow Council members to celebrate the package of bills. Quinn argued that the current letter-grading system, administered by the Department of Health and Mental Hygiene, was unnecessarily fining businesses and taking money away from owners. "What we didn't want is to have a lot of A's hanging right next to signs that said, 'out of business,'" Quinn said.
If approved by Mayor Michael Bloomberg, the bills would create an office under the Department of Health to handle any complaints and comments about the inspection process. The office would investigate cases and offer recommendations to the department's commissioner.
A separate bill would create an advisory board of 20 members — appointed by the mayor, Council speaker and health commissioner — and would include industry members as well as food safety experts.
Launched in July 2010 by the Bloomberg administration, the letter-grading system has been praised for giving customers key information about sanitary conditions and holding restaurant owners to stringent health standards. The Department of Health argues that most foodborne illnesses are transmitted because of poorly stored food and inadequate personal hygiene. But the letter-grading system has also been criticized for leading to burdensome fines that some restaurant owners say have pushed them nearly out of business.
The mayor's office said it was reviewing the Council's bills. The Department of Health did not object to the bills in a statement released shortly after the vote.
"We began restaurant letter-grading to give customers information they wanted and to provide an added incentive to restaurants to have the best food safety practices," the DOH statement said. "The package of bills that passed today will address complaints of the restaurant industry and continue to encourage restaurant managers to prepare food safely.
Advocates said they were confident that the new bills would soon become law.
Andrew Rigie, executive director of the New York City Hospitality Alliance, called the bills a move in the right direction for small business owners and diners alike. Created in 2012, the alliance has made it its mission to bring about reform to the inspection system.
"We're thrilled," said Rigie, who called it a win for both customers and restaurant owners. "This was a push for reform in a way that maintains food standards for New Yorkers but reduces burdensome fines. It's a huge step for small businesses."