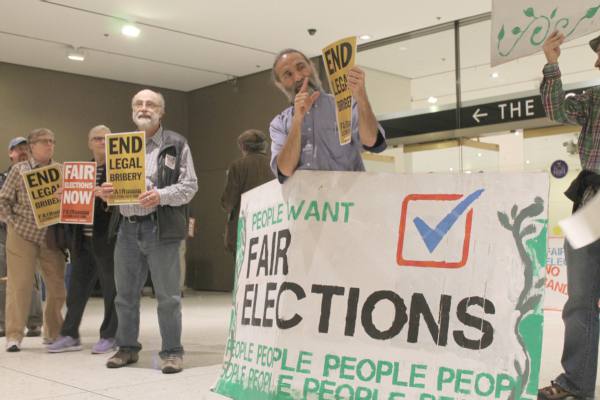 ALBANY, N.Y. — Jaron Benjamin, a city housing activist, said he had a good reason to think that Gov. Andrew Cuomo's Moreland Commission to Investigate Public Corruption was digging deep on the nexus of real estate money and the state's campaign finance system.
He said that shortly after the commission was convened earlier this year, a member of its staff contacted his group, the Metropolitan Council on Housing, about a report that it had produced, and even asked for the address of a real estate developer it named so that the commission could deliver a subpoena.
Only a few weeks later, Benjamin and other housing activists have a much more tempered outlook on the commission, following reports that the Cuomo administration pressured it to kill subpoenas to the Real Estate Board of New York and to the State Democratic Party, which advocates say has received major donations from real estate interests.
Now Benjamin's group and other housing advocates are planning to organize as many tenants as they can to show up and testify at the next public commission hearing about the influence of real estate money on state housing policy. But the groups are nervous about making their exact plans public out of fear they will be denied the opportunity to testify.
Three different people familiar with the workings of the commission told the Gotham Gazette on the condition of anonymity that the Cuomo administration had contacted groups that had planned to testify before the commission to discuss their testimony. They said commission representatives have controlled which groups testify, how much time they get to testify and where they testify. Benjamin said he originally wanted to testify at the commission's first hearing in New York City but was asked to travel to Albany to testify at the second hearing.
Michelle Duffy, a spokeswoman for Moreland Commission, said they don't comment on going investigations and would not comment on whether staff had contacted Benjamin's group to get an address. She said that the panel is free to make its own decisions, but reports to the offices of the governor and the state attorney general.
The Cuomo administration did not respond to two requests for information about the governor's office's dealings with the commission. Cuomo told the Daily News' Glenn Blain "no" earlier Thursday when he was asked about whether he or his staff had killed any subpoenas — the first comments by the governor on the matter.
Cuomo noted that his office staffs the commission and it requires a unanimous vote for a subpoena.
The influence of real estate groups isn't just a concern of tenants groups — the millions of dollars real estate dumps into the campaign finance system has been a major focus of reform groups that track how much influence groups have in Albany.
"Its influence is unquestionable and it would be a shame for the Moreland Commission not to delve into its reach," said Karen Scharff of Citizen Action New York, a good government group.
Democratic State Sen. Liz Krueger said she thinks it is important the Moreland Commission takes a look at how the hulking lobby has used money to achieve its goals. "The Moreland Commission can finally look at what lines were crossed," she said. "I'm not saying they can't lobby but we need a better picture."
Even as tenant and good government groups plan to press their concerns over the perceived coddling of real estate interests, it appears the Cuomo administration is looking for a way to neatly wrap up the work of the commission, which is supposed to deliver a preliminary report to the governor by Dec. 1.
The New York Times reported this week that the Cuomo administration is looking to make a deal with the Legislature on some sort of reform legislation; and Jimmy Vielkind of Capital New York reported that the administration is considering a constitutional amendment to change the state's campaign finance system. It appears the Cuomo administration wants a way to show quick results from the commission without continuing investigations that could upset the Legislature or raise questions about its own behavior.
People who spoke to GG described a disjointed process that was challenging to manage because commission members and staff are split in their loyalties to the two men who are responsible for shaping the panel — the governor and Attorney General Eric Schneiderman. Commission members are still trying to catch up to the realities of the state's campaign finance system while staffers are already in gear to write and deliver the commission's initial report that is due in December, the people said.
"A lot of these commissioners are still learning the ropes in Albany. They aren't from here, they are DAs who need to catch up on how Albany works, but instead it looks as if they are being pushed towards the exits," said one of the people.
WHY REAL ESTATE
Earlier this summer, the Moreland Commission issued subpoenas to five real estate firms — including Extell Development, a group that donated $100,000 to Cuomo's campaign days before he signed a bill that included tax breaks for their properties. The other firms that were subpoenaed are Thor Equity, Silverstein Properties, Fischer Brothers and Ann/Nassau Realty.
Cuomo responded to press inquiries about the subpoenas by saying he welcomed the commission's investigation.
"Anything they want to look at they can look at — me, the lieutenant governor, the attorney general, the Controller, any senator, any assemblyman," Cuomo told reporters during an event in Oneida in late August. "They have total ability to look at whatever they want to look at."
But it appears to tenant groups that Cuomo is not that eager to have anyone look into his interactions with the real estate industry. "Why would we be surprised by anything Machiavelli on the Hudson does?" said Michael McKee, treasurer of Tenants PAC, a statewide organization that works on housing issues.
Cuomo has deep ties to the real estate industry. After his failed 2002 primary bid for governor, Cuomo found work with one-time enemy, real estate magnate Andrew Farkas. Farkas gave Cuomo a position as vice president of Island Capital where Cuomo eventually earned over $2.5 million dollars. Farkas served as Cuomo's finance chairman when Cuomo left Island Capital to run for attorney general.
Farkas has also donated hundreds of thousands to Cuomo's campaigns.
Other major real estate magnates have done the same — Jerry Speyer and Dan Tishman were the top two individual donors to Cuomo's first successful run for governor. They donated a combined $187,400 to Cuomo's first run for governor. Cuomo's Republican opponent at the time bashed him for his relationship with Farkas. The New York Times explored the relationship in an Oct. 2010 article. Cuomo declined to be interviewed for it, but Farkas participated.
"I need this kind of thing like I need a hole in my head," Farkas told the New York Times. "There's nothing in this for me. I do this purely out of love for the man, and because the future of this state is important to my family."
The recent revelations around the Moreland Commission have also brought Cuomo's Committee to Save New York back in the public light. The group raised $17 million, including from real estate interests, to support Cuomo's fiscal agenda through advertising campaigns. It was criticized by good government groups that wanted the Committee to reveal its donors and then encountered more controversy when it was revealed that gambling interests donated $2 million to the group just before Cuomo came out in favor of a constitutional amendment that would legalize Las Vegas-style casino gambling in the state.
"The Commission should be investigating the actions between REBNY, Cuomo and the Committee to Save New York," McKee said. But he acknowledged that without an independent budget, it was difficult to foresee the commission delving into it.
"We could well end up in a Feerick situation with some Mickey Mouse bill he signs into law just to call it a victory," he said, referring to a similar public integrity commission put together in the 1980s by Cuomo's father that was effectively handicapped by the Legislature.
PARTY HOUSEKEEPING ACCOUNTS
CSNY disbanded in late August as the Moreland Commission's investigations were heating up but it had already stopped most of its major functions before then. Cuomo had turned to rely on the State Democratic Committee and its so-called "housekeeping accounts" to fund advertising campaigns to back his political moves.
Party housekeeping accounts have come under major scrutiny because of a loophole in state campaign finance law that allows companies to funnel unlimited amounts through them. The cash is only supposed to be used for party-related issues but groups have managed to find ways to provide the cash to candidates to boost their campaigns. In February, Cuomo began raising funds through the Democratic committee to finance ads to back his budget proposal and other policies.
Bill Samuels of The New Roosevelt Institute said that looking into housekeeping accounts was vitally important to the Moreland Commission.
"If we want to paint a full picture of the campaign finance system we need this information," he said. "Moreland should send voluntary disclosure forms to the corporations that have donated to the Democratic housekeeping account asking: 'What is your interface with the Governor?'"
Cuomo has repeatedly defended the use of housekeeping accounts.
Common Cause recently issued a report on real estate lobbying in New York and found that since 2005 REBNY and its affiliates have given $43.9 million to local and statewide candidates. Cuomo has benefited to the tune of $1.99 million in donations from REBNY.
A REBNY spokesman told Crain's in its Aug. 6 edition: "All contributions are made in accordance with the law and duly reported."
"It is more than inappropriate to suggest illegal motives without offering a single fact," the spokesman continued. "Furthermore, they conveniently ignored the fact that rent regulations were recently strengthened in Albany and the J-51 and 421-a programs" — which benefit landlords and developers — "significantly curtailed."
Groups including the New York Public Interest Group, Citizen Action and the Brennan Center have also made the case for closing the housekeeping account loophole.