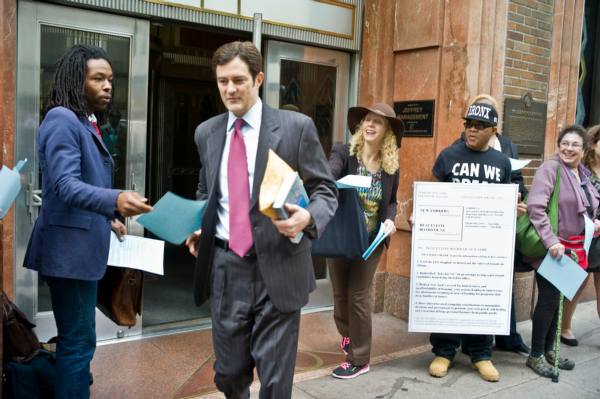 ALBANY, N.Y. — "You've been served," was the simple message Jaron Benjamin and around 30 members of tenant organizations delivered to members of the Real Estate Board of New York outside their headquarters on the morning of October 17.
The subpoenas demanded REBNY members show up to a hearing of Gov. Andrew Cuomo's Moreland Commission on Public Corruption and testify about the $7 million they pumped into campaigns during the 2013 elections.
Benjamin, executive director of the Metropolitan Council on Housing, said the action was organized after reports that the commission had halted a subpoena of REBNY — possibly after the interference of the Cuomo administration.
"We wanted to say to Moreland, to the people of New York, that we are all on equal ground," Benjamin said. "That no one should get special treatment, or access because of how much money they have."
For its part, REBNY has argued that it is being unfairly singled out for scrutiny when other groups — such as unions — should be as well.
The Moreland Commission will hold its first public hearing on Monday since facing a number of reports that brought its independence and intentions into question. The hearing will focus on public financing of campaigns but some groups are expected to testify about other matters.
The commission has been in full damage control for weeks now.
"Press reports to the contrary, we have been independent since day 1," Onondaga County District Attorney William Fitzpatrick, the commission co-chair, told Susan Arbetter on The Capitol Pressroom on Oct. 22. "There's a big difference between interference and input," Fitzpatrick continued.
The Daily News reported in September that the Cuomo administration influenced the commission to kill subpoenas into the State Democratic Party. A subpoena to the Real Estate Board of New York was also halted. Cuomo denied directly ordering subpoenas be killed but danced around questions about whether his staff had any influence.
Capital New York reported that the the Cuomo administration was using the commission as leverage to negotiate with the state Legislature over a package of bills or a constitutional amendment. It became clear over the past few weeks that those negotiations failed.
Fitzpatrick addressed the reported negotiations in his talk with Arbetter. "If General Lee had walked up to General Meade at Gettysburg and said, 'Here's my sword, I surrender,' Mead would have probably accepted it," Fitzpatrick said, referring to the the possibility of the South surrendering to the North before the battle of Gettysburg during the Civil War. "Those discussions were had, and, quite frankly, did not pan out to anywhere near anything that would satisfy either the Moreland Commission or the governor."
Groups that plan on testifying on Monday said they have hope that the commission will still be effective.
Jess Wisnewski of Citizen Action/NY said she thinks the commission has enough evidence about the way the state's campaign finance system is abused to make recommendations that could be acted on very early in 2014. "What we would like to see is concrete, bold recommendations that take into account a small donor public matching financing system," Wisnewski said. "Step one is very strong recommendations and step two is to very quickly take them on as part of the budget. Enough evidence has been accrued over the years to act now. Further investigations could follow."
Benjamin is cautiously optimistic. The night before his group handed out their "people's subpoenas" to members of REBNY, Moreland issued a statement saying they were going forward with a broad investigation.
The Daily News reported that Moreland was going ahead with an investigation of REBNY's use of the campaign finance system but at that point did not need to issue subpoenas. That forced some last-minute changes for Benjamin's group, which changed its message while delivering the "people's subpoenas" the next day to: "Treat REBNY the same as everyone else' rather than "Moreland must investigate REBNY." Benjamin said he hopes that all the attention raised by good government groups and the media will keep pressure on the commission to deliver strong recommendations.
"It looks like some of this pressure has been effective," said Benjamin. "The media have been asking whether the commission has been effective and so are regular people — they are the same people, tenants, who plan to be there on Monday to testify."
Benjamin had hoped to turn out a number of tenant advocates to the next hearing but the tentative meeting location and time were changed. "Changing the date and forcing people to register, moving it to Monday night and having it at a location that isn't on the train line will probably impact how many people show up," Benjamin said.
Benjamin's priority is for the commission to examine how donations from REBNY may have won them lucrative tax cuts on property in New York City.
"It may be that the real estate folks who are the biggest contributors aren't breaking laws," Benjamin said. "But that money gives them access. It makes it easier for them to dismantle the affordable housing system."
Benjamin said the last hearing left him encouraged because of the questions asked by commission members.
"I think one thing [Co-Chairman] Fitzgerald talked about was that they are serious about pursuing all the options for closing the LLC loophole which is the main way real estate gets money into campaign coffers," Benjamin said. "They are open to all ideas whether it goes through the Legislature or they do it themselves." The loophole Benjamin refers to allows corporations to funnel unlimited funds into political party's "housekeeping" accounts. Those funds are supposed to be used only for party matters but they are routinely funnelled to candidates.
Advocacy groups may hope that Gov. Andrew Cuomo can power through reforms to the state's campaign finance system early next year but legislators don't exactly have fuzzy feelings towards the governor or the commission these days. In fact, recent reports about Cuomo's interference in the commission has emboldened them.
"No, I haven't been subpoenaed yet," was a common greeting from legislators last week after Moreland announced it would be going after financial data from legislators who make more than $20,000 in non-legislative income a year.
While campaign finance may be the topic of Monday's hearing, the commission has been presented with data that could point them in the direction of corruption from all sorts of sources.
During the last hearing, Citizens Union (Gotham Gazette's sister organization) presented a report showing that the state budget has a pool of $3 billion in funds that is distributed with very little transparency to different projects across the state through memorandums of understanding. Legislators' names are not attached to the funds that are distributed after the budget is negotiated. Some of the money is distributed in small amounts from $1,000 to $5,000 payments but others are lump sum appropriations sized $200,000, and set aside for ambiguous purposes.
The system seems to have grown in importance since Cuomo took office and did away with member items. Citizens Union pointed to the springtime arrest of Sen. Malcolm Smith, who was recorded telling a real estate developer he was allegedly trying to bribe that he could access $500,000 of the funds.
"You've got to be kidding me that this is legal," exclaimed Fitzpatrick during Citizens Union's testimony during the last hearing.
The commission expects to meet again before December when its first report is due. Michelle Duffy, spokeswoman for the commission, said the next hearing will likely be in Buffalo but a date and location have not yet been set.