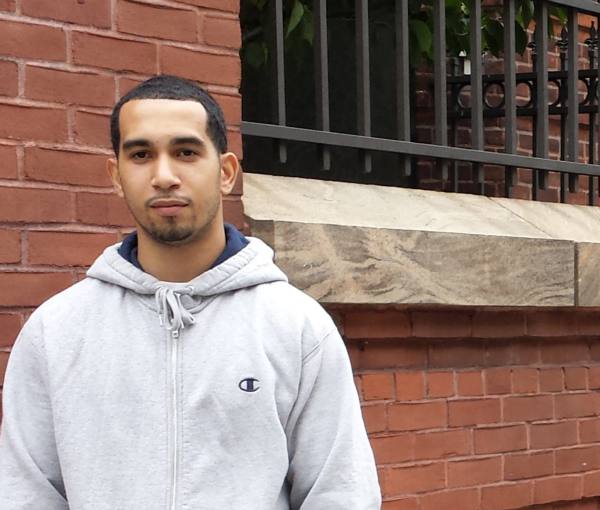 NEW YORK — After about three days of being isolated in "the Box" away from his fellow detainees at Rikers Island, Ismael Nazario was beginning to break.
"That's when it started to take it's toll," he said, conjuring memories of his time in punitive segregation — solitary confinement — in one of the nation's biggest jail complexes. "I was just like, 'Yo, I cannot be here like this.'"
In his compact cell, furnished with a toilet and cot, Nazario had little space to move, he recalled in a recent interview. "I just talked to myself, answering myself, pacing back and forth."
Nazario was 16 years old and awaiting trial for robbery the first time he was sent to the Box, he said. According to Nazario, he had been caught with a pouch of tobacco, considered contraband, and was accused of pushing an officer as he tried to dispose of it in the toilet. But the contraband alone would have been enough: both violent and non-violent infractions can land an inmate in punitive segregation. Once there, detainees spend 23 hours per day in their cells.
Now a 25-year-old case manager for at-risk youth at the Center for Community Alternatives in Brooklyn, Nazario said his multiple stays in the Box stayed with him long after he left.
"You have this deep rooted anger and frustration from being in the Box, so the first thing somebody says wrong to you or does wrong, looks at you wrong, you're gonna pop off," he said. Several studies have found that being confined to a cell for 22 or more hours per day with limited human contact can leave inmates socially and emotionally unstable.
After years of criticism from advocates, the city's practice of isolating detainees through punitive segregation has come under scrutiny from lawmakers and city officials. In recent months, the City Council passed legislation to bring greater transparency to the practice. But perhaps the greatest change will come in the months ahead.
Motivated by a recent report on solitary confinement at Rikers, the Board of Correction, which oversees the Department of Correction, is seeking to limit the city's use of the punishment through a slow-moving rulemaking process that could take up to a year. "We're concerned about everybody in solitary confinement, and particularly those with serious mental illness and adolescents," said Dr. Robert Cohen, chair of the Board's committee on punitive segregation.
However, the city's Department of Correction and the mayor's office have rejected the sweeping critique of solitary confinement contained in the report that informed the Board's decision, as well as the report's recommendation that isolation only be used as punishment in the most extreme cases.
In an email, the Department defended punitive segregation as just one part of "a comprehensive continuum of care and control" developed to "ensure everyone's safety." Department of Correction Commissioner Dora Schriro declined to comment further.
The Department has been working towards its own program for reform, however. One major change is already underway: eliminating solitary confinement for people with serious mental illness.
The Push for Reform
In mid-September, members of the Jails Action Coalition rallied outside of a meeting of the Board of Correction at the Municipal Building in Lower Manhattan.
As they awaited a decision from the Board on whether it would attempt to change Rikers' punitive segregation policies, the lawyers, case workers and activists who form the Coalition sang and held a banner that read "Solitary is Torture."
The banner invoked Juan Méndez, the UN Special Rapporteur on Human Rights,who called more than 15 days in solitary confinement 'torture' and recommended the punishment not be used at all for adolescents and people diagnosed with mental illness.
In June, following a petition by the Jails Action Coalition, the Board commissioned an independent investigation into punitive segregation at Rikers.
The study found that punitive segregation sentences at Rikers routinely exceed 15 days and that people with mental illness are disproportionately placed in isolation for breaking the rules. When the researchers visited the city jail over the summer, they found a quarter of the adolescent inmates of 16 and 17 years old in solitary confinement.
A separate, recent count by the DOC also revealed that more than one in seven inmates at Rikers is currently being held in isolation — significantly higher than thenational average of about one in 25.
Rethinking the City's Largest Psych Ward
Nearly 40 percent of the population at Rikers Island is mentally ill, according to the Department of Correction, making it, de facto, the city's largest psychiatric facility.
Martin Horn, the city's previous Commissioner of Correction and Probation, said this has posed more than just a disciplinary challenge.
"You're asking the jail to take on a role and a responsibility that it was never intended for, it was never physically constructed for, it was never properly equipped for, the staff was never properly trained for, and the staffing patterns were never properly based upon," said Horn, who is now a professor at John Jay College of Criminal Justice.
This past month, the DOC launched the Clinical Alternative to Punitive Segregation at Rikers, which wasannounced in May as an answer to "widespread concern about the impact that solitary confinement has on the mentally ill."
The program places people who break the rules and have bipolar disorder, schizophrenia, or another condition the Department considers a "serious mental illness" in a separate, but more communal setting, where therapy is available.
Inmates diagnosed with mental disorders that are not considered "serious" can still be placed in isolated cells for breaking the rules, although they will be offered therapy and incentives for good behavior.
The Department expressed hopes that this approach would help remedy the fact that the average stay of a mentally ill inmate at Rikers is twice as long as that of an inmate who has not been diagnosed with a mental illness.
But advocates for prisoner rights say the DOC needs to focus on improving the quality of its psychiatric treatment in order for it to be effective.
"The way they're trying to provide therapy with a therapist who isn't really engaged reading from a manual, that's just not the way we do it," said attorney Jennifer Parish of the Urban Justice Center. Parish has represented several mentally ill inmates at Rikers and is a founding member of the Jails Action Coalition.
Parish said inmates who receive therapy while in solitary often meet with the mental health clinician inside their cells.
"If you read the [Minimum] Mental Health Standards, there's no way that you can think that adequate mental health treatment could be provided in a punitive environment," Parish said.
Making Solitary Public
There are no public records of the number of people in solitary confinement at Rikers.
In April, City Council members Daniel Dromm and Elizabeth Crowley introducedlegislation to require the Department of Correction to publish monthly statistics on punitive segregation. The mayor's office has declined to comment on the pending legislation.
"We need to know who they're putting in solitary, why they're going into solitary, and how long they're staying in solitary," said Dromm, who added he took up the cause after noticing the "very, very detrimental effect" solitary confinement had on a friend who served time at Rikers for drug charges.
The punitive segregation capacity at Rikers peaked at 1,035 cells and is now on the decline, according to the DOC.
The Department attributed the hundreds of punitive segregation beds added in the last two years to a "long-standing backlog" of unserved time by inmates who have broken the rules. Dromm has introduced aresolution calling on the Department to end the practice of cashing in on "time owed" in solitary confinement by inmates who return to Rikers after being released.
Is there a way out?
The addition of punitive segregation cells at Rikers has corresponded with a significant increase in violent incidents in the last five years, according to Mayor's Management Reports between2008 and2013.
"Correction officers bear the brunt of it by being assaulted on a daily basis," Norman Seabrook, president of the Correctional Officers Benevolent Association,told City Limits in March.
Both Seabrook and former Commissioner Horn have cited cuts to the number of correction officers at Rikers as part of the problem.
There was a decrease in jail violence during Horn's tenure from 2003 to 2009, which he attributes to a variety of preventive tactics, including the installation of video cameras. "I think it was the result of putting staff resources where they were most needed," Horn said.
Still, Horn said that punitive segregation is necessary to maintain order.
"If two inmates get in a fight, they have to be separated, they have to be protected from each other. In society, when you break a rule, you go to jail. Punitive segregation is the jail within the jail."
Parish suggested that offering inmates more services could also create more alternative punishments for breaking the rules.
"The more incentives that you have that people want to be involved in, the more you can make not having access to that one of the potential punishments," she said.
Parish acknowledged the need to separate inmates who pose a threat to others, but said the disciplinary system should be "focused on rehabilitation, not locking someone in for 23 hours a day."
"As long as we see even one day of that as trivial, as not such a big deal, we're going to have a hard time getting to another place."
Caroline Lewis is a freelance radio and web journalist working towards a Masters at the CUNY Graduate School of Journalism. Read and listen to her stories here.