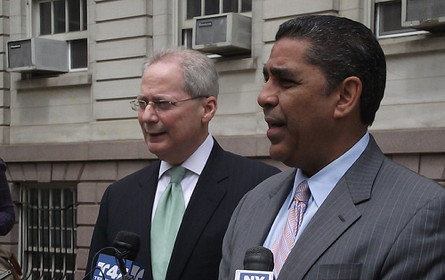 The Black, Puerto Rican, Hispanic and Asian Legislative Conference unveiled its legislative priorities for 2014 on Monday, saying that it was time for Gov. Andrew Cuomo and legislators to "walk the walk" on progressive issues.
Feeling strengthened by Bill de Blasio's resounding victory in New York City's mayoral race — and heading into an election year where the immigrant vote could be a decisive factor — members of the conference say they plan to hold the leadership accountable on issues important to their constituents.
But not on the list of the conference's 10 priorities was one that two city lawmakers — Sens. Adriano Espaillat and Jose Peralta — plan to push: Legislation that would allow undocumented immigrants to apply for drivers' licenses.
"Connecticut already passed this," Espaillat said in an interview with the Gotham Gazette. "How can New York not have this law when you have people driving in everyday from Connecticut under their law? You even have conservative states like Colorado that passed it."
De Blasio has publicly pushed Albany to approve such a measure. The only problem is that the last time the measure was introduced it was a bit of the a disaster for the governor who championed it — Eliot Spitzer. Spitzer issued an executive order in 2007 directing state agencies to issue driver's licenses to the undocumented. He rescinded the order after backlash and introduced it as legislation; it failed in the Senate. Then he put it into effect as an administrative measure at the Department of Motor Vehicles but eventually withdrew it as backlash continued.
Javier Valdez of Make the Road New York said the support of the mayor had a major impact last time the issue was before the state. "I believe, in 2007, when Bloomberg came out against it, it really took a lot out of us." But Valdez said 2014 will be different with the support of the new mayor, the fact that 2014 is a state election year and the growing electoral power of the Latino vote.
Espaillat said he expects a: "full court press" on driver's licenses starting next year and would like to see the issue dealt with early on before the budget comes up. That scenario seems unlikely as touchy issues always seem to be pushed to the last minute in Albany.
"We are going to make sure it is on the voter's radar screen," said Espaillat. "I hope the Republican conference sees it as something that will help soften their image with the community."