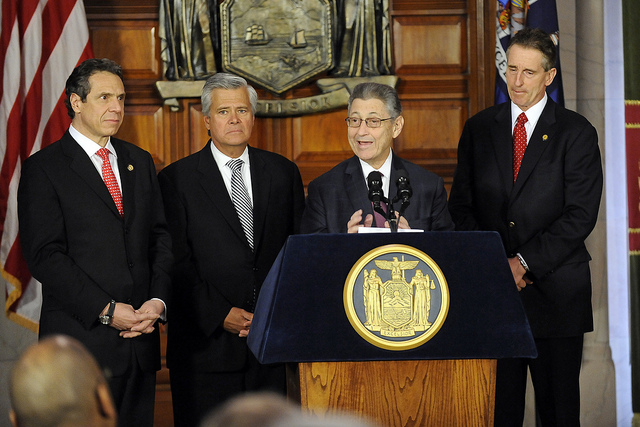 ALBANY, N.Y. — Gov. Andrew Cuomo and the leaders of the state Legislature are headed for a legal showdown over subpoenas issued by an anti-corruption commission that is seeking information about lawmakers' outside income and clients.
The Senate and Assembly leadership sued in Manhattan State Supreme Court on Nov. 22 looking to quash the subpoenas from the Moreland Commission to Investigate Public Corrpution, saying that they "serve no legitimate purpose other than to harass and usurp power from the Legislature and its members."
The Legislature argues in court documents that Cuomo's commission only issued the subpoenas in an attempt to force lawmakers to negotiate on a legislative package of ethics and election reforms and that the subpoenas violate the state's separation of powers mandate. The Legislature further argues that the commission was not authorized to issue the subpoenas.
"The commission failed to follow a mandatory procedural requirement that was a prerequisite to issuing the subpoenas," attorneys for the Legislature said in the documents.
Cuomo and even heads of the Moreland Commission have not denied the fact that they are looking to press the Legislature into negotiations. In fact, Cuomo long promised to invoke the Moreland Act if the Legislature failed to act on an anti-corruption package that he proposed earlier this year. The Act gives the governor sweeping powers to investigate parts of state government, though not specifically the state Legislature.
Nevertheless, when state lawmakers failed to pass Cuomo's reform package or address corruption in any meaningful way, the governor called on his powers under the Moreland Act to convene the commission. Attorney General Eric Schneiderman deputized Moreland commissioners to give them investigatory power.
So what is at stake in these court battles? Why would the Legislature risk angering Cuomo and being attacked in public by the governor heading into an election year? And what exactly is the Moreland Commission looking for?
What Moreland is Looking For
Moreland has sent subpoenas looking for information from legislators who make more than $20,000 in outside income and their lists of clients. The move seems specifically designed to investigate the relationships between legislators who work as attorneys and their law firms. A number of legislators receive six-figure salaries as counsel; it is suspected their employers value them because they attract clients with business in front of the state. The relationship may not be illegal but disclosing those client relationships could expose conflicts of interest and illustrate why some legislators push certain kinds of legislation.
Two law firms that employ legislators — Hisock & Barclay and Harris Beach — joined with the Legislature in trying to quash the Moreland subpoenas. The subpoenas seek billing, invoices and other information from the firms. Hiscock & Barclay employs Sen. Neil Breslin and Assemblyman Will Barclay; Harris Beach employs Sen. Michael Nozzolio.
Breslin has argued that his work has nothing to do with the state and has offered to reveal his client list to Moreland as long as the names aren't made public. He has said he feels it would be a disservice to his clients to have their names made public. Legislators like Breslin argue that their law firms keep them out of any work that might involve the state.
The commission is also digging into the fundraising of party committees — a loophole in state law that allows companies to dodge donation limits by pouring cash into party housekeeping accounts. That cash is not supposed to be used for campaigns but in many cases it is funneled to candidates or used in other ways to boost campaigns. The state Senate Republican Campaign Committee filed to quash a subpoena into their fundraising activities last month, but late last week withdrew that effort and came to a deal with the Moreland Commission.
Bill Mahoney of the New York Public Interest Research Group says that the laws are so riddled with holes and the state Board of Election so loathe to enforce what laws exist that "you can get away with just about anything you want."
Why is the Legislature Fighting?
Assembly Speaker Sheldon Silver sent a letter to his chamber explaining why he feels he must fight the subpoenas: "One or more of the Commissioners have said publicly that the purpose of the Commission is to 'investigate the Legislature.' As well, numerous statements have been made that the reason for the investigation is because the Legislature did not enact proposed 'reform' legislation," wrote Silver. "One thing is certain: it is an improper and illegal use of Executive authority for appointees of that branch of government to 'investigate the Legislature' merely because the Commissioners would like to compel passage of proposed legislation."
Silver is counsel at Weitz and Luxenberg, where he makes up to $450,000 a year. Silver has been accused of sitting on legislation that would be unfavorable to trial lawyers.
For many years, the Legislature was seen as being able to bully governors in the budget process — they delivered for special interests to their districts while the governor had to swallow budgets that weren't balanced. Cuomo has changed that perception while once all-powerful Assembly speaker has found himself greatly weakened by the Vito Lopez sexual harassment scandal.
Meanwhile, Cuomo has ratcheted up his rhetoric against the Senate coalition leadership that he once worked with. "We're going to go back to Albany in January and we're going to tell the Republicans in the Senate and the co-conspirators of the Republicans in the Senate, you pass the Women's Equality Act because that's what New Yorkers believe in and that's what New Yorkers want," Cuomo said at a rally for the Women's Equality Act in October. The Independent Senate Democrats have moved to appease Cuomo by reiterating support for his legislation.
Cuomo has taken the often weak position of governor and has played the Legislature like a fiddle during most of his time in office. As more ethical scandals in Albany have popped up, the Legislature's approval ratings have sunk while Cuomo's have remained relatively strong. Submitting to subpoenas that could give Cuomo and his commission ammunition against the body as a whole is terrible for a Legislature that has been smarting under the weight of Cuomo's yoke.
Why Aren't All the Legislators Fighting?
While the legislative leadership is trying to quash subpoenas, a number of their members have already complied with them.
"I think it belies their whole argument. If it were really about principle and separation of powers, then none of them would be complying," Cuomo said during a conference call on Nov. 25. "Despite their efforts to keep the group together, they've lost about half the group."
Some legislators say they simply don't think their colleagues should have outside jobs that could influence the way they legislate. "It's an inherent conflict, when you legislate half the day and represent clients the rest," freshman Senator Brad Hoylman, told Capital New York last week.
Other legislators simply aren't worried about the subpoenas and have no interest in angering either Cuomo or Schniederman.