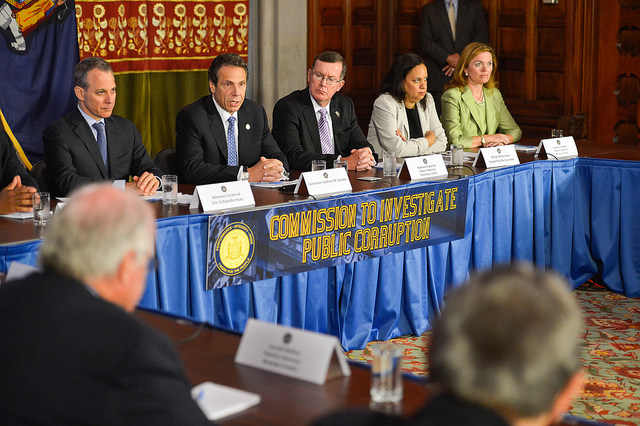 Gov. Andrew Cuomo's Moreland Commission on Public Corruption wants New York State to join the city in having public campaign financing—or at least most of the Moreland commissioners do.
The group released its initial report late this evening after members met to vote on the final report via conference call during the day to vote on it. While the largest recommendation is for the state to adopt public financing seven members of the commission do not support it and signed on to a dissent. The dissent comes at page 50 of the attached report.
The document does not single out lawmakers for instances of wrongdoing but does makes a series of recommendations to reform state government to decrease corruption. Some of those recommendations include creating a new enforcement body for election law, limiting the use of campaign funds, closing loopholes in election law, and reducing the allowable size of campaign donations.
Cuomo is expected to use the commission's recommendations to bargain with the legislature to get some sort of legislative package that could be passed early next year. Cuomo's State of the State speech is expected to focus heavily on the commission's recommendations. The Senate and Assembly majorities have both sued the Cuomo administration to block subpoenas from the commission saying that it is an overreach by the governor.
Most of the report reflects the wishes of the state's good government groups. "It isn't rocket science. People have been pointing out what is wrong with Albany for decades," one commission insider told The Gazette.