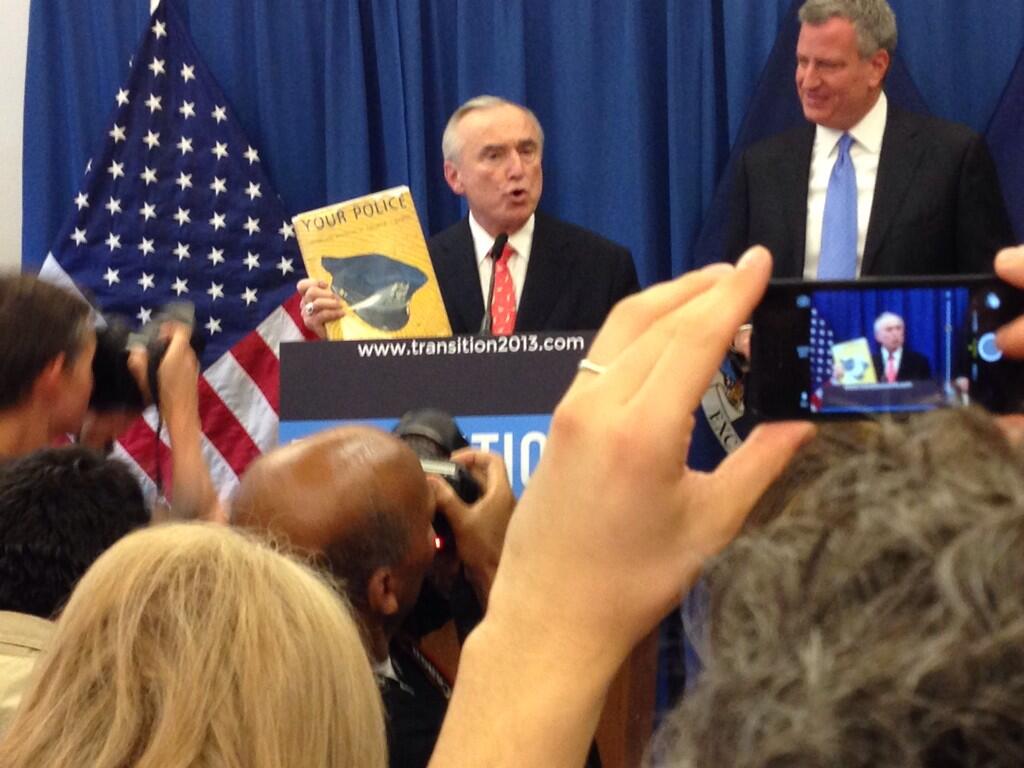 NEW YORK — Mayor-elect Bill de Blasio, who charged to a win at the polls largely with his promise to reform stop-and-frisk, welcomed back the man often considered the architect of the divisive police tactic as the city's new top cop.
Bill Bratton's appointment to replace Police Commissioner Raymond Kelly surprised few, but still managed to stir up criticism.
De Blasio had been citing Bratton's work and words for more than a year before today's announcement, praising the returning police chief's "progressive" focus on community relations between police and residents.
"I also talked to a lot of beat cops," de Blasio said at today's announcement, "and those officers said to me, 'Look, we want to do our job. We don't want to live by a quota, we don't want to do a stop that we don't think is the right thing to do. We want to work with the community. We want to fight serious crime.'"
After thanking de Blasio during the news conference in Red Hook, Bratton, 66, admitted that the new mayor was "laying a lot on the line" with his selection. Nonetheless, Bratton vowed to keep de Blasio's promise of ensuring New York City continues to be the biggest safe city in the country without sacrificing the individual rights of its residents.
The new commissioner spent the entire announcement holding a children's book, "Your Police," published in 1956 and written by George Zaffo. Bratton said it inspired him as a 9-year-old to join the force, and that it's message is as relevant to him now as it was back then.
"In this city, I want every New Yorker to talk about their police — my police — with respect and with confidence that they are going to be respected in turn," Bratton said. "If we get it right, if we make the city safe, if we do it in a way that the public trusts us, then the benefits of that are extraordinary."
De Blasio, who rocketed to the top of the polls before November on the heels of advertising a promise to end the Bloomberg era of stop-and-frisk, celebrated Bratton's long legacy on policing. De Blasio also directly pointed to Bratton's pioneering use of CompStat — often criticized as a source for woes about quotas — while he led the NYPD as "having forever changed the game."
Bratton, who is coming back to New York after leading the police forces in Los Angeles and Boston, previously served as NYPD commissioner under Mayor Rudy Giuliani from 1994 to 1996. CompStat went live in 1995, and is still widely credited as one factor in New York City's dramatic drop in crime during and since the Giuliani administration. He was forced out of the job, it was said at the time, because he was grabbing too much attention for the decrease in crime.
His department's tactics also came under withering criticism from some community members who charged the NYPD at the time with police brutality.
At a 1995 town hall in the South Bronx, Bratton exploded at a jeering audience. "You're acting like a bunch of fools. You're making fools of yourselves," the New York Daily News quoted Bratton at the time. "You're the same group that shows up at every one of these meetings and we're not getting anywhere."
Besides CompStat, Bratton is also known as a strong proponent of the broken windows theory. Defined by it's zero-tolerance approach, the impetus behind the policy was to catch even the smallest infraction as a means of stemming larger ones.
Like de Blasio, Bratton has long argued that stop-and-frisk would not go away anytime soon, opting for improved oversight and training to prevent questions of constitutionality.
With help from the mayor-to-be, Bratton also fended off criticism that his record on stop-and-frisk and adoption of the broken windows theory conflict with de Blasio's campaign promise of improving relationships between NYPD and the communities it protects.
"You can have both, and this mayor fully understand that you can have the ability to have safe and clean streets and police efficiency. And they don't necessarily have to conflict with each other."
De Blasio agreed.
"There is no contradiction between an assertive approach to policing and bringing police and community back together," de Blasio said. "Community residents want anything that creates disorder addressed. They also want respect and partnership. We can do both together."
Some are unconvinced, including outgoing City Council firebrand Charles Barron, who held a news conference in front of City Hall today comparing the selection of Bratton to "asking an arsonist to help you put out fires."
Barron said he would have preferred either NYPD Chief of Department Philip Banks or First Deputy Commissioner Rafael Pineiro, but that the problem at hand remains the use of racial profiling through stop-and-frisk.
"This is the progressive mayor Bill de Blasio. It is an insult," Barron said, using fervent air quotes to identify the mayor-elect. "Someone said, 'Give him a chance, Charles.' We did. For two years under Giuliani. He failed."
Some community leaders offered cool congratulations to the new commissioner, celebrating the announcement while offering cautious advice.
City Councilman Jumaane Williams, a key author of the Community Safety Act that created an independent monitor for the NYPD and broadened the city's ban on racial profiling, was measured in his comments.
"By many accounts, commissioner-designate Bratton had a mixed tenure during his previous role as commissioner," wrote Williams in a statement. "While violent crime dropped, many communities of more color felt that Commissioner-Designate Bratton was not responsive to their needs."
Public Advocate-elect Letitia James, an ardent critic of stop-and-frisk, remarked that voters had spoken clearly about the need for reform.
"I am grateful to Mayor-elect de Blasio for his thoughtful approach to this process which has also given us a chance to recognize the services of Philip Banks and Rafael Pineiro," James wrote. "I look forward to working with Mr. Bratton to ensure that we keep our streets safe while preserving the civil liberties of New Yorkers in every community."
Incoming Comptroller Scott Stringer offered equal praise and concern.
"[Bratton] knows that law enforcement must be fair and constitutional as well as tough and effective, and I am confident he will bring this crucial balance to his new duties in the nation's largest city," Stringer said in a statement.
Outgoing Police Commissioner Ray Kelly, who Bratton will have replaced both in 1994 and 2014, saluted his twice successor's return and promised to help the new administration settle in.
"I congratulate Bill Bratton on his appointment and welcome him back to One Police Plaza," Kelly wrote. "I look forward to working with Bill to ensure a smooth transition. Today, our city is safer than ever before with historic decreases in crime, including record low shootings and murders, and I am confident that record of safety will continue."