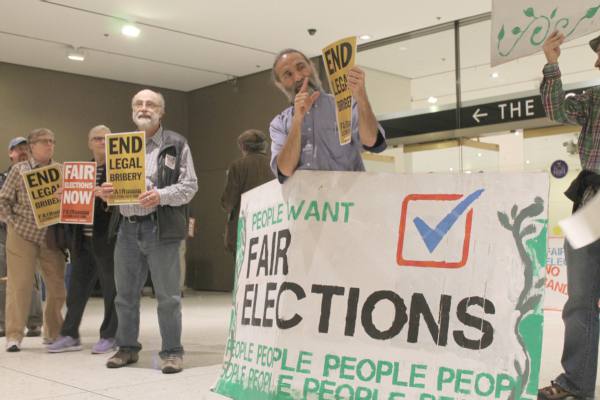 It has been a roller coaster ride for a number of good government groups that support public financing of campaigns since The Moreland Commisison To Investigate Public Corruption released its report on Dec. 2.
The report recommended that the state adopt a system of public campaign financing like New York City's but it also contained a dissent signed by seven commissioners. In the wake of the report, Gov. Andrew Cuomo seemed to signal that he was looking for a deal with the Legislature that would include most of the Moreland report recommendations sans public financing. "Public finance is a policy-slash-political issue," Cuomo said after the report was issued.
Cuomo, his staff and commisioners have slowly been walking back that sentiment all month. Today Moreland co-chair William Fitzpatrick may have given supporters their biggest boost, telling Susan Arbetter on Capitol Pressroom that he is happy that they appear only one vote short of passing public financing in the Senate. "As the year comes closer and closer into the election cycle, I think you're going to see more and more people say what we recommended are eminent and reasonable things," Fitzpatrick said.

Before Moreland's report, Sen. Dean Skelos was the most outspoken opponent of public financing of campaigns. When his conference held a closed-door hearing on the issue last year, they flew in experts from out of state to decry the dangers and wastefulness of public financing — no one local, it seemed, wanted to go on the record at a hearing against the measure.
But now seven members of a body convened by Cuomo have signed their names to a document opposing public financing and more groups have rushed to support them.
Brian Sampson of pro-business group Unshackle Upstate issued this statement in response to the report:
The Moreland Commission's preliminary report includes a number of recommendations that we agree can help clean up Albany. Effective enforcement of the state's election laws is critical. More transparency in our political system will also help restore the public's trust in state government.

But as seven Commissioners said in their dissent, the Moreland Commission has failed to make the case for taxpayer-funded political campaigns. There is simply no persuasive evidence that public financing of political campaigns will reduce the kinds of public corruption that led Gov. Cuomo to appoint the Commission. Even under New York City's 'model' program, large sums of money continue to make their way into political campaigns, and politically connected groups have created their own loopholes in the program.

Taxpayers should not be forced to subsidize partisan political activity such as high-priced political consultants, attack ads and robo-calls. We commend the dissenters for focusing on this important issue, and encourage our elected officials to stand up for hard-working families and reject any proposal that would advance taxpayer-funded political campaigns."
Jess Wisneski of The Fair Elections campaign says that Moreland's dissenenters may have excited opponents of public financing and made them "more boisterous" but she doesn't think it has grown their ranks or influence.
"The Moreland report started a robust debate that we havent seen before. There hasn't been this much back and forth in a while," Wisneski said. "Let's talk about them because those are things we can overcome. We are happy to have that debate because as the report shows the cost of inaction is massive. Taxpayers are seeing money lost in sweet heart deals. It is worth the investment to stop that."
Good government activists like Wisneski say they aren't sure the numbers against public financing of campaigns are really what they appear to be. "People haven't been talking to senators themselves to see where they stand," she said.
And in the coming months there will be added pressure to move on the issue — if things go as advocates want. But first Cuomo has to drive home a push for public financing in his State of the State address in January and Moreland would need to continue to uncover dirt on the Legislature.
"I think the governor really needs to knock the point home," said Wisneski. "Senate Republicans and Governor Cuomo have this session to show us if they are serious about reform."