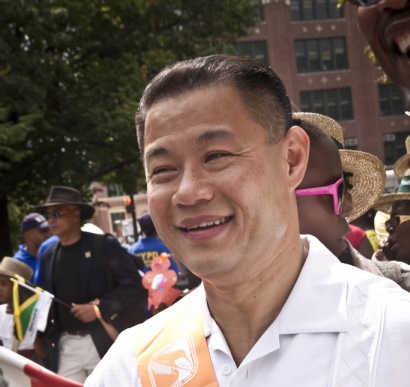 City comptroller John Liu sees major upside to legalizing, regulating and taxing marijuana in New York City--an upside to the tune of $400 million annually which he says could be used to cut CUNY tuition in half. Liu issued a statement today supporting Sen. Liz Krueger who is set to introduce a bill that would legalize and regulate the sale of marijuana in the state.
"This much is clear: New York City's misguided war on marijuana has failed," Liu said in a statement. "It is costly and counterproductive, and its uneven enforcement has ruined too many lives – especially in minority communities. State Sen. Liz Krueger's bill to regulate marijuana is exactly the type of sound policy our State and City need. It would offer relief to patients suffering from myriad medical conditions, prevent thousands of young people from being needlessly dragged through the criminal justice system, and boost our bottom line."
Krueger's bill is expected to be co-sponsored by Sen. Diane Savino which could give it the votes it needs to pass the Senate if supported by the Independent Democratic Conference and the regular Democrats. Details on the bill are expected to be revealed soon.
Liu's office issued a report on the benefits of legalizing marijuana in August and also conducted a study that recommended the city become a center for medical marijuana research. Gov. Andrew Cuomo proposed legalizing small amounts of marijuana in an effort to reduce the impact of stop-and-frisk in 2012 but Senate Republicans resisted the legislation.