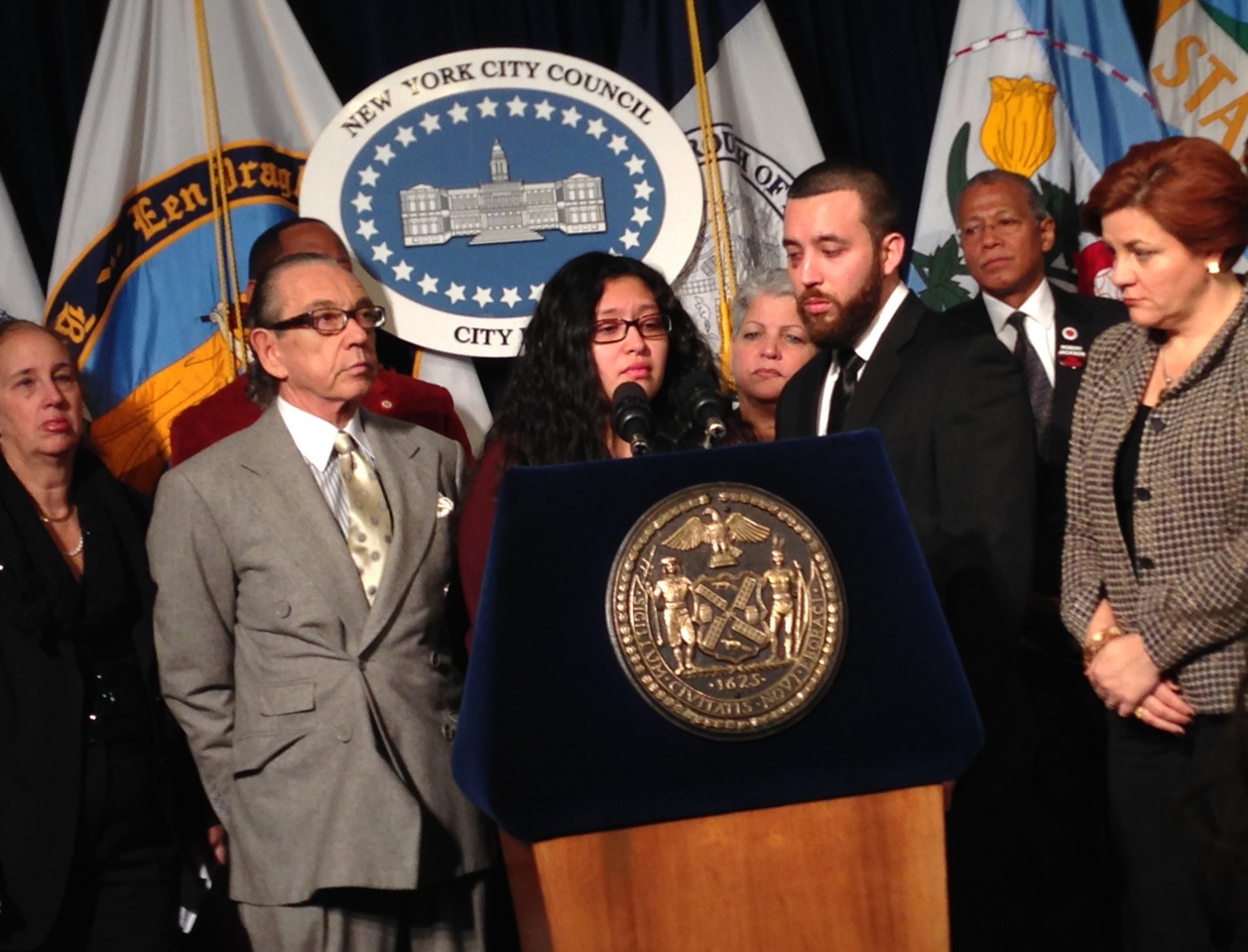 The City Council has approved a law, named in memory of a 4-year-old girl struck and killed by an SUV fleeing from police, that will require more detailed reporting of emergency response times.
Reports at the time of Ariel Russo's death indicated that there was a four-minute delay between when the call for help that was made and when the ambulance was actually dispatched, prompting outrage from community leaders and legislators. The bill approved by the Council on Tuesday would require the fire department to provide more detailed reports across the five boroughs.
"Obviously, every minute, every second counts in this kind of a tragedy," said City Council Speaker Christine Quinn. "This bill will honor Ariel's memory, and honor the bravery and dignity of her family who have fought to make sure that the city does a better job so if and when accidents like happen again, we're quicker to respond to, god-willing, save the lives of those who are injured."
Sofia Russo, Ariel's mother, stood with husband Alan and Quinn at a news conference announcing the vote by the Council on Tuesday. It has been little more than six months since their daughter's death.
"Tuesdays are hard because Ariel was born on a Tuesday, and she died on a Tuesday," Sofia said fighting back tears. "But there's something good that's happening on this Tuesday, because this law is being passed in her honor."
The bill, Intro 143-A, requires that FDNY track the length of time between a report to a 911 operator that requires firefighters or emergency medical assistance and the time when the first unit arrives. The fire department will also need to submit both monthly and yearly reports to the Council and mayor's office, breaking response times down on a both citywide and borough basis.
Sponsored by Councilman Lew Fidler, the bill was actually introduced into the Council in 2010 — three years before Russo's death. The Brooklyn councilman was somber in extending his and his colleagues' condolences and expressed hope that the Council's actions would give purpose and meaning to the meaningless act that led to Ariel's death.
"It is said often that information is power," Fidler said. "And bad information, or incomplete information is the exact opposite. When we measure response time in the city of New York, not measuring from the time the call is received is just incomplete information."
Councilwoman Elizabeth Crowley of Queens, chair of the Council's committee on fire and criminal justice services that pushed the bill through to a vote, said that part of the problem was the city's overreliance on technology. In June, Crowley was caught in an intense back-and-forth with Mayor Michael Bloomberg's Director of Operations Cas Holloway at a June hearing over what caused the delay responding to the Russo tragedy.
"It seemed the last couple of years too much emphasis was put on computerization and taking away dispatchers," Crowley said on Tuesday.
{sidebar id=28}