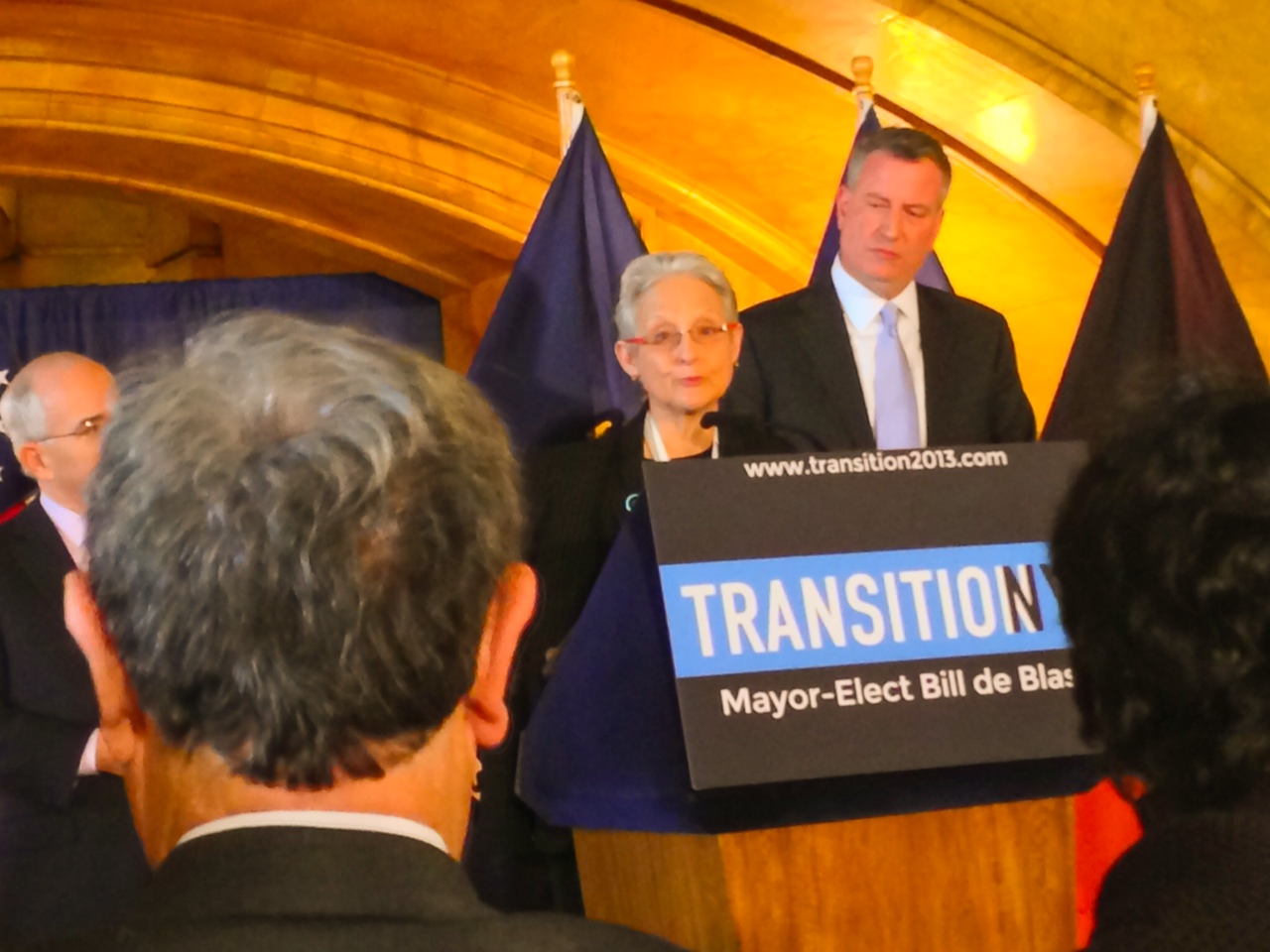 Mayor-elect Bill de Blasio's transition team has announced that outgoing Commissioner for the Aging Lilliam Barrios-Paoli will be the city's new deputy mayor for health and human services.
"I've spent the bulk of my career trying to work for and help the poor. It is incredibly exciting for me to be in an administration that really makes that central tenant — not just an afterthought, not just something that would be good to do — but makes it a central, central thing," Barrios-Paoli said after her appointment was announced on Thursday.
As deputy mayor for Health and Human Services, Barrios-Paoli will play a key role in bringing many of the mayor-elect's campaign promises to fruition. The mayor-elect repeatedly referred to his agenda of eliminating the "tale of two cities" and ongoing inequality. He often invoked the New York Times' five-part investigation into the city's homelessness dilemma, told through the eyes of 11-year-old Dasani, who lives in a decrepit Brooklyn shelter with her parents and seven siblings.
"We're going to use every thing we have to start to turn around this tale of two cities. And I can assure you that we will quickly, quickly focus on the Auburn facility, and we will not allow what's happening there to continue. The fact is that to make fundamental change will take a lot of steps," de Blasio said. "We must get to work on this right away. We can't let children of this city like Dasani down, and I know we have more tools at our disposal than we're using right now."
De Blsio said Barrios-Paoli is the person who can best creatively use those tools.
"A combination of values and experience was absolutely crucial," de Blasio said of Barrios-Paoli. "I think very few people in this city have a stronger understanding of what New York City's government is capable of doing to help its people."
Barrios-Paoli's responsibilities will be largely the same as those of her predecessors. She will be responsible for coordinating all of the city's social service programs through its many city agencies, including the Department for the Aging, where she did her most recent stint under the Bloomberg administration. She'll also be the administration's point person for the Administration for Children's Services; Commission for Economic Opportunity; Department of Health and Mental Hygiene; Office of the Chief Medical Examiner; Department of Homeless Services; Human Resources Administration; Department of Juvenile Justice; the Department of Correction; and Department of Probation.
Barrios-Paoli also previously served as head of the Human Resources Administration under Rudy Giuliani, a job that was cut short in 1997, reportedly for her a frank and forthright approach that upset City Hall at the time. She wasn't shy about admiting some of the city's ongoing failures at today's announcement.
Asked by reporters to critique some of the government's missteps on homelessness and inequality, Barrios-Paoli was blunt.
"You don't stop prevention to save money, because you'll end up paying in correcting the problem afterwards. And that's a mistake that government makes in all kinds of fields," Barrios-Paoli said, adding that the city ends up shifting the cost by cutting youth programs to pay more for prisons.
Barrios-Paoli, who spent time as a nun before entering public service, added that the city has been punitive to many of the city's poorest. She argued that the city needs to change its attitude.
"So yes, I would have done many things differently. But now I'm getting the opportunity," she added. "So we'll see if i can deliver."
"I have faith she can deliver," de Blasio quipped.
Elected leaders and advocacy organizations around the city lavished praise on de Blasio's pick today. A number of City Council members, many of whom openly celebrated Barrios-Paoli's work as head of the aging department before her new appointment, said they were encouraged by the news.
"It's clear that we need to turn over a new leaf when it comes to how this city looks to support struggling New Yorkers. Lilliam Barrios-Paoli is a great choice for deputy mayor of Health and Human Services," wrote Councilwoman Annabel Palma, chair of the Council's general welfare committee, in a statement on Thursday. "She has the experience and vision needed to ensure that the City supports the health and stability of working families."
Igal Jellinek of the Council of Senior Centers and Services celebrated Barrios-Paoli's extensive record in government and nonprofit realms.
"Mayor-elect Bill DeBlasio has made the perfect choice for his deputy mayor for health and human services by naming Lilliam Barrios Paoli for this position, "Jellinek said. "Ms. Paoli brings intelligence, skills and compassion as she has been a strong and effective voice on behalf of older New Yorkers as commissioner for Department for the Aging."
Linda Gibbs, the outgoing deputy mayor for health and human services, agreed.
"Congrats to new NYC Dep Mayor for HHS, Lilliam Barrios Paoli, a true warrior in the fight against inequality and injustice," Gibbs tweeted soon after the announcment.