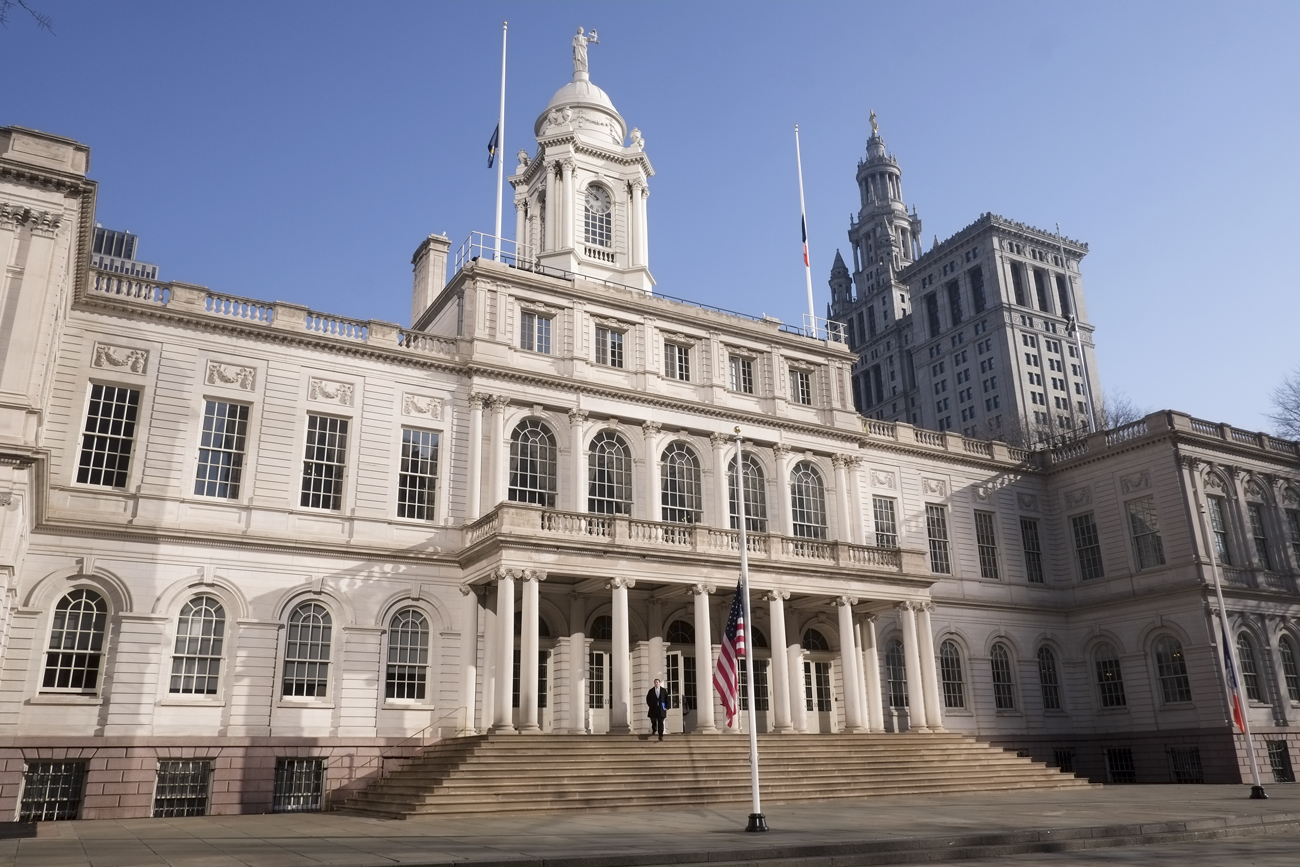 Photo by Bill Alatriste/City Council
NEW YORK — The historic overhaul of New York City government this year goes well beyond the mayor's office.
There are 21 new members of the City Council, four new borough presidents, and fresh, yet familiar, faces in the offices of Brooklyn district attorney, comptroller, and public advocate. With the city's politics taking an increasingly liberal turn, there are few outright conservatives left in city government.
"Reapportionment and term limits combined to make the City Council younger, a little bit further to the left, perhaps less a product of traditional political organizations or machines, and demographically, a little more like the population of the city," said Kenneth Sherrill, Chair of the Political Science Department at Hunter College.
New city officials include the first Mexican-American on City Council; old friends of incoming Police Commissioner Bill Bratton from his tenure during the 1990s; yet another member of the Queens Vallone clan; and a progressive new Brooklyn D.A., who has said he wants to re-train the borough's police officers. We've rounded up the full list here.
Citywide
Mayor
Bill de Blasio - De Blasio has been involved in New York City politics since he helped the last progressive mayor, David Dinkins, get elected in 1989. Between that first campaign and his mayoral victory, De Blasio served as the regional director of the U.S. Department of Housing and Urban Development, helped Hillary Clinton get elected to the U.S. Senate, spent eight years representing some of Brooklyn's wealthier neighborhoods on the City Council, and, most recently, served as the city's public advocate. In an attempt to deliver on a key campaign promise early on, De Blasio has spent the last few weeks drumming up support in Albany for a small tax on the wealthy to fund universal pre-K. Dinkins, somewhat ironically and extremely publicly, recently told him to reconsider, saying "we might have more success" with a commuter tax.
Comptroller
Scott Stringer - Stringer left his post as Manhattan Borough President and took on former Gov. Elliot Spitzer in order to ascend to this quietly powerful office overseeing city finances. He brings with him experience as a trustee of the massiveNYCERS pension fund and a track record of spearheadingpopulist economic initiatives, including the New York City Taxpayer Receipt, a website that allows constituents totrack their tax dollars.
Public Advocate
Letitia "Tish" James - James has served Central Brooklyn on the City Council since 2003 and has opposed several major development and rezoning projects, including Atlantic Yards, which, for years, riled up residents around what is now the Barclays Center. Most recently, James joined progressive groups in calling for higher wages and a change in the city's economic development policies, including more stringent requirements for banks and corporations that receive city subsidies.
Borough-wide offices
Brooklyn District Attorney
Kenneth P. Thompson - Thompson had tobeat incumbent Charles Hynes twice - first, in the primary, when Hynes was a Democrat, and again when Hynes became a Republican for the general election. In anacceptance speech, the first black Brooklyn DA said voters had chosen him as an alternative to "false accusation, fear-mongering, and race-baiting." As a federal attorney, Thompson prosecutedpolice brutality in Brooklyn and now aims to reduce false arrests byassigning prosecutors to police precincts in East New York and Brownsville. "It is not right to have someone subjected to stop-and-frisk, snake through the system and spend two days in jail just to get out," hetold the Daily News.
Brooklyn Borough President

Eric Adams (D, WF) - Counted as anold friend by Police Commissioner Bill Bratton, Adams served 22 years in the NYPD before moving on to the State Senate, where he has represented Crown Heights, Flatbush, Sunset Park and Park Slope for the last eight years. A vocal critic of former Commissioner Ray Kelly when stop-and-frisk was on trial, Adams advocates for a "symbiotic relationship" between the police and the community.
Manhattan

Borough President



Gale Brewer (D) - Brewer has been a Council member for the Upper West Side and North Clinton since 2002. Her most recent political efforts include a push tomake food trucks greener and to get the city toseek federal funding to expand CitiBike.
Queens Borough President

Melinda Katz (D) - Katz represented Forest Hills, Rego Park, Kew Gardens and other pockets of Queens during her seven-year tenure on the City Council between 2002 and 2009. While on the Council, she was chair of the land use committee, and played a key role in moving forward the massive rezoning the city underwent during the Bloomberg administration.
Staten Island Borough President

James Oddo (R) - After 15 years on the City Council, Oddo is passing his title of Republican minority leader on to fellow Staten Island politician Vincent Ignizio. When it comes to Sandy relief, Oddosupports an "acquisition for redevelopment" plan that would buy out homeowners, open Midland Beach up to developers, and give former residents the option of moving back in.
City Council
Manhattan
Corey Johnson (D) - D3 - Hell's Kitchen, Chelsea, West Village- Johnson, a prominent activist in the LGBT community, will take outgoing Speaker Christine Quinn's seat. Johnson most recently served as Chair of Community Board 4, which also made him aboard member of the Hudson Yards Development Corp. Johnson built much of his campaign around affordable housing, but has been thesubject of controversy as a former employee of GFI Development Co., which has erected its fair share of Brooklyn condos.
Ben Kallos (D) - D5 - Upper East Side and Roosevelt Island - Kallos, a lawyer and lifelong Upper East Sider, advocated for state constitutional reform as the Executive Director of the groupEffectiveNY and has put the issues of government accountability and transparency at the forefront of his campaign. He has also pledged to try toaid local businesses affected by the interminable Second Avenue subway construction.
Hellen Rosenthal (D) - D6 - Upper West Side and North Clinton - Rosenthal, who is coming from a post in the City Hall Budget Office, has been amajor supporter of participatory budgeting and has advocated bringing it to her district, where, in the past, she served as Chair of Community Board 7.
Mark Levine (D, WF) - D7 - parts of Morningside Heights, Hamilton Heights/West Harlem, Manhattan Valley, Washington Heights, and part of UWS - Over the course of his uptown political career, Levine founded the Barack Obama Democratic Club of Upper Manhattan and a credit union called the Neighborhood Trust. He also briefly ran the New York chapter of the controversial Teach for America program, of which he was an early participant. Levine's proposals for city schools includeexpanding the curriculum to teach about LGBT history, animal welfare, and environmental issues.
Brooklyn
Laurie Cumbo (D) - D35 - Fort Greene, Clinton Hill, Prospect Heights, Crown Heights, and part of Bedford Stuyvesant - Cumbo is best known in Brooklyn for her leadership and expansion ofMoCADA, the Museum of Contemporary African Diaspora Arts, and other cultural programs she has jump-started. But Cumbo has had a rough start as a Council member. She already had toapologize to her new constituents for racially chargedcomments she made about the 'knockout attacks' in Crown Heights last month.
Robert Cornegy, Jr. (D) -D36- Bedford Stuvesant and parts of Crown Heights - Cornegy is transitioning from a position as Legislative Analyst for the Council's Aging and Veterans Committee. The former district leader and president of VIDA, Central Brooklyn's Vanguard Independent Democratic Association,eked out a primary win in a race that ended with a highly contested recount.
Rafael Espinal, Jr. (D) - D37- Cypress Hills, Bushwick, East New York, City Line, Ocean Hill, Brownsville - Two years ago, Espinal, then 27, became the youngest member of the State Assembly, representing District 54. Most recently, hesponsored legislation related to domestic abuse and, in the past, has sponsored bills that would require insurance companies to expand women's health coverage. Espinal has said he is determined to repair the infrastructure in neighborhoods that have been "completely ignored" by the city, like Cypress Hills, where he grew up.
Carlos Menchaca (D) - D38 - Bayridge Towers, Greenwood Heights, Red Hook, Sunset Park, Windsor Terrace - Menchaca'srelief efforts in Red Hook following Hurricane Sandy helped him get the support he needed to beat his district's incumbent. Now, he and incoming Council Member Mark Treyger want tostart a Sandy relief committee on the City Council. Proudly claiming the dual titles of "first Mexican-American on the City Council" and "first openly gay legislator in Brooklyn," Menchaca cut his teeth in the offices of outgoing Borough President Marty Markowitz and outgoing Speaker Christine Quinn.
Inez Barron (D) - D42 - NEIGHBORHOODS - In her five years representing State Assembly District 60, Barron hastaken a progressive stance on issues from gun regulation to sex education. She alsofought to end mayoral control of city schools after a decades-long career as a public school teacher and administrator. Barron's more incendiary husband, Charles, is passing her the torch in their Council district.
Alan Maisel (D) - D46 - Canarsie, Mill Basin, Marine Park, Bergen Beach, Gerritsen Beach, part of Sheepshead Bay - Environmental issues and public safety, including 'fracking' regulation, have been prominent among the legislation Maisel hassponsored in his tenure serving State Assembly District 59. Much of Maisel's civic work in Brooklyn has been done through the international Jewish organization B'nai B'rith, although he has also served on his local school and community boards.
Mark Treyger (D) - D47 - Bensonhurst, Gravesend, Coney Island, and Sea Gate - After Superstorm Sandy hit, Treyger founded STRONG, the Sandy Task Force Recovery Organized by Neighborhood Groups, and is now joining forces with fellow incoming Council Member Carlos Menchaca to call fora Sandy relief committee on the City Council. Treyger, long active in local politics, has been a high school teacher since 2005, with strong involvement in the United Federation of Teachers.
Chaim Deutsch (D) - D48 - Sheepshead Bay, Manhattan Beach, and Brighton Beach - Over the past 20 years, Deutsch, who has a strong foothold in Brooklyn's Jewish community, has taken community safety into his own hands as president of the Flatbush Shomrim Safety Patrol. He founded the Patrol in the early 1990s in response to rising crime and has worked closely with both Commissioner Bill Bratton and outgoing police Commissioner Ray Kelly. Deutsch even held an appreciation ceremony for Kelly, during which hepresented the city's top cop with a mezuzah, which Jews hang in their doorways for protection. He alsopraised Bratton for having "excelled at police-community relations and law enforcement strategies" during his previous tenure on the NYPD.
Antonio Reynoso - D34 - Williamsburg and Bushwick in Brooklyn; Ridgewood in Queens - Reynoso is taking the seat of his former boss, Councilwoman Diana Reyna, who he has been working for since 2007, most recently as her Chief of Staff. A Williamsburg native, Reynoso has made affordable housing his top issue, speaking out frequently about the neighborhood's luxury makeover. He beat out a seasoned politician, former Assemblyman Vito Lopez, who was forced out of the Assembly earlier this year following a sexual harassment case.
Queens
Paul Vallone, Jr. (D) - D19 - College Point, Auburndale-Flushing, Bayside, Whitestone, Bay Terrace, Douglaston, and Little Neck - Leaving his practice at Queens law firm Vallone and Vallone to take a seat on the City Council, Vallone seems to be leaving onefamily business for another. His father, former Speaker Peter Vallone, Sr., served on the City Council for 25 years, leaving in 2001, when his brother, Peter, Jr., was elected to represent the 22nd District (his term is up this year). Beyond his family ties, Vallone has established thousands of dollars in scholarship funds for Queens high school students and based his campaign platform on a mix of progressive issues — such as women's access to birth control — and local issues like noise pollution from overhead flights.
Costa Constantinides (D) - D22 - Astoria, Long Island City, part of Jackson Heights, Rikers Island, Randalls Island, and Wards Island - In the district that includes the city's largest jail, Constantinides earned valuable campaign support from the Correctional Officers Benevolent Association. Constantinides aims to reduce both crime and unemployment by hiring more police officers. He has also been active in the fight for voter rights throughout the state as a member of the New York Democratic Lawyers Council, and says it's time to dump thehundreds of outdoor "trailer classrooms" that are disproportionately found in Queens schools.
Rory Lancman (D) - D24 - Briarwood, Fresh Meadows, Hillcrest Estates, Hillcrest, Jamaica Estates, Jamaica Hills, Kew Gardens Hills, Utopia Estates, and parts of Forest Hills, Flushing, Jamaica and Rego Park - When Lancman attempted to run for Anthony Weiner's old seat in Congress last year,WNYC reported that he had made some enemies and that one source had even called him the "most hated member of the state Assembly." Lancman, a lawyer who served Assembly District 25 for six years, has also passed a significant volume of legislation, including theLibel Terrorism Protection Act, which aims to protect journalists writing about terrorism abroad from being hit with defamation lawsuits, and a host of bills related to equality andsafety in the workplace.
Daneek Miller (D) - D27 - St. Albans, Hollis, Cambria Heights, Jamaica, Baisley Park, Addisleigh Park, and parts of Queens Village, Rosedale, and Springfield Gardens - In December, Millerreceived a "Champion of Labor" Award, along with Comptroller Scott Stringer and Public Advocate Letitia James. In Southeast Queens, where subway service is spotty, Miller has championed bus drivers and riders as president of the local chapter of the Amalgamated Transportation Union. He also co-founded a mentor program called Brothers Unlimited.
Bronx
Andrew Cohen (D) - D11 - Kingsbridge, Riverdale, Woodlawn, Norwood, and parts of Bedford Park, Wakefield, and Bronx Park East - Cohen, a Riverdale attorney, has had a long career in law, including several years as a court attorney to a Bronx Supreme Court Justice, legal counsel to State Assembly Member Jeffrey Dinowitz, and a stint as an assistant adjunct at John Jay College of Criminal Justice. He has called for raising the minimum wage and has gained the support of the United Federation of Teachers.
Ritchie Torres (D) - D15 - Bathgate, Belmont, Crotona, Fordham, East Tremont, Van Nest and West Farms - Torres, only 24, is one of many young Latino Democrats making their way into city politics. He has worked with Councilman James Vacca since his 2005 campaign and was named his housing director in 2011. Torres, who grew up in NYCHA housing, has worked to create tenants' associations and to advocate for basic rights of NYCHA residents in the Bronx, like building improvements andheating.
Vanessa Gibson (D) - D16 - West Bronx, Morrisania, Highbridge, and Melrose - A Bronx transplant from Brooklyn, Gibson was elected to State Assembly District 77 in 2009, where she has focused on housing and social services. She began her political career as the Bronx district office manager for Assemblywoman Aurelia Greene.
Staten Island
Steven Matteo (R) - D50 - in Brooklyn, parts of Dyker Heights, Bensonhurst, and Bath Beach; in Staten Island, Arrochar, Bulls Head, Concord, Dongan Hill, Emerson Hill, Fort Wadsworth, Grant City, Graniteville, Grasmere, Island of Meadows, Midland Beach, New Dorp, Prall's Island, Richmondtown, South Beach, Todt Hill, Travis, Westerleigh, Willowbrook - Sandy relief is still the number one priority in Staten Island, but Matteo has identified other issues affecting residents, including rampantprescription drug use. Matteo also said hehopes to work with the mayor "to wrestle toll setting authority" from the state-run Metropolitan Transportation Authority.
This is an updated version which corrects the number of incoming City Council members to 21 and adds information on Councilman Antonio Reynoso.