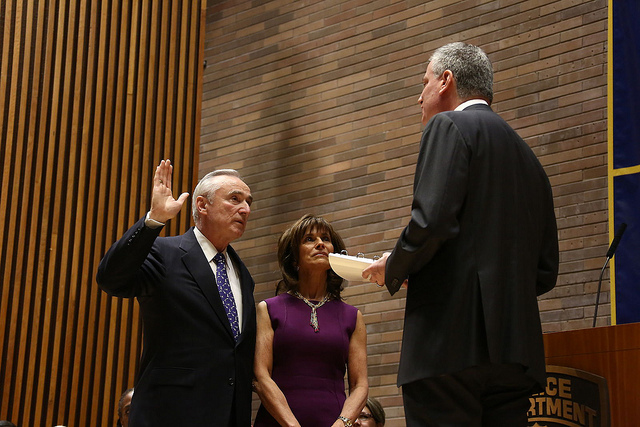 NEW YORK — Bill Bratton was sworn in as commissioner of the country's largest municipal police force on Thursday, returning with a mandate for reform to the job he held in the 1990s.
"Welcome home," Mayor Bill de Blasio said as he swore in Bratton in front of hundreds of people gathered at One Police Plaza.
As he praised Bratton's record, de Blasio emphasized that he expected the new commissioner to carry out his campaign trail promise to reset the New York Police Department's strained relationships with communities of color and to reform stop-and-frisk — all without sacrificing public safety.
"We have entrusted this department to someone who loves this city deeply, who loves this department deeply and loves his profession with all his heart," de Blasio said, calling Bratton a "progressive crime fighter" and referring to his "groundbreaking work in progressive policing."
Before Bratton's inauguration, more than 400 attendees filtered into the One Police Plaza auditorium while the New York Police Department's jazz ensemble played. The music was interrupted by a massive procession led by a 112-member bagpipe and drum band that ushered in the mayor, commissioner, their respective wives as well as high-ranking members of the police community.
Among those officers were First Deputy Commissioner Rafael Piñeiro and Chief of Department Philip Banks, both floated for the job that eventually went to Bratton. The newly inaugurated Public Advocate Letitia James and Comptroller Scott Stringer sat close to the stage, as did the district attorneys from the five boroughs.
Bratton's immediate predecessor, Raymond Kelly, did not attend.
But Bratton made sure to highlight Kelly's achievements and his longtime service to the city. "I do applaud and understand the shoes that I'm stepping into and the extraordinary department that I am privileged to once again be given the opportunity to lead by this mayor," Bratton said.
Bratton has been credited with introducing policing innovations while leading the NYPD during a historic drop in crime under Mayor Rudy Guiliani.
Since his departure, crime has dropped even further — reaching an all-time low in 2013 with only 333 murder cases recorded compared to 641 in 2001 when Kelly took over the department.
Bratton also thanked Kelly for personal attention during the transition, calling the process "as smooth as possible," with no hiccups. As he settled into his new office, Bratton found a bottle of champagne with a note addressed to him and his wife Rikki.
Bratton said Kelly had signed the note with the message, "Happy New Year. Good luck."
Despite historic lows in crime, the NYPD and Kelly have been constant targets for critics of the city's controversial stop-and-frisk program that many reform advocates argue disproportionately targets young men of color. The department has also faced scrutiny for ongoing surveillance of the city's Muslim community that critics argue unconstitutionally targets a growing community on the basis of religion alone.
Bratton said that he would work not only to improve the police department's relationship with all communities, regardless of class, race or background, but also to figure out why so many New Yorkers feel alienated from the police force.
"It is unfortunate," Bratton said, "that even as this department can celebrate its tremendous record of keeping the city safe against terrorism, reducing crime to historic lows, removing so much of the disorder and chaos that this city exemplified in the 1980s, that we have not really achieved the collaboration that all that success could have brought about."